Sydney Opera House has taken its programming online, in something they've called 'From Our House To Yours'.
It features pre-existing content as well as, more recently, an opportunity for artists to venture back into the theatre and perform alone, with no physical audience!
These performances are streamed live and available to watch on the Opera House website.
Fabulous cabaret performer and singer Paul Capsis is among those taking to the Joan Sutherland Theatre stage during the COVID pandemic to entertain us at home. His digital show, which aired in early June, is now available to watch online.
Here, Paul lists five ways to prepare for a performance in an empty venue. . .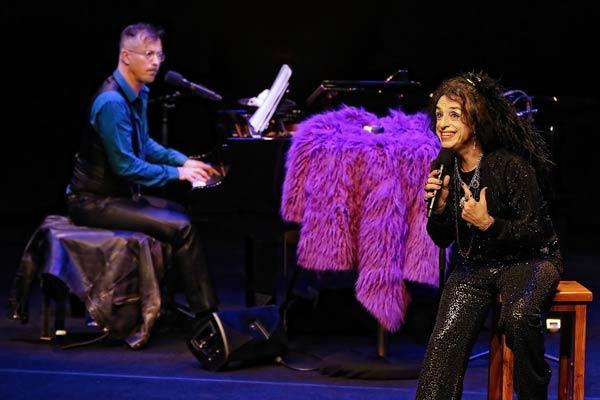 Image © Prudence Upton


One
Socially distanced rehearsals.
We had two fabulous rehearsals where I got in an Uber, sat in the back, with masks and gloves and when I arrived at Jeremy's (Brennan, accompanist) house, he went to hug me and I said, "back off bitch, there will be 1.5m or I'm leaving". Talk about extreme.
A lot of the discussion in the rehearsal was about what do we do for no audience in this time of COVID, at the Sydney Opera House. It's also difficult working in a big space like that without a band, so luckily Jeremy is very clever and has fantastic ideas and would often tell me "no that song's too depressing". Jeremy really gets my vibe in terms of how I perform and how I sing and he's his own person, not just an accompanist, with his own individual style and own personality.
Two
Perform your rituals.
I'm normally quite private about what I do before a show but before every performance, I always pray. I always ask permission of the traditional owners quietly to myself. I ask for permission to be there, to tell the stories of song or a play any time I'm on a stage. Regardless of what it is, I always pray.
Spirits to me are real and I want them on my side. Some venues I have never felt welcome. I don't subscribe to religion, I just pray to a power, an entity or an energy of creativity. I believe venues have spirits of the people who have performed in that venue and those who were loyal and attended those performances. Venues carry their energy.
Three
Channel the spirits in the room.
When you verbalise "channelling the spirits", it comes across as comedy but after about 15-20 minutes I started hallucinating and I thought I saw an audience. . . A full house of spirits. As a person who needs an audience, I wondered whether that was my mind tricking me to keep going because it was a difficult experience.
Even with a hostile audience it's better than no audience. I've played to many a hostile house in my time and with no people, my mind was playing a trick on me and I could see a lot of spirits in the theatre and I ended up performing to them.
Four
Pick uplifting songs.
Let's be honest a lot of my songs are what I call "slit your wrist" songs. I tend to be a singer who dwells on the dark side of the world. With this performance we wanted to uplift and I was really conscious that in this COVID nightmare, one of the things I didn't want to do was tip people over the edge.
Image © Prudence Upton
Five
Don't peak in sound check.
They say you have to be careful with sound check because you can peak and have a terrible show. I was very scared about this job because I hadn't performed for a long time and hadn't done any cabaret work since, maybe, September 2019. We got into the auditorium and I was aware there were cameras in the room and that made me nervous because although I've worked in film, it's very different when you work with cameras instead of an audience. There was a ginormous clock at the back of the auditorium and it's like your life is flashing in front of you.
'Paul Capsis (Live)' is available to watch for free now.