The final single release ahead of his forthcoming album, Melbourne producer Watermelon Boy is bringing the dance-floor mayhem with his latest banger, 'Rubba Bams!'.


Tropical breakbeat meets bouncy electro-house rhythms with quirky, warped productions that create a wild melody that's intoxicatingly feel-good you'll feel like Crash Bandicoot bounding through the forest as the bass drops.
In fact, 'Rubba Bams!' could easily be the soundtrack of the next viral mobile game.
Here, Watermelon Boy showcases his fine dining expertise with five food hacks to take your instant noodle game next level.
Mama Bean Thread Clear Soup
Extras: Leafy green veggies like bok choy, kai lam or mustard leaves. A dash of sesame oil.
Finely chop the leafy greens away from any stems and place them in a big soup/ ramen bowl with the dry noodle cake and a dash of sesame oil. Boil two cups of water on the stove and add the stems (diced) and the contents of the flavour sachet.
I've always found 'sachet' such a fancy word for a little/ plastic foil sack with MSG and vegetable power in it, but that's the kind of mixed up planet we live on, I guess.
Once the soup mix is back to boiling, pour that on top of the noodles and greens in the bowl then put a plate on top for a minute or two. This is a surprisingly simple and delicious way to eat more greens.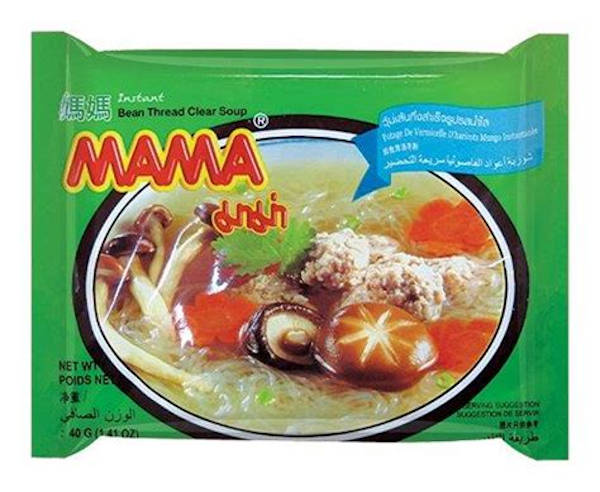 Nongshim Chapagetti Blackbean Noodles
Extras: 1 head of broccoli, soy sauce, cracked pepper.
Chapagetti is a better kept secret than 'Fight Club', but if you know, you know. Yet here I go, breaking the first two rules of Chapagetti. The third rule is to dissolve and mix the contents of the sachet separately in your serving bowl before anything else starts happening.
A dash of hot water, the oil, the magic black/ brown powder, cracked pepper plus a splash of soy sauce if you have a salty pallet, like this sea dog. Then chop up a head of broccoli (or less) and add the noodle cake to a pot full of boiling water.
At about the halfway point throw the broccoli into the same pot so it blanches well. Once the noodles are cooked, strain them and the broccoli then drop them into your saucy bowl and mix until everything is coated in chapa goodness.
Nissin Demae Ramen With Sesame Oil
Extras: a handful of finely chopped cabbage, half an onion plus fresh dill and mayonnaise (optional).
These guys make a great soup, but this particular strained method should leave you in a better mood than the frankly underwhelmed blonde lad on the packet.
Crush the noodles well in the packet and then boil and strain them. Add a little oil to a hot wok and throw in the chopped veggies. Once you start seeing some colour add the flavour sachets and then throw the noodles on top. Stir quickly and thoroughly and serve in a small bowl.
Something about the cabbage and the sesame in this one goes together brilliantly. If you feel like being a real kinky bastard, adding some chopped fresh dill and a tiny bit of mayo last thing makes a surprisingly burger-licious deviation.
Nongshim Shin Ramyun
Extras: A cup or less of leftover bolognese or chilli mince, Kimchi and sesame seeds to garnish.
Shin Ramyun are iconic. They are spicy enough to give most people the hiccups, but I reckon they're a perfect way to use up some leftover bolognese or chilli non-carne.
Boil and strain the noodles, then heat your mince mix in the same pot until it's hot. Mix the flavour sachets through and top it up with water so the mix stays a saucy, like ya bad self.
Stir the noodles back through the sauce and serve in a bowl with a side of kimchi and a garnish of sesame seeds.
Indomie Mi Goreng Noodles
Extras: Finely chopped iceberg or cos lettuce, raw peanuts, frozen peas, white vinegar and fried shallots to garnish.
Clearly no instant noodles list could be complete without the institution that is Indomie Mi Goreng. From Gili Trawangan to Ghana these little baddies are a staple of the tropics.
My favourite way to cook them is to boil the noodles with some raw peanuts and add some frozen peas just before you strain.
Put a dry pot on the heat and add the oil sachet. Drop in your noodles, peas and peanuts, and stir the other sachets through them giving the combo a light fry.
Serve on a bed of cool, finely chopped lettuce and add the slight dash of white vinegar for punch and extra fried shallots for crunch.