A composer, performer and creative entrepreneur, Jessie Lloyd is a songkeeper of Australian Aboriginal and Torres Strait Islander music and dedicated to the continuation of song traditions through the presentation of stories and songs.


The Australian Indigenous singer's most recent work is 'Ailan Songs Project', a contemporised exploration of popular historical songs from the Torres Straits bringing together ancient languages and historical events with tropical island reggae grooves.
The recording features songs covering topics from the pearling industry, popular children's songs, migration, and military enlistment as well as maritime, railway and missionary activity.
Hailing from a musical family, Jessie's father Joe Geia is a pioneer of Aboriginal protest songs and composed the Aboriginal anthem 'Yil Lull'.
Her grandfather Albie Geia was conductor of Palm Island Brass Band and leader of the historic 1957 Palm Island Strike.
Here, Jessie shares a number of traditional Torres Strait and Aboriginal meals to warm the soul.
1: Kup Murri or Amai
An ancient tradition of cooking food in the ground, the 'kup murri' is a Torres Strait Island earth oven with its traditional name being 'amai' in the Kala Lagaw Ya language.
Many cultures throughout the Pacific use this method to cook food for special occasions or large gatherings in various styles and methods such as 'dindal' from North Queensland, 'mumu' in PNG, 'umu' in Samoa, 'lovo' from Fiji or a 'hangi' from Aotearoa.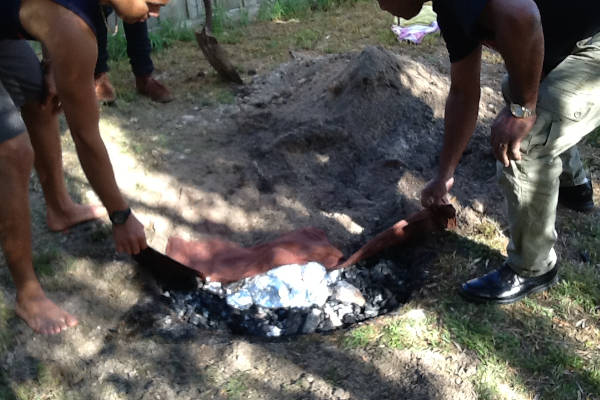 2: Sabi Barramundi
A soul-comforting tropical dish to warm the cockles of your heart. Coconut curry fish is a house favourite when served as a whole fish rather than fillets, with some finding the head and eyes particularly delicious. This dish connects us to our South Pacific relations across the sea.
3: Bully Beef & Rice
This dish is a family favourite and has fed many hungry kids. With tins of corned beef being popular to many peoples of northern Australia, bully beef and rice has been adopted all over Australia.
A dish reminiscent of the days when fresh meat was inaccessible to Aboriginal and Torres Strait Islander people and substituted in cans.
4: Namas
A seafaring delicacy, coconut namas is delicious with rice or as a side dish but best made on the beach after catching that fresh fish. As the fish is uncooked and cured using vinegar or lemon juice, it is suitable for seafaring appetites onboard a sail boat or dingy.
5: Sop Sop
A beautiful side dish to accompany many tropical meals, this island feature can also be done with various root vegetables such as taro and cassava depending on availability.
A more traditional method includes cooking the sop sop in a pot with banana leaves encased around the inside to infuse the flavour.