Smoky, seductive, hazy, dusty, husky, smooth, smouldering and sparkly; just a few ways to describe the gorgeous soul that Melbourne band Velvet Bloom create.


The five-piece fronted by Maddy Herbert recently released their debut EP titled 'Glimmer', with the title track holding personal significance for the songstress.
"I wrote 'Glimmer' about my relationship with my mother and how much she inspires me," Maddy says.
"My dad passed away when I was four and the strength that I saw in my mum following this loss helped to shape my entire being.
"This song is about expressing admiration for the people who you love and making them aware of how special they are.
"Some people have a major influence on the way you see the world and if that influence is positive - you should hold them close."
With a run of live shows upcoming, we asked Maddy (who is a vegetarian) to share her favourite plant-based meals. Yum!
"I've been vegetarian for around five years now and overall I've found it really easy.
"As a person with endometriosis and subsequently low iron, I've been told that I should be eating meat to ensure that my body is receiving the nutrients that it needs to stay healthy.
"Through lots of trial and error, I have finally found a diet that works for me and helps to ensure that I'm consuming food in a sustainable way.
"Ultimately, people are going to consume in the way that suits them. . . but if you are in a position of privilege (as I am) I believe that you can make small sacrifices to ensure that the planet has a brighter future."
1: Laksa
Through the 2020 lockdowns I was cooking lots to pass the time. I found this incredible vegan laksa recipe; I've adapted it slightly and now it's probably one of my favourite things to cook.
You make the paste from scratch and add whatever toppings you're feeling. My go-to's are satay tofu, bean shoots cooked in soy sauce, crispy kale, red onion, chilli and coriander.
2: Vegetable and Miso Tofu Dumplings
Another easy lockdown recipe – learned from my beautiful mother. I love the process of making dumplings, it is super therapeutic.
Usually I make them with miso, sesame, tofu, broccoli, spinach, garlic, onion, spring onion, cabbage, coriander, chilli and other spices, but they are also great to use up neglected items from the fridge.
3: Pho
Pho is one of my favourite things to make and it's good for any time of year. Whenever I have a sore tummy or if I'm looking for something light, I always make pho.
After you make the stock and cook the rice noodles, you can add whatever toppings you like, which is also nice.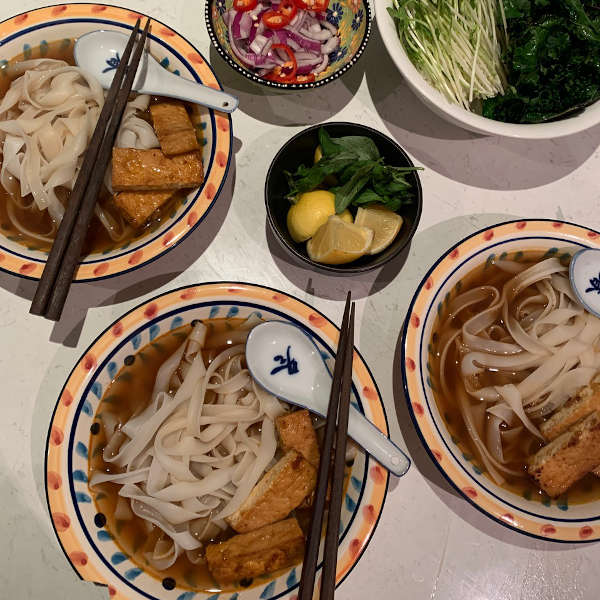 4: Shakshuka
I love cooking breakfast and was initially inspired to recreate a recipe from a local restaurant called Dee's Kitchen.
Shakshuka is a breakfast dish from parts of North African and the Middle East. I make mine with beans, tomato sugo, bocconcini, eggs, garlic, basil, spinach, red onions, chilli, lemon and lots of spices.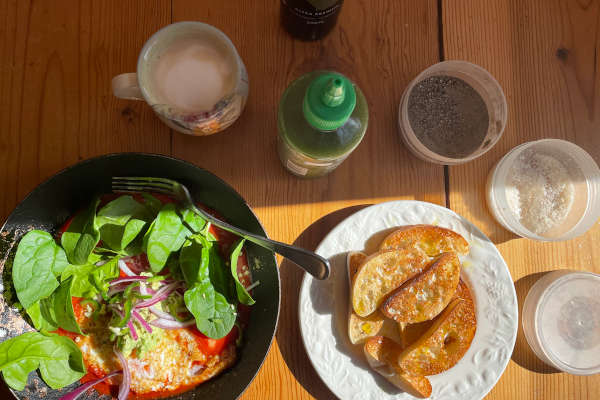 5: Pecan Pie
I made pecan pie for the first time in the 2020 lockdowns for friends and family. The flavour of this particular pie recipe is super sweet and nutty.
Each Christmas since, I've been asked to make pies for dessert. It's becoming a Christmas Eve tradition to smash out six pecan pies, but I'm sure each year I'll have to start adding more pies (haha)!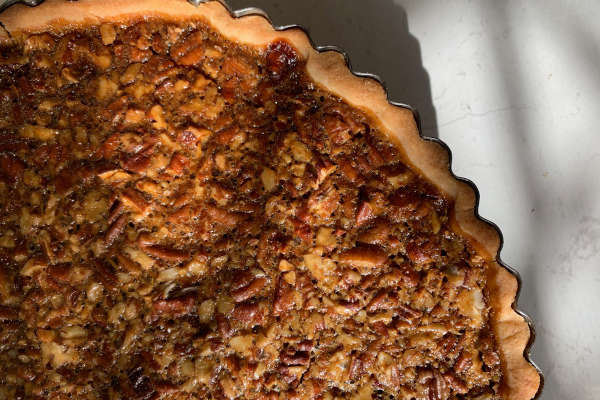 Velvet Bloom 2022 Tour Dates
Thu 28 Apr - Sideway Bar (Canberra)* solo showFri 29 Apr - Manyana (Forster)Sat 30 Apr - Lefty's Music Hall (Brisbane)Fri 6 May - Lazy Bones (Sydney)Sat 7 May - Tanswells Hotel (Beechworth)Thu 2 Jun - Crown And Anchor (Adelaide)Sat 11 Jun - The Toff In Town (Melbourne)