The success of Australia's vibrant independent music display was on full display at the third annual AIR Awards held in Adelaide on Thursday (25 July) evening.
Held at the iconic Freemasons Hall, the 2019 AIR Awards opened with an official welcome to country and a performance from Mojo Juju of her 'Native Tongue' single; Mojo also took home the award for Best Independent Single.
The award for Best Independent Artist went to Courtney Barnett for the second time in her career, while B Wise picked up the award for Best Independent Hip Hop Album for 'Area Famous' as well as performing 'The Key'.
In the world of indie electronica, Best Independent Dance, Electronica or Club Single went to What So Not for their track 'Beautiful (Feat Winona Oak)'; and Best Independent Dance/Electronica Album was awarded to Confidence Man for their aptly titled album 'Confident Music For Confident People'.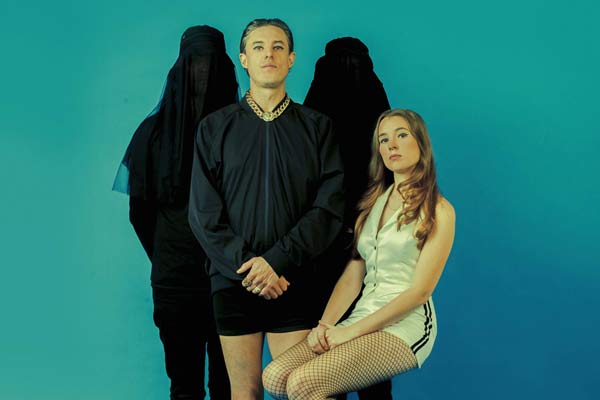 Confidence Man picked up the 2019 AIR Award for Best Independent Dance/Electronica Album
Best Independent Hard Rock, Heavy or Punk Album went to DZ Deathrays for their 'Bloody Lovely' third album and Best Independent Blues and Roots Album went to Emily Wurramara, for her tribute to family, culture and the land 'Milyakburra'.
Best independent Jazz Album was awarded to Jonathan Zwartz for his third solo album 'Animarum', whilst Best Independent Classical Album went to the Grigoryan Brothers/Adelaide Symphony Orchestra/Benjamin Northey for their 'Bach Concertos' newly arranged for two guitars and orchestra.
The evening's events closed with a fitting performance from Adelaide's own seven-piece West Thebarton.
Scenestr congratulates all of this year's AIR Awards winners.
2019 AIR Awards Winners
Best Independent Label
Chapter Music
Best Independent Artist
Courtney Barnett
Best Independent Album Or EP (TIE)
Courtney Barnett
- 'Tell Me How You Really Feel'
Gurrumul
- 'Djarimirri'
Best Independent Single
Mojo Juju
- 'Native Tongue'
Breakthrough Independent Artist Of The Year
G Flip
Best Independent Hip Hop Album
B Wise
- 'Area Famous'
Best Independent Country Album
Beccy Cole
- 'Lioness'
Best Independent Blues And Roots Album
Emily Wurramara
- 'Milyakburra'
Best Independent Hard Rock, Heavy Or Punk Album
DZ Deathrays
- 'Bloody Lovely'
Best Independent Dance/Electronica Album Or EP
Confidence Man
- 'Confident Music For Confident People'
Best Independent Dance, Electronica Or Club Single
What So Not
- 'Beautiful' (feat. Winona Oak)
Best Independent Jazz Album
Jonathan Zwartz
- 'Animarum'
Best Independent Classical Album
Grigoryan Brothers/Adelaide Symphony Orchestra/Benjamin Northey
- 'Bach Concertos'
Outstanding Achievement Award
Gerarda McKenna