Brisbane's premier rock and metal festival Dead Of Winter returns in 2018 with a monster line-up of local, national and overseas acts.
This year brings us the 'attack of the two-headed beast' with the festival's expansion to two venues, now taking over its traditional home at The Jubilee Hotel and also The Tivoli Theatre as well.
Dead Of Winter was established in 2009 and has grown to become Brisbane's biggest and best heavy music and arts festival.
We catch up with one of the organisers, Christian Tryhorn of Beats Cartel, to find out about the horror (the horror!) he and his team plan on unleashing this year.
What's new and different for DOW in 2018?
[Christian]
Dead Of Winter Festival is back bigger and better
this year with the main difference for punters being the addition of iconic Brisbane venue The Tivoli Theatre to festival proceedings. We've added a VIP ticket option for punters wanting to level up their experience, added more high-end food trucks, a DJ bus and another stage for local bands.
How does the addition of a second venue change what the festival can offer patrons?
The stage and AV experience at The Tivoli is one of Brisbane's best and with the bands we plan on putting on that stage, it's certainly going to be a popular spot for lovers of hardcore. Adding the large capacity of The Tivoli also means that in effect we have doubled the size of the festival this year.
It's a big jump for an independent event, but with the sold-out status of last year's event, we're confident we can take the festival to the next level this year. One-third of tickets are sold already with still over six weeks to go. Get in quick. The Tivoli car park will also be activated with heavy DJ action, food trucks and more.
"Dead Of Winter Festival is really just a rad day out in Brisbane combining all of our favourite things: music, beer, food, dress-up spectacles, good times and more music."
In terms of the line-up, what are some of the highlights for this year?
This year's line-up is by far our best yet. Hands down. I can't wait for the organised chaos of the day and the punter's reactions. The top tier of bands this year take the festival to a new level in Dead Of Winter's eight-year history; we're stoked to lead the charge for Brisbane's underground.
Frenzal Rhomb are everyone's favourite Aussie punk band and will be sick (the Frenzal members are actually playing in three bands on the day).
Polaris
and
Ocean Grove
are taking young Australian hardcore to new levels both within Australia and now internationally; having them both on the one event is a real score for us.
Radio Moscow
Our first US signing, Radio Moscow, is coming all the way from San Diego to bring the psych-rock vibes and will light the festival up. There's such a heavy-psych movement around at present.
Other highlights include
Clowns
, who are killing it, the Te Reo Maori delivery of New Zealand thrash band Alien Weaponry and bringing back
Pangaea
to the stage, one of Brisbane's most iconic underground rock acts.
Whose idea was it to ask Pangaea to reform?
We actually looked at Pangaea for last year's DOW, but the timing wasn't quite right. Jason, one of the event's partners, is a big Brisbane punk/ underground fan and made it happen.
I remember buying their last album in my teens. It's been a long time since I've seen them, super pumped. The vibe will be amazing with them not having played Brisbane venues since playing with Helmet in 2011. Ben Ely is Brisbane rock royalty.
Are there any bands you are looking forward to seeing live as a punter?
I'm super pumped for Radio Moscow, Polaris and Ocean Grove personally, all three bands are at the top of their game.
Further down the bill, I'm keen to check out New Zealand's Pieces Of Molly, Sydney's
Black Rheno
who are always fun to watch and the crazy heavy vibes of She Cries Wolf, a local act ready to take the next step.
But as is the case with any good festival, there are also a bunch of bands I've never seen before, some I've not even heard of. The music tastes of the DOW fest team is quite varied. I'm more into blues/ psych/ stoner stuff with a touch of modern heavy. But the other two partners have a great knowledge of metal and underground punk and ska. I'm ready for a few nice surprises.
Frenzal Rhomb
Apart from the bands, what else can audiences expect?
Dead Of Winter Festival is really just a rad day out in Brisbane combining all of our favourite things: music, beer, food, dress-up spectacles, good times and more music. We don't complicate the offering too much.
I've never had a bad DOW and have been to most. People get dressed up in full horror regalia, staying in costume all day... it's awesome. We have things like the Heart and Dagger Sideshow who are always a big hit with the punters, bringing in sword play, fire breathing and various other sideshow techniques to bring a sense of fun and danger to the day.
As mentioned, we've increased our food truck offering this year, so more of that to choose from and the VIP experience with solid vantage points and hospo packages available for the first time.
"We've doubled the festival capacity this year, something pretty much unheard of in event circles that don't rely on corporate backing."
What have been some of the major successes for DOW in the time it's been running?
I think the main success for the festival has been the longevity associated with the initial idea and the fact that we sold out the event last year, even with a two-year break in proceedings while our fest leader Carolyn had a child.
There was talk of do we even continue DOW... will the crowds still want it after a break? But we chose to move forward and damn well sold it out and have gone larger again this year. Quite amazing really.
The ongoing support for the festival from Brisbane's heavy community is something we're completely thankful for. We want to do our best to make the event succeed for them. We're now even starting to find that what once was a Brisbane-centric event has actually moved up a notch to be catering for annual visitors from interstate and even overseas. The future looks promising.
Ocean Grove
How has DOW benefitted the live music scene in Brisbane?
If you read most of Brisbane's heavier bands bios they will mention Dead Of Winter on their festival list. With a bunch of stages and bands every year since its inception eight festivals ago, the event has hosted so many of our local bands here, helping to raise the profile of many of the now 'big' Brisbane acts.
While annual events like Soundwave were sick and a total spectacle, they never really supported the city's underground for mine. Dead Of Winter has always aimed to do that, still does and will do moving into the future.
Now that we have a bit of traction, we can afford to risk bringing out a few more large acts to give Brisbane heavy music punters something annual to get excited about. We're doing our best to put Brisbane and thus Queensland, back on the heavy map in this country.
With the addition of a second venue, are there plans for further expansion of the event?
We certainly have a five-year plan of expanding the festival. The more support we receive with each event, the bigger the following year's event will get. No point getting too crazy too early.
We've doubled the festival capacity this year, something pretty much unheard of in event circles that don't rely on corporate backing. Fingers crossed with the mega bill we have this year we can even sell out. That would be a massive achievement.
If that happened it would give us the confidence to move forward again and add more stages and bands to the 2019 effort. There is a real need for heavy music representation in this country; we're happy to be a part of it.
For you, what are you most proud of with DOW?
As mentioned above under major successes, and personally last year was my first year of involvement with Dead Of Winter in a fest-management perspective and we went on to sell it out for the first time. I love that sh*t; hoping to do it again this year.
I've hit the DOW stage a number of times in the past too with my band Transvaal Diamond Syndicate; those moments were great as well.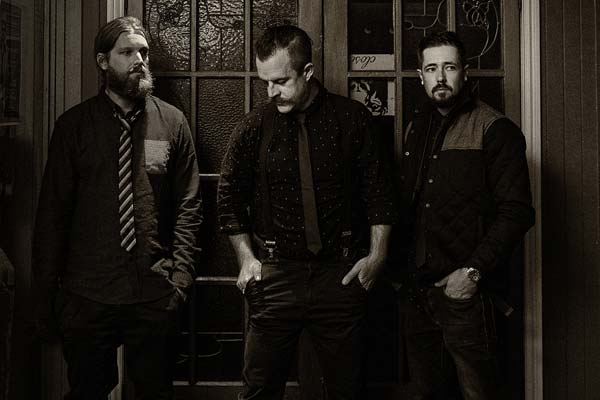 Transvaal Diamond Syndicate
What is your vision for the future of the festival?
A 10,000-strong event in five years time with an expanded heavy-genre offering, encompassing more music and alt-lifestyle options. We may also look to start smaller, annual offerings in other Australian and NZ capital cities if the timing and local attitude is right.
Anything else you'd like to add about the event?
Please come! It's going to be sick. Guarantee you won't be disappointed with the day that is Dead Of Winter. Thanks for your time.
Dead Of Winter Festival is on at The Jubilee Hotel and The Tivoli Theatre in Brisbane 7 July.