A night dedicated to Australia's premiere independent musicians and labels of the past 12 months, Australian Independent Record Labels Association's 12th AIR Awards were staged last night (26 July) at Adelaide's Queen's Theatre.
Melbourne-based folk-rock musician Jen Cloher had a celebratory homecoming when she was named Best Independent Artist.
It was a double celebration when her label, Milk! Records (which she co-founded and is label manager), was awarded Best Independent Label collecting a digital marketing package valued at $20,000, from moshtix, to help showcase their talent to the music public.
The lady power continued when Alex Lahey scored the gong for Best Independent Single for her bangin' number 'Every Day's The Weekend'.
In an AIR Awards first, Best Independent Album or EP was a tie with Perth art rockers Methyl Ethel ('Everything Is Forgotten' album) and Brisbane indie darlings The Jungle Giants ('Quiet Ferocity' album) each accumulating an equal number of votes.
Dedicated to 'supporting the growth and development of Australia's independent recording sector', the AIR Awards have a proud history of recognising some of Australia's most notable talents.
That tradition continued when Skinnyfish Music took out AIR's new Outstanding Achievement Award receiving a $5,000 cash prize from global independent rights agency Merlin, in recognition of their significant and lasting contribution to the Australian independent music community.
In the genre awards PNAU dominated in their category for Best Independent Dance, Electronica or Club Single and Best Independent Dance/Electronica Album. The Best Independent Hard Rock, Heavy or Punk Album award went to King Gizzard and The Lizard Wizard, while BIRDZ took home Best Independent Hip Hop Album.
Hosted once again by the ever charming Dylan Lewis, the night featured a slew of lively performances that started with Baker Boy partaking in Welcome To Country with the Tal-Kin-Jeri Dancers.
He then followed with his own 'Mr La Di Da Di' single. It would not be the final appearance for the Indigenous rapper, when Baker Boy received the award for Breakthrough Independent Artist.
Fanny Lumsden accepted the award for Best Independent Country Album, before taking to the stage to perform 'Elastic Waistband' off her 'Real Class Act' record.
Alex The Astronaut's performance of 'Not Worth Hiding' and Stella Donnelly 'Boys Will Be Boys' raw performance demonstrated the power music can have, while BAD//DREEMS kept the party atmosphere in tow with their 'Feeling Remains' anthem.
ABC Classics had good reason to celebrate with their two artists James Morrison/BBC Concert Orchestra taking out the gong for Best Independent Jazz Album and Australian Chamber Orchestra/Richard Tognetti receiving Best Independent Classical Album.
The night's proceedings came to a close with the unique and powerfully endearing Caiti Baker performing her R&B/Soul single 'I Won't Sleep'.
AIR GM, Maria Amato commented: "It was great to celebrate the success of the Australian Independent music sector at the 2018 AIR Awards in Adelaide last night.
"We are grateful to the South Australian Government for their continued support and to all our valued partners who helped us make it all happen."
Minister for Industry and Skills, the Hon. David Pisoni MP commented: "Congratulations to all the winners of the 2018 AIR Awards. The Marshall Liberal Government is committed to developing the environment for the next generation of creative talent in live music, to help the music industry grow and thrive in South Australia."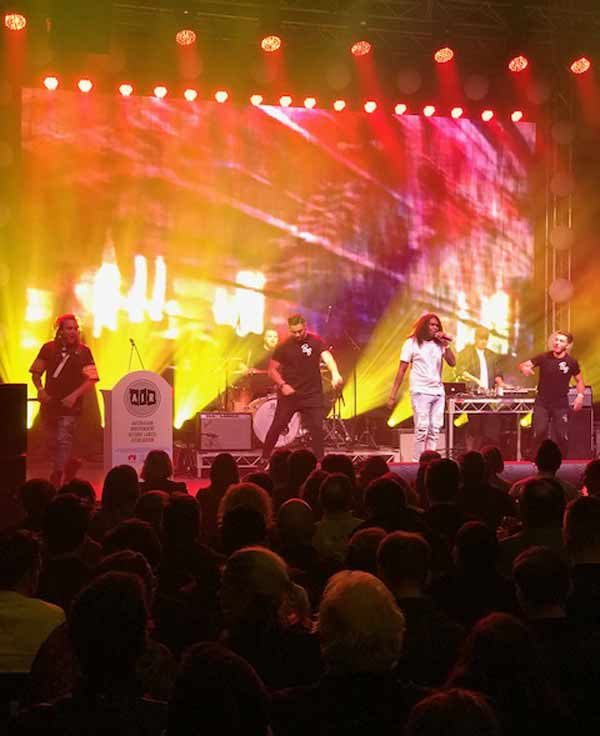 2018 AIR Awards Winners
BEST INDEPENDENT LABEL
Milk! Records

BREAKTHROUGH INDEPENDENT ARTIST OF THE YEAR PRESENTED BY PPCA
Baker Boy
(Independent)
BEST INDEPENDENT ARTIST
Jen Cloher
(Milk! Records)
BEST INDEPENDENT SINGLE
'Every Day's The Weekend' - Alex Lahey
(Nicky Boy Records)
BEST INDEPENDENT ALBUM OR EP
'Everything Is Forgotten' - Methyl Ethel
(Dot Dash Recordings) &
'Quiet Ferocity' - The Jungle Giants
(Amplifire Music)
BEST INDEPENDENT HARD ROCK, HEAVY OR PUNK ALBUM
'Murder Of The Universe' - King Gizzard and The Lizard Wizard
(Flightless Records)
BEST INDEPENDENT DANCE, ELECTRONICA OR CLUB SINGLE
'Go Bang' – PNAU
(Etc Etc)
BEST INDEPENDENT DANCE/ELECTRONICA ALBUM
'Changa' – PNAU
(Etc Etc)
BEST INDEPENDENT HIP HOP ALBUM
'Train Of Thought' – BIRDZ
(Bad Apples Music)
BEST INDEPENDENT BLUES AND ROOTS ALBUM
'When We Fall' – All Our Exes Live In Texas
(ABC Music)
BEST INDEPENDENT COUNTRY ALBUM
'Real Class Act' – Fanny Lumsden
(Red Dirt Road Records)
BEST INDEPENDENT JAZZ ALBUM
'The Great American Songbook' – James Morrison/ BBC Concert Orchestra
(ABC Classics)
BEST INDEPENDENT CLASSICAL ALBUM
Jonny Greenwood – Australian Chamber Orchestra/ Richard Tognetti
(ABC Classics)
OUTSTANDING ACHIEVEMENT AWARD
Skinnyfish Music