New Zealand band Shihad recently celebrated the 20th anniversary of their seminal album, 'Killjoy', with a release of the re-mastered album.
2014 was a good year for Shihad. With the release of their most recent album, 'FVEY', a comet trail of glowing reviews landed the album on the Australian Top 10 ARIA Chart and #1 in New Zealand. "It's been an album that has really had such strong feedback towards the band. It's been really really successful," Shihad drummer Tom Larkin says.
The name of the album refers to the Five Eyes network. "It is the name of a network that encompasses the United States, the UK, Canada, Australia and New Zealand that is known as the Five Eyes network. In intelligence documents and government documents that network is referred to as F.V.E.Y – Five Eyes."
Further to the release of 'FVEY', Shihad have also celebrated the 20th anniversary of their second album, 'Killjoy'. "['Killjoy' is] the album that really cast us further afield globally. This is the first album that allowed us to really tour Europe," Tom says.
Shihad's touring commitments at this time included opening for Faith No More in Europe across 34 dates. The release of 'Killjoy' brought the world to the band. "We released that album and through that album we toured Europe, we ended up living in Europe for 12 months and then we live in the United States for five months just off that album. The tour for it was enormous."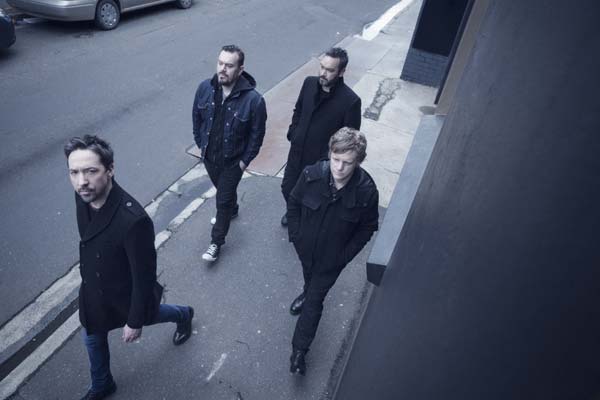 To celebrate the anniversary of 'Killjoy', Shihad have released a re-mastered album. "The cool thing listening to it is realising how well it's aged. Particularly listening to it back on vinyl and doing the re-mastering and all that. I did it with the engineer and it was just astonishing to see what was actually there. There's 20 years of digital technology that's made it sound really amazing."
As well as the re-mastered album, Shihad have scheduled a long lost weekend of shows in Brisbane. "We did a few shows [in Brisbane] earlier last year around
Bigsound
and it was really positive, so we wanted to get back and reinforce that." Included in the set will be tracks from both 'Killjoy' and 'FVEY'.
"We're going to play our hearts out. 'FVEY' will be a huge component of it and 'Killjoy' will be a large component of it. I think it'll be a major show."
With a Melbourne date just announced today, Shihad are also making plans to head to Europe in the future and have just come off a summer tour in New Zealand. But they are very much looking forward to doing a few shows in Australia. "The band is in really great shape right now and we can't wait to get up there."
Shihad Tour Dates
Fri 5 Jun - Hamilton Hotel (Brisbane)Sat 6 Jun - Parkwood Tavern (Gold Coast)Sun 7 Jun - The Racehorse Hotel (Ipswich)Sat 11 Jul - The Corner Hotel (Melbourne)