If it sounds like Tool drummer Danny Carey was on fire while recording his drum parts for the band's new album, 'Fear Inoculum', it may be because at one point he nearly was.
"I had an altar behind me when I was doing my tracks," he recalls with a chuckle, speaking from Maui where he's holidaying with his family.
"I don't know what happened, but I had a candle burning and there were fans on and I think somehow they blew the candle over onto a little towel and the towel lit on fire.
"Lucky we caught it in time. We were worried mainly if it was going to really start smoking and set off the sprinklers on hundreds of thousands of dollars of equipment. But we got it in time. We lost an afternoon cleaning up."
Considering that 'Fear Inoculum' comes 13 years after its predecessor, 2006's '10,000 Days', losing an afternoon is nothing more than a minor hiccup.
Of course, fans of the band's densely constructed amalgam of progressive rock and atmospheric metal may beg to differ, given that they've been waiting for a new album ever since 2008 when an official Tool newsletter reported that various members had started getting together regularly to work on new material.
Two days prior to this interview, and eleven years after that newsletter, new music finally emerged in the shape of 'Fear Inoculum''s title-track.
A 10-minute 21-second epic, it showcases Tool's trademark musical complexities – their knack for turning simple ideas in on themselves by manipulating time signatures; the lengthy musical build-ups; vocalist Maynard James Keenan's ethereal musings – but adds an element of restraint that speaks of a band stretching into new frontiers.
"It's a relief to get it to come out, that's for sure," Carey chuckles.
"It was supposed to be out before we did our European tour [in June], but things happen, like [delays with the] artwork and the packaging and just a lot of different factors. But better late than never."
Given its lengthy gestation, it's perhaps not surprising that 'Fear Inoculum' is the band's most ambitious album to date.
At almost 85 minutes in length, its longest song is the 16-minute '7empest', with the title-track its shortest. Interspersed throughout these epics are brief interludes, which range from various distorted sound effects to Carey soloing over a chromatic synth pattern.
Easy listening it is not, but the rewards are rich for those willing to invest their time deciphering its labyrinthine musical passages. "There are songs within songs," guitarist Adam Jones explains of the album's intricate compositions, speaking from his Los Angeles home.
"We were really working each other hard. . . it was almost like being back at school."
"We didn't worry about the length. When you jam something it can transcend into something else that's good. And you go, 'well, we could just end it, or we could keep going into this thing', and that's what we did."
As for the 13-year gap between albums, Jones points to a variety of explanations, ranging from a tedious lawsuit in which the band were sued by their legal insurance company, who they then counter-sued, to various members starting families.
As bassist Justin Chancellor attests, however, it wasn't for a lack of effort that the album took as long as it did. "We get asked that quite often: 'what's your excuse for taking this long?' The fact is, we've been really working on it," he says, speaking from his property on the outskirts of Los Angeles.
"You've got to understand – for years me, Danny and Adam would be driving to Hollywood, to our rehearsal space, four days a week. Okay, it's not five days a week, we'd give ourselves a rock & roll day off, but we did a working week, for years. And we were taking it really seriously.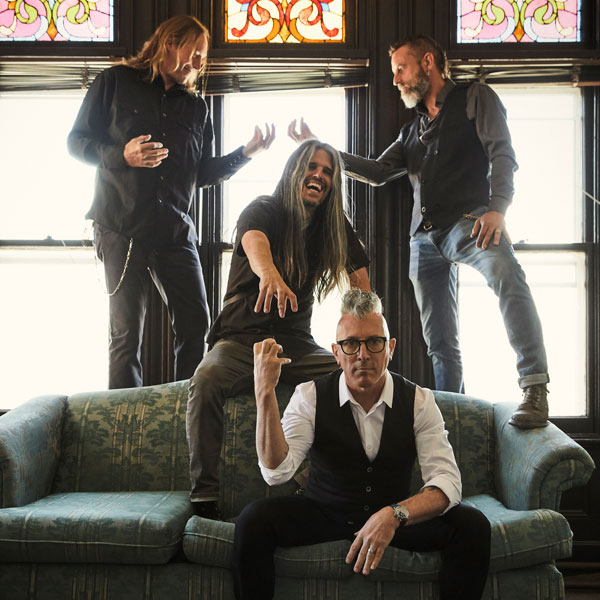 "We're not impressed with ourselves; we were all really working each other hard and it was almost like being back at school. Adam was like, 'You guys are going to do some homework tonight'. And we'd take stuff home."
For vocalist Maynard James Keenan – who's notoriously reticent to go into detail about lyrical themes, preferring to leave it up to the listener to apply their own meaning to the lyrics – it's too soon to quantify how much the band have changed in the years since '10,000 Days'. "It's too fresh," he says.
"It's really hard to have any kind of objectivity or perspective. You're just doing it. I would have to look back on [the album] at some point to get perspective. But I did everything I can do to make it be the best that it can be. I've second-guessed myself every step of the way and re-evaluated.
"And if I've done it wrong, I will only know about that in a little bit of time. And then I can learn from that mistake or success and build on that with the next thing I'm doing. There has to be some perspective to learn from the success and failures of it."
'Fear Inoculum' is released 30 August.