SAE Creative Media Institute graduate James Rutkin's story is one which showcases the potential and possibilities of newly-learnt skills through education.
James' short film, thriller 'The Lumberjack', produced as part of his Bachelor Of Film final project, has been met with success overseas. It has won 11 awards at the Cannes Film Festival, the Los Angeles IndieX Film Festival, and Thrills And Chills Film Festival, to date.
The film is an example of the filmmaking talents in our own backyard and the potential for SAE students, as well a passion project and the beginning of a potentially prosperous career in film.
Here, we chat to the SAE graduate and award-winner about his film, its success so far, and his time at the Institute.
Tell us a bit about 'The Lumberjack'?
'The Lumberjack' is a horror-drama short film that I directed in 2020.
What did you have in mind when you began to put the story together?
I wanted to create something that showed a steep gradual decline of mental health – and I wanted to show this through constant nightmares.
The filming process wasn't the simplest for you. Talk a bit about that.
Obviously in a film called 'The Lumberjack' you're going to be shooting around lots of trees – and unfortunately as we begun shooting we were starting to reach a really difficult time as a country with the bushfires.
On a more positive note, what was the best part of the creative process of this film?
Working with such a good team of people, it was really satisfying for a student film to have over 14 cast and crew drive all the way to Cooma to collaborate on a pretty large-scale short film.
The film has already been met with success overseas. How does this kind of acknowledgement feel?!
It's nice, the thought of someone overseas watching 'The Lumberjack' is pretty surreal.
You're a graduate of SAE Creative Media Institute. Why did you decide to enrol at this institution in particular?
I was told that SAE had fantastic equipment and really good connections into the industry.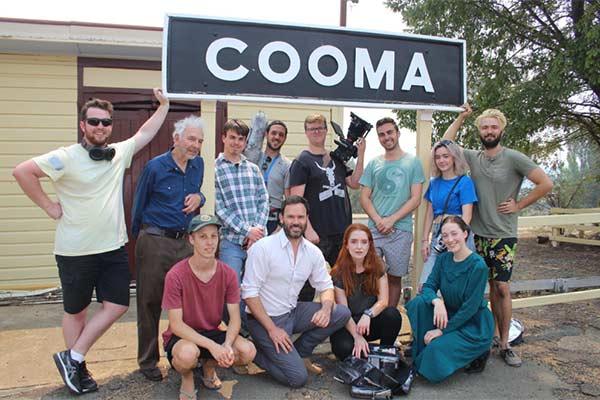 What's perhaps your most memorable moment when it comes to attending SAE?
Aside from obviously shooting 'The Lumberjack' – any time we were out in the world shooting was a blast – we got to make a web series in Forster near the water, that was a really positive experience.
And what's the most valuable thing you took on board/learnt from your time there?
I learnt a lot about working with different people and how people react in different scenarios. I'm quite a chaotic person sometimes and it's important to be around other work ethics to see what works and what doesn't on sets.
'The Lumberjack' was developed as part of the final project of your Bachelor degree – have you begun to think about what kind of film you might like to make now you've graduated?
I have a short film 'Applause' I'm trying to get funding for at the moment, I've been working on the script for a few years now and am really excited to try get the film made – it's a psychological horror about people's addiction to other people's approval.
Find out about SAE Creative Media Institute's offerings at their website.