Do spaceships need parking spots? Can love survive social distancing? Are we all just marionettes of meat marinating in imprecision?
These are just a few of the questions posed by stellar new short film, 'The Home Team'. This suburban space opera is one of the stand-out features at this year's
Flickerfest short film festival
, currently on tour around the country.
From humble beginnings as a tiny festival hosted at Balmain High School, Flickerfest has grown to be an internationally renowned event recognised by the Oscars, BAFTAs, and other prestigious award bodies. Now in its 31st year, the festival travels all over Australia, giving movie-lovers the chance to enjoy a unique night out and discover rising talent in the filmmaking world.
Australian Film Television and Radio School graduate Luke Cartwright is one such rising star. His directorial debut, 'The Home Team', feels whimsical and yet deeply familiar at the same time. It's playing as part of the Flickerfest national tour in 2022.
The story centres on plumber and space cult member Glen Rose whose deepest wish is to rekindle the romance with his wife, Glenrose. Unfortunately, Glenrose is so deeply indoctrinated that there may as well be lightyears between them. The film is a beautifully constructed blend of darkness and light, comedy and tragedy, bizarreness and deep familiarity – all in one shimmering pastel package.
"I had some great source material," Luke explains before describing the journey he took to find his cultish premise. A late-night Reddit rabbit-hole led him to Mark and Sarah King – a couple of surviving Heaven's Gate members who are still very much committed to the cult's doctrine. "The rest of the members 'went to the next level' in 1997, but Mark and Sarah are still here on earth, running the website, responding to emails, and presumably getting on with the more mundane aspects of life while also being in this cult. My mind immediately started ticking over as to just what that life would look like."
Though the costuming, set design, music, and effects are all fantastically otherworldly, the film hits so well because the characters have real and relatable emotions within their ridiculous situation. "Pain is comedy," Luke says. "The characters are suffering. They're never trying to be funny, they're never cracking jokes. They're just in their own worlds."
This is true both figuratively and literally. The doctrine of their cult leader, Darren (best cult leader name ever) is that they cannot touch or be within 1.5 metres of each other. While this is an obvious nod to the pandemic, Luke says it also speaks to the distance between us in all our relationships.
If you've ever sat in bed with your partner, together but also deeply ensconced in the separate worlds of your smartphones, you'll discover that you've got a surprising amount in common with the adorable cult members of 'The Home Team'.
You'll also find those characters strangely familiar in another sense. The film stars Paul McDermott of 'Good News Week' and Doug Anthony All Stars fame, Tara Morice from iconic Aussie film 'Strictly Ballroom', and Nicholas Hope from cult classic 'Bad Boy Bubby'.
"It's amazing that these actors walk amongst us and are willing to work with new filmmakers. It was a real coup to have them come on board."
Getting these Aussie legends on board for a graduate film project involved hard work, confidence, and a literal dumpster fire. While the dumpster fire wasn't an essential component, Luke says creative groundwork was key. He was lucky enough to be working with talented storyboard and concept artists, so he had strong material to present to potential collaborators. "The first actor I hit up was Paul McDermott, who is a comedy legend and one of my idols."
Luke was stunned when McDermott actually replied.
"He called me at work, so I had to run to the window to get good reception. I was trying to keep it together and form proper sentences, but as I was looking down at the footpath below, a bin went up in flames."
This wasn't a modest blaze either.
"A fireball exploded out of this bin. City workers were throwing bottles of Evian at it, trying to put it out. Meanwhile, I'm on the phone trying to pitch to this legend and idol of mine. Luckily I managed to get him over the line."
McDermott's appearance in the film will be a surprise to those who remember him as the clean-shaven and brutally sarcastic host of 'Good News Week'. Not only do you get to see the comedian's soft side, but you also get to see him with one hell of a beard.
"When I met him, he was clean-shaven. It took a lot of convincing to get him to grow that thing. When he rocked up to rehearsals, I hadn't seen him in a while, and I wasn't sure where his facial hair was at. Then he shows up with this beautiful beard. I was genuinely touched."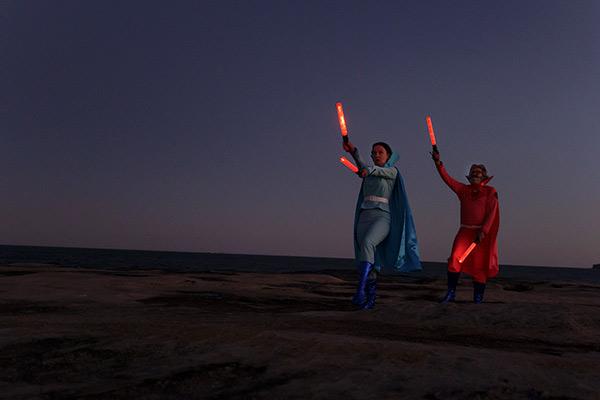 From McDermott's beard to the spacey soundtrack, the kitschy costumes, and even the snappy fonts in the final credits, it's clear that a whole lot of love went into this film from everyone involved. "I think we spent a week picking those fonts," Luke laughs. "And our composer, Scott Majidi, went really deep in drawing out all the tiny little emotions in each scene. He took you on this journey and found little moods between the lines of dialogue."
All of this demonstrates the beauty of creative teamwork. "It was a real lesson in collaboration. It's not just the writer and director who need to understand how these characters work – everyone on set is a storyteller, from the costume designer to the props person. They all need to have a deep understanding of where the characters are at. Luckily, I had 97 people on set who knew how to humiliate a plumber."
That last line will make sense once you've seen the film, which you can still see on the silver screen as part of the Flickerfest national tour.
"I'm very lucky that Flickerfest took a chance on my film. It's played in lots of different places around Australia and appeared alongside some killer short films, which I'm just so thankful for."
You can catch 'The Home Team' and a host of other impressive Australian short films in the Flickerfest national tour, on the road until October. Upcoming dates include Adelaide and Parramatta (7 May), Brisbane (12 and 13 May), and Newcastle (21 May). Check the Flickerfest website for dates.