A new comedy is here from New Zealand titled 'The Breaker Upperers' starring Madeleine Sami and Jackie van Beek who also wrote and directed the film.
We got to speak to the two talented filmmakers whose careers continue on a sharp ascent.
Madeleine and Jackie play Mel and Jen who run a company that pull off cons to help customers break up with their significant others. The premise, ripe for comedy, first came to the writers a few years ago.
"The concept just occurred to me out of the blue actually, just one time when I was mucking about in my kitchen and I was just reflecting on all those conversations that I'd had with friends in the past about that horrible kind of feeling of dread you have when you realise that you have to break up with your partner. I think it's just a universal feeling and I thought it would be funny if you could outsource that responsibility. Then I rang Madeleine and asked if she wanted to write a comedy," Jackie recalls.
"And I said oh alright, well have you got some money to pay me?" Madeleine jokes.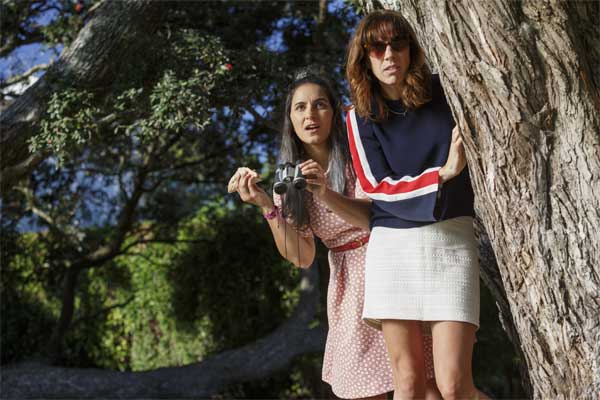 The cast features an ensemble of supporting actors who stand out with great comedic turns, in particular Ana Scotney and James Rolleston. As veterans of theatre and improv, the two directors nurtured a collaborative environment that would bring this forth. "I was lucky enough to talk to Jane Campion before I directed my first feature film and I was talking to her about directing actors and she said 'All you've got to do is love your actors', like that's all you need to do and then they will just give you beautiful performances which I found to be very true!" Jackie says.
Madeleine concurs: "We try to empower our actors because that's what we like. We like directors that empower us."
Not wanting to repeat many clichés of the romantic comedy genre, the pair set out to do a film that would surprise and delight. "Our main desire is that people that walk out of the cinema feel good. That was really important to us when we wrote this. And also especially for females, a feeling of empowerment and a kind of feeling of freedom like they could navigate their own course through life. We were very conscious of not wanting to follow the conventional tropes of a romcom. We were very clear with ourselves that we wanted the friendship between Jen and Mel to be the central relationship," Jackie explains.
"A lot of these films that get made, conventional sort of romcoms and things... They end very neatly and they tell us what a conventional life looks like, and it feels like there's always a pressure, especially on women, to kind of settle down – find a man. We really wanted the message of our film to be, 'you can find love anywhere and it can be as satisfying as you need and there's no pressure'. You can find the love with the people that are around you and that can be enough and that was a point that we wanted to get into the film," Madeleine elaborates.
With an empowering message, that special brand of New Zealand humour and a hilarious cast, 'The Breaker Upperers' is sure to delight Australian audiences and showcases the increasingly recognised talents of its two creators.
'The Breaker Upperers' is in cinemas 26 July.