How can five laid-back New Zealand lads be such magnets for controversy?
This is one of the central questions underpinning StudioCanal's latest music documentary, 'SIX60: Till The Lights Go Out'. Led by talented Director Julia Parnell, the film aims to give viewers a front-seat view through the chaotic history of New Zealand's biggest pop-dub sensation.
Watching this crew of relatable kids go from rolling around drunk at backyard gigs to selling out a 50,000-person stadium is one hell of a trip.
We had a chat to Julia Parnell about her experience with the band, and the challenges and rewards of documentary filmmaking.
You mentioned that your preconceived ideas about SIX60 changed in the process of making this movie – what were those preconceived ideas?
SIX60 is New Zealand's biggest band. Hands down, they have smashed every record there is from charts to concert ticket sales. Despite this, in their ten-year career critics and media have been harsh. I love all music and have dedicated my life to telling music stories but SIX60 were a band just not on my Spotify radar. So when I first met them during the making of 'Anthems: New Zealand's Iconic Hits', a five-part documentary series I was making celebrating the art of songwriting, I was expecting a simple story about a band crafting popular music with massive appeal.
And how did the filming process change those ideas?
When the band invited me in to talk with them more about making a documentary, they had just decided they would do the unthinkable by selling out Western Springs, our country's largest stadium with a 50,000-person capacity. A venue reserved only for the world's mega stars. This audacious decision gave me the platform to build out the film but actually turned into a catalyst to discover that actually, within SIX60 were a host of complex, fascinating and at times, heartbreaking backstories. SIX60 just doesn't fit with the expectations of rock and roll's outsider archetype and until now, they were reluctant to share their truth with a dismissive media. Filming with the band, drilling into their motivations and fears and spending time with their families, I discovered that what SIX60 do with their music, and their relationship with their fans is all intrinsically connected to the fascinating breadth of their individual backgrounds: Small-town 'broken' families, mighty Māori dynasties, adopted families. Not many pop icons, especially male ones in the middle of a phenomenal career, are open and forthcoming about vulnerability, conflict and self doubt and audiences will be inspired by the authenticity of these dudes.
There's a beautiful moment in the film where you go through all the different types of SIX60 fans, revealing that there is no specific demographic. Why do you think they're able to have this universal appeal?
No musical act has ever garnered such a deep connection with fans as SIX60. As the band say in the film, their fans are as diverse as they are. SIX60 speak to everyday people because they are themselves in many regards. Five students who matured into young men in front of audiences all over the country. It's that journey and that growth which is an essential part of their appeal. This band also channel a deep love to their fans who return it ten-fold. It's a feedback loop that's given SIX60 a stupendous fan following and made them so successful.
It was great to hear the band members' backstories, the difficulties they overcame, the support they had from family. Is there a moment that stands out for you when you were particularly touched or surprised by something they revealed?
As a documentary filmmaker the exciting thing is seeking the 'in' to deepen my own connection to the subjects and from there a vehicle from which to draw out emotional development of the story. The breakthrough came in a song. I was very early in the filming process and in the studio with SIX60 for the first time. One song really piqued my interest, 'Ghosts'. Matiu spoke with a sense that this was a work-in-progress song coming directly from his heart. The lyrics spoke of needing help and personal confusion and of seeking deep changes in his life. Here was the lead singer of a band that has sold out Western Springs two years running, candidly speaking about his own personal doubt and the conflict that can come along with striving to be great. This moment helped me understand this story was one of vulnerability – the creative vulnerability and emotional vulnerability of these five men. SIX60 had opened a door that performers rarely do. But SIX60 are different. They've always done things their way and they're reinventing what masculine creativity can mean. Open. Honest. Untold.
What were your main challenges in bringing your vision for this to life?
The main challenge was trying to fit the storylines of five very different men together, each of the band members has a deep story that makes them very different from each other. A great deal of time and thought went into 'how can I visually represent each of these men' so that I could really portray the different walks of life these boys have lived. Each band member comes from a very different part of New Zealand and that gave me a beautiful and diverse canvas to paint this picture on.
From the behind-the-scenes pictures, it looks like you had a lot of laughs on set. Any favourite moments with the lads that stand out?
There were so many hilarious moments on set, the guys are great to hang with. I'm sure many of their fans will be jealous of that! As for a favourite moment though, the boys spoke about how cathartic the documentary-making process had been and personally I think the film gave them time to confront some residual issues and to deal with any hangovers from the past. So, in our final shoot at Matiu's family home in Mangawhai, the boys had a BBQ. Over the day they discussed their ten-year journey together, as well as the two years filming with me. Having gone through that period of hardships and self-discovery, to now having made history and overcoming the past, that day of filming felt like the full stop at the end of a chapter – ready to begin the next.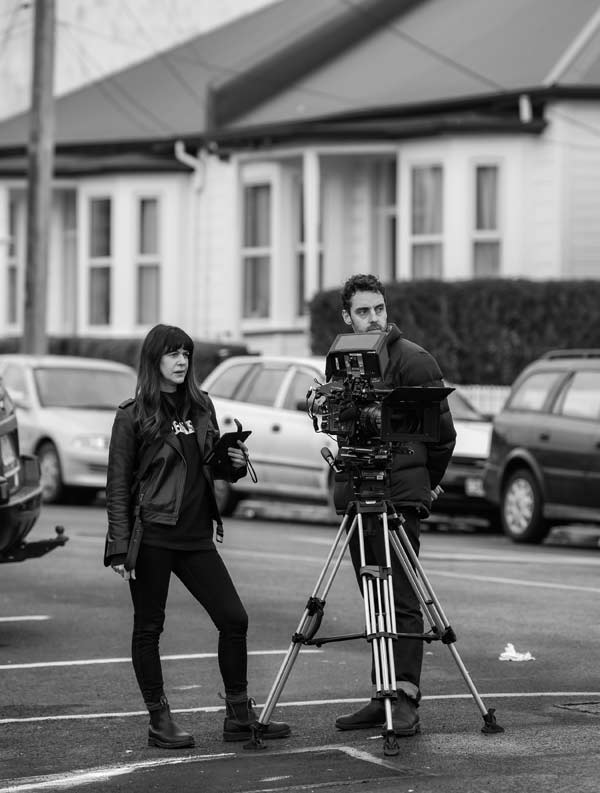 There's an added poignancy to watching those massive crowds of happy people after having been in lockdown for so long. As someone who's deeply involved in many aspects of the entertainment industry, how do you imagine live entertainment will evolve in the post-pandemic world?
The pandemic has forced us to interact with music in new and more direct ways online but you can never take away the feeling of connection you get with a live concert; feeding off the energy of the music, the crowds around you and the raw performance. Here in Aotearoa New Zealand we are so aware of how lucky we are to be out and attending shows and all I can say is that I hope that opportunity can continue here and stretch to the rest of the world before too long.
The magnitude of the concert at Western Springs was beautifully captured with drone footage. What other inventions have made life easier for you as a filmmaker?
The drone was definitely amazing but for this film it was the use of the wire cam that really took the coverage to the next level. The cable cam was strung from a lighting pole on one side of the stadium all the way across to the other side. It was amazing to see it in action whip across the 50,000-strong crowd. Adding a bit of challenge to the process was that during the dress rehearsal for the concert the day before it was pouring with rain and the camera stuck in the middle of the cable for the whole time. We weren't able to practise or even visualise how this camera would look. On the day of the concert it rained right up until the gates opened. Thankfully the clouds parted just as the hoards of people descended, giving the cable just enough time to dry out and capture this moment in musical and cultural history.
Is there anything we haven't covered that you'd like to add?
My hope is in the release of this film in Australia I am able to shine a light on a success that is inextricably linked to unique characteristics that both New Zealanders and Australians share as battlers. Courage to live your dreams, finding purpose and meaning in life, and proof that becoming something great is within reach for us all.
'SIX60: Till The Lights Go Out' is in cinemas 26 November. Tickets are on sale now.