Cottesloe Film Festival (CottFilmFest) combines a programme of world-class films with a line-up of live musicians to provide a carefully curated and holistic film experience.
"We're really trying to make it a whole event," CottFilmFest Founder Miranda Edmonds says.
"So you can come in at 5pm, have a picnic, enjoy everything and see the film. That's where it's evolved to – instead of just 'come and see a film', it's evolved to 'come for the whole evening'. It's almost turning into an arts festival, which is great."
From Australian films to Hollywood blockbusters, documentaries, arthouse flicks and something for the kids, Miranda says she aims to create a programme that has wide appeal.
"I'm a filmmaker myself, so I have a very strong interest in playing some Australian films each year; we always have a few great Aussie ones," she says.
"We also try and get a bit of parity between men and women directors in the films we choose, so this year we have four films directed by women; that's really fantastic and something I'm really proud of. Then I love to have a doco in there, we always have a family night so we have 'Frozen 2' for the kids, and then I also like to have a couple of beautiful foreign films if I can."
Asked to select her own personal highlight out of this year's collection, Miranda is certain the stand-out of the bunch will be 'Pain And Glory', a Spanish film directed by Pedro Almodóvar starring Antonio Banderas and Penelope Cruz.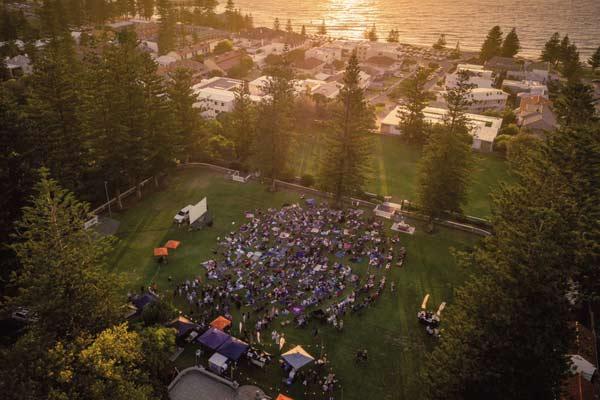 Image © Freestyle Aerials
"It's actually a beautiful experience, it isn't too harrowing," she says.
"It's this gorgeous look at this man's life, and of course Almodóvar is one of the greatest directors in Spanish cinema. It's his reflection, it's very personal and Antonio is just amazing in it, as is Penelope Cruz.
"It's just gorgeous, and it's full of colour and life; it's a beautiful film and we have our special Spanish guitarist Jere Sosa playing that night. So we'll have beautiful Spanish music and the Spanish film, it's going to be a really good closing night."
Like a good wine and cheese pairing, Miranda strives to couple each night's film with appropriate live music that complements the film and enhances the experience for movie-goers.
"This started from the first year that I did the festival, and because it's such a beautiful environment down on the Civic Centre looking out over the [Indian] Ocean, we thought live music would add such a nice element to the evening," she says.
"We always try to link the music to the film in some way, it sets the scene and gets everyone in the mood. Then we have our party night, which this year is 'Once Upon A Time In Hollywood', so that's the night everyone dresses up. Last year was 'Studio 54' and I think '1960s Hollywood' is a nice dress-up theme. I'm already on the hunt for my costume – last year was sequins and I think this year it's mini-skirts, and hawaiian shirts for the boys."
Cottesloe Film Festival is on at Cottesloe Civic Centre (Perth) 31 January-16 February.