Melbourne WebFest is Australia's only web-series festival.
2015 marks the third year the event (10-12 July) will celebrate creative-content producers, from home and abroad, who use web-based mediums to broadcast their series.
With the current trend of developing a cult following using on-demand streaming services here to stay, 23 Australian series were 2015 official selections, alongside 28 international entries, at Melbourne WebFest; altogether, the selections represent 11 countries.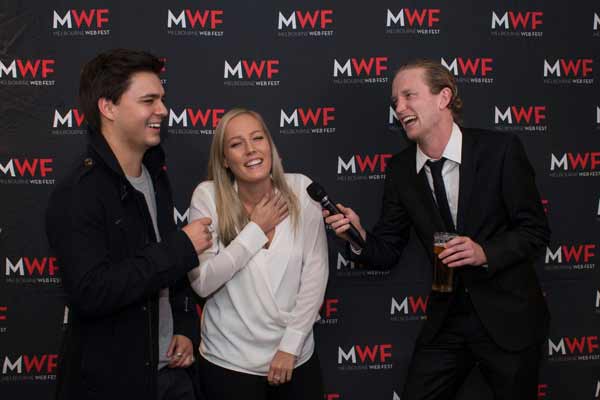 Melbourne WebFest 2014
Festival Director Steinar Ellingsen commented: "We received a record number of submissions again this year, and have been blown away by the quality of the work we have received from all corners of the world. Our festival keeps on growing steadily; every year it's a giant leap forward."
The programme includes many categories from non-fiction to drama and sci-fi, fantasy to suspense, thriller, animation and comedy. Highlights include: 'Gettin' Down' (USA), 'Comedians In Bars Drinking' (Australia), 'Bigshot' (France) and 'Oposto Do Sexo' (Brazil).
A range of awards are on offer for the creators, with the judging panel including the Van Vuuren brothers and Nicholas Boshier (better known for the 'Bondi Hipsters' and 'Soul Mates' series).
The winner of the Grand Jury Award will receive an all-expenses paid trips to LA WebFest and Marseille WebFest with automatic entry into both festivals, as well as the Rome WebFest, K WebFest and WebFest Montreal. The winner of the iview award will be offered acquisition to the ABC's iview platform.
On the Friday, an Industry Development Day will be held at the La Trobe University's City campus. Budding content creators will have the chance to learn the tricks-of-the-trade and foster contacts.
A number of workshops will be delivered by industry professionals, including Simone Flanagan's 'How To Make Your Work Accessible: Connecting With Audiences Of All Abilities'.
Web series 'My Choony'
On the Sunday, the 'Millions Are Watching' panel discussion will be guested by Christian Van Vuuren and Nick Boshier, Tamasin Simpkin (The Katering Show), Enzo Tedeschi (Airlock, The Tunnel, Event Zero) and Zach Ruane (Aunty Donna).
Melbourne WebFest takes place at Federation Square and La Trobe University, 10-12 July. Click here for the full programme details.