If you had to spend your whole life as someone else, you could do a lot worse than being James Bond.


"You'd do it, wouldn't you?," George Lazenby asks with a wry laugh. "Most people don't know hardly anything else I've done."
George is best-known for portraying MI6 secret agent James Bond just once in the 1969 film 'On Her Majesty's Secret Service'.
More than 50 years later, George is still happily living the Bond life and will be bringing all the suave, sophisticated charm of the world's favourite secret agent to Supanova Comic Con & Gaming exhibitions in Melbourne and Gold Coast this March.
"I mean, I haven't had an agent for ages, and I probably could do a lot of work if I wanted to go to interviews, tests and all the other stuff," he adds. "But I've done all that and I just like getting up in the morning and doing what I want to do."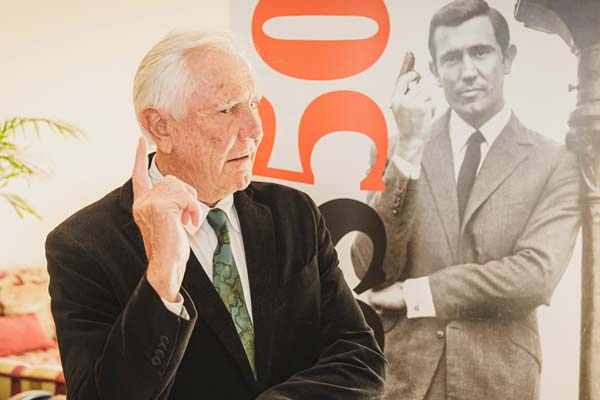 Though Bond remains the focus of his professional life, George admits he hasn't stayed up-to-date with the film franchise. "No, I'm not, I haven't been," he says when asked if he's a watcher of the films.
"Although, I'm invited to the premiere here [in LA] of the latest Bond next month. Aston Martin are lending me a car and the Bond people are giving me a Bond watch and blah, blah, blah, so it's hard to get away from."
In the canon of Bond films and the actors who have portrayed the character, 'On Her Majesty's Secret Service' and George's contributions have historically been overshadowed by those of Sean Connery (perhaps the prototypical Bond), Roger Moore and, much more recently, Daniel Craig.
However, 'On Her Majesty's Secret Service' contains a pivotal moment in the development of the James Bond character: the death of his wife at the hands of his nemesis Blofeld and henchwoman Irma Bunt. As Bond cradles his dearly-departed, he tells a passing police officer 'there's no hurry, you see, we have all the time in the world'.
"When I did that scene I had tears running down my face," George reveals. "The director, Peter Hunt said 'cut!'; he said, 'James Bond doesn't cry, cut out the tears', and that would have been really powerful if he had let me do that.
"When I was at the premiere people coming out with really sad faces, some of them had tears and I was thinking they didn't like it," he laughs. "I never thought it'd be the scene at the end that would kill them."
As the James Bond franchise evolves to maintain relevancy so too must the character itself, with suggestions it may be time for a woman to step into the role of 007 as Daniel Craig's tenure draws to an end. "Why not? There's some tough girls around," George laughs when asked his opinion on a female 007.
"Girls are more believable. You look at the newscasters, they're mostly women here in America, and it's changing. It's a changing time and it might work, I can't see it not working if you get the right woman.
"There's some tough actresses out there, but I would imagine she'd have to be English and I don't know too many English actresses these day because I'm not living there, but I'm sure there's one out there who could do it."
Supanova Comic Con & Gaming is on at Melbourne Showgrounds 6-8 March and Gold Coast Convention & Exhibition Centre 13-14 March.