Short film festival Flickerfest is officially on the road, touring the country with a trunk full of brilliant cinema to showcase at every stop.
One of the films set to be shown at the Gold Coast and Toowoomba stops of the tour is 'Smashed', produced and written by siblings Kristie and Tyson Yates respectively.
'Smashed' is the story of two twenty-somethings who are faced with losing their long-term Queensland share house – so they come up with a plan to keep not only the house but their smashed avo breakfasts as well.
Kristie and Tyson Yates tell us more about 'Smashed' and its involvement in Flickerfest 2021, before the film is shown at HOTA Gold Coast and Empire Theatre Toowoomba.
Tell us a bit about your film 'Smashed'.
Tyson:
'Smashed' tells the story of two high school best friends turned lifelong housemates who find themselves at breaking point over the course of a routine house inspection. Well, routine for them is tormenting the real estate agent, scaring off potential buyers by creating an elaborate back story about the place being haunted all so they can maintain their unremarkable way of life. Amidst the shenanigans though, Louis feels 30 fast approaching and finds himself reflecting on where he is in life, compared to where he thought he would be. Roobs is a free spirit who has no reason to grow up, though the thought of losing her best friend has her more upset than she'd care to admit. On the surface it's a comedy about two bickering housemates saving their rental, but beneath the bloody makeup there's a deeper sentiment about how moving out is moving on.
Kristie:
Put simply, 'Smashed' is about two people who will stop at nothing to keep their home, their friendship and their smashed avo breakfasts.
Enter our competition to attend Flickerfest in Toowoomba or the Gold Coast here.
Why is short film a good medium for communication?
Tyson:
Short film is a fantastic medium because of the discipline required to tell a concise story. To unpack a central theme, create and explore well-rounded characters, make people laugh or cry within a restricted period of time takes years to learn – I've heard. One of my favourite things to do is go back and watch early shorts from some of my favourite filmmakers and then hate myself for not being that clever that early. I like to see each short form project as stepping stones that lead you to your next. They are nimble things that allow you to each time strengthen a new element of your filmmaking until you one day have the skills to paint the bigger picture.
Kristie:
I'm excited by the challenge of telling a great story in a short amount of time. 'Smashed' delivers just a snapshot of a day-in-the-life of the characters Louis and Roobs but if we've done our job, ideally it's enough for audiences to relate and root for them by the 14-minute mark.
And what was the intention behind 'Smashed' throughout its creation?
Tyson:
It seems every new filmmaker makes their version of a sharehouse comedy they think is totally different. That or a dinner party. 'Smashed' is ours. I suppose the reason filmmakers flock to these is because of budget. When I write scripts I tend to keep budget in mind. Restricted budget shouldn't restrict the strength of a story. Like trying to impress a first date at Sizzler, I see it as an affordable challenge. Another intention with 'Smashed' was honing our skills when it comes to running a production. This is the first time Kristie and I have headed a project ourselves and so a big focus was feeling confident in pulling off everything from pre-prod to running a set – all the way through to post to get a final product we were happy with. We will always get better at writing and directing stories but the best script in the world – or even one of mine – won't carry across to screen if we didn't get production right. On that front we are very proud of 'Smashed'. There were relatively no hiccups and of course that has everything to do with the fantastic crew and cast around us who are equally passionate filmmakers. Anyway, having pulled this off was important because it gives us confidence on the next project so that we can spend more energy on the creative.
Kristie:
The project evolved from mere observations, complaints and ridiculous stories of Brisbane sharehouse living, into endless scenarios for web series episodes before settling on one whacky, yet relatable story (minus the blood) which we decided works as a rounded stand-alone piece.
Tyson, as Writer/Director, what was your favourite thing about putting it together?
As the Writer/Director my favourite thing about putting this together is seeing how different parts of the filmmaking process inform each other. This is my first experience directing and that process definitely made me consider what parts of a script need to be on paper and what parts can be brought to life through your actors as well as what parts of a script you need to pay special attention to in your direction. Not to mention the edit, and how your script can transform. I'd like to consider myself a writer primarily and this process will definitely change the way I write. Still, my absolute favourite thing is being in the audience when a joke I write lands. . . Then of course the bastards laugh at something I never intended to be funny and I'm slumped in my chair sulking like a child – it's exhausting, but amazing.
And Kristie, how about you from a Producer's perspective?
I only took the job because mum made me. . . But actually Tyson and I spend plenty of time coming up with silly bits and script ideas so as soon as this one had legs, we were keen to make it happen and it's my first project as Producer. I've loved the entire process but my favourite part is working with our brilliant Brisbane crew and cast who became a second (more punctual) family unit after several days together in a small house. It's like Christmas with more expensive lighting and less 3pm TV naps.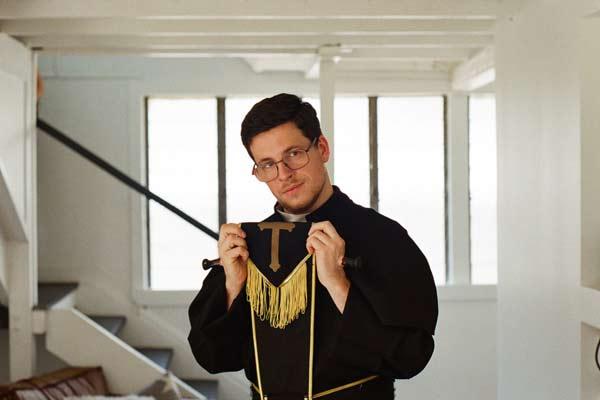 What is the greatest part about having this film be a part of Flickerfest?
Tyson:
The greatest part of having 'Smashed' play as part of the Flickerfest programme is certainly the fact that it is seen by many people across a number of locations. I have family and friends spread across the country so it's always nice to send them along when Flickerfest comes to their neck of the woods. Also, the calibre of film at Flickerfest is always very high. Just reading the programme and recognising the names of people local and from afar whose work I follow closely makes me excited to be in such good company and as a first time director it makes me feel like I'm on the right track.
Kristie:
I have attended Flickerfest most years over the past decade bouncing between Mullumbimby, Byron Bay and Brisbane as it generally falls around my birthday. It's a nice way to trick loved ones into enabling my short film obsession. There's such a beautiful sense of community throughout the festival built from supporting other filmmakers and it's been an absolute thrill to be on the other side of that now too.
Enter our competition to attend Flickerfest in Toowoomba or the Gold Coast here.
And what do you think makes Flickerfest special?
Tyson:
We've had a film in Flickerfest in some form over the last three years now. Before that we simply loved attending the festival whenever it came to town and that's what makes Flickerfest special to us. It's always showcased a great quality programme, both the Australian and International Shorts sections, we've honestly never been disappointed as viewers so to have our film in the programme is an amazing feeling. In fact, we didn't submit to a lot of festivals beyond Flickerfest. I know people like to shoot their film to all corners of the globe to as many festivals as possible – big and small, but the only thing we were hoping to get out of this film was to be better at the craft. We're already plugging away at the next project so watching 'Smashed' play at Flickerfest is going to be a great reminder for us of what we have achieved this time around as well as getting us excited about what's to come.
Kristie:
Flickerfest is genuinely my favourite Australian film fest for the vast range of extraordinary films across all genres that are on offer. Particularly in regional areas, it opens people up to projects they may not otherwise get the chance to see. While our film is on the lower budget scale and scope, amongst some heavyweight company, we have received a wonderful amount of feedback praising the simple, relatable, Queensland-savvy storytelling, which is so encouraging for emerging filmmakers like us.
'Smashed' plays as part of Flickerfest's tour coming to HOTA Gold Coast (25 March) and Empire Theatre Toowoomba (27 March).