The 28th Flickerfest short film festival will return to Bondi Pavilion in January, 2019.
In her 21st year as Director of Flickerfest, Bronwyn Kidd offers a sense of what people can look forward to.
"They can expect a selection of the best short films from Australia and around the world," she says.
As the largest short film festival in Australia and the only one with Academy accreditation and BAFTA recognition, for Bronwyn it comes back to the passion of the filmmakers who submit their works. "I think that's really important in short films, you can really tell if a short film is authentic and that bit comes across and that's not a budget thing. When somebody is just trying to make something that is very shiny and has famous people in it… It's about the authenticity of making a film that is important to you and personal to you."
When it comes to the form itself she agrees, "It's definitely a different way of storytelling, I mean you have to engage with the story immediately, you don't have that time really for character development but I think also it's a really good way of celebrating really independent storytelling. Because it's not really about the box office."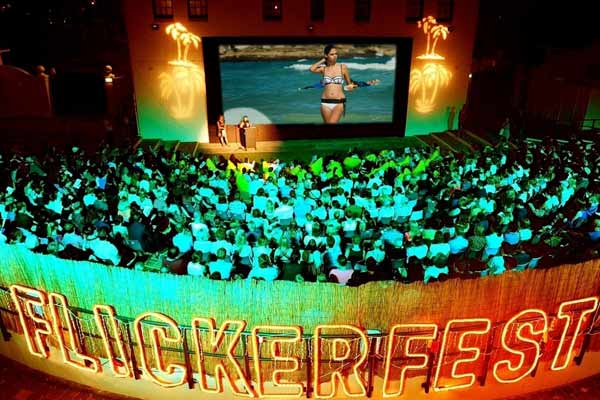 Some of the highlights from Flickerfest will go on a national tour through over 50 different venues including regional areas. "I think it's really nice for people outside of the capital cities. It's just wonderful to be able to give access to these stories and to this really broad range of filmmakers, outside of the traditional white male view of Australia, which is kind of a view of a really broad range of different cultures and storytellers and various types of stories, and I think that's what's really important about what we do," Bronwyn says.
The Director is insistent there is no overarching theme in films that emerged for selection this year, since there is such a diversity of work. "I think it's very broad for us because we're pulling from just so many countries from across the world, but I will say that certainly women being empowered is a big theme that we've seen coming through this year. We're also seeing, from Europe, refugee stories, and we're also seeing a lot of LBTQI filmmakers coming through and we've got quite a lot of Indigenous films in the programme this year which is really exciting.
"It's a really broad range and we've got lots of comedies because we introduced the comedy programme, there's short documentaries as well, there's about 22 different programmes that people can see at the festival."
Reflecting on her 21 years with the short film festival, Bronwyn notes, "I've been really lucky to see it grow and prosper and to become Academy-qualifying. To go from 200 entries to over 2,700 this year, from 3 touring venues up to 52. You know, it's just really heartening to see people embrace the shorts and to know that we've supported indie filmmakers over the years to go on and be successful. All of those things are great and really make it all worthwhile I guess. I mean, this is my 21st year and I'm still really excited about the films!"