In just under a fortnight, Australia's two remaining Community TV (CTV) stations – Channel 31 Melbourne and Channel 44 Adelaide – will be forced to switch off unless the Federal Government intervenes.


Back in March, Minister for Communications and the Arts Paul Fletcher communicated to both stations that their free-to-air broadcast licences would not be renewed beyond the current deadline of 30 June, 2020.
Both CTV stations continue to fight the decision – which was originally made in 2014 by-then Minister for Communications Malcolm Turnbull – to vacate their broadcast spectrum and move to an online-only delivery model they argue currently has no viable business model to support an online-only transition for any Australian TV broadcaster.
"Like many businesses, we are in survival mode," C31 Melbourne General Manager Shane Dunlop says. "We are being asked to make a monumental and challenging digital transition work in unprecedented times. It's an unreasonable and impossible request.
"The Australian Community Television Alliance," adds Shane, "call upon the Federal Government and Minister Fletcher to renew our broadcast licences and show their support for culturally and linguistically diverse communities, local journalists, screen and media practitioners, small businesses, tertiary students, LGBTI+ groups and a vibrant collection of volunteers and contributors who still call community television their home."
CTV offers a diverse range of content (with 90 per cent produced in Australia), from multicultural and religious to sports programming, local productions promoting regional tourism as well as LGBTIQ+ shows 'Flunk' and 'Bent TV'.
Not to mention original dramas like 'Under The Milky Way' and 'Dee-Brief', the latter picked up for broadcast on 10Play, or lifestyle and well-bring shows.
CTV also run around 140 internships each year, providing experience in content production and broadcast operations to the next generation of media professionals.
Since the COVID-19 lockdown began, CTV viewership has increased dramatically, with C31 Melbourne registering an increase of 23 per cent (total increase of 150,000 viewers). While C44 Adelaide has recorded an increase of 27 per cent (total increase of 57,000 viewers). In April, one million Australians watched community TV according to OzTam Data Feb-Apr 2020.
"We are proud to be able to support our local communities through this challenging period," C44 Adelaide Acting General Manager Kristen Hamill says.
"There are many Australians that don't have access to the internet [2.5 million], and our local broadcasts provide an essential service to keep people connected, comforted and informed."
Religious and multicultural organisations in Melbourne and Adelaide have strongly supported Channel 31 and Channel 44 respectively.
"Throughout our longstanding partnership with Channel 31, we have seen first-hand the integral role they play in supporting Victorians, and in recent weeks, their service has been more relevant and important than ever," Victorian Multicultural Commission Chair Vivienne Nguyen says.
While President of the Associazione Nazionale Carabinieri Adelaide, Roxanna Bianco says: "We have a responsibility to continue informing and enriching people from other cultures and the younger generations of our traditions in a way that is accessible to all.
"Now is the time to support C44 Adelaide, not interrupt their valuable service by switching off Community Television stations."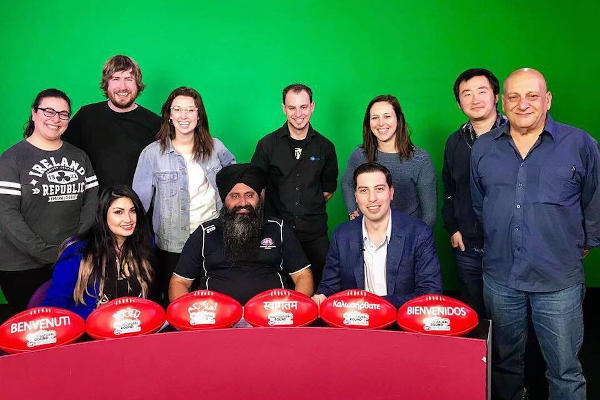 If forced to switch off their free-to-air broadcasts on 30 June, it is unlikely either station will survive resulting in immediate job losses of more than 15 full-time staff, over 200 weekly volunteers and insolvency for both businesses.
If switched off, CTV will be replaced by white noise. There is a current change.org petition seeking support.
Click here for more information.
A petition by Federal Member for Mayo Rebekha Sharkie to save Channel 44 Adelaide can also be accessed by
clicking here
.