The rapidity of change in the digital age leaves us, as a society, with little time to assess whether the latest app will be an economic boon that boosts efficiency and our mental wellbeing or conversely, will trigger addiction pandemics and the destruction of industries. 




With the ground beneath our feet being transformed by technology every time we think we have found a steady place to stand, you need to laugh, and the new web series, 'Lucy And Dic', will make you do just that.


While we might all have arthritic smartphone thumbs, Uber Eats bellies and Amazon-drained hip pockets, the tech boom hasn't been all bad. Take the experience of Jeremy Kelly-Bakker and Tom Phillips from We Made A Thing Studios. 


Jeremy, as a visual effects wizard, has been able to work on some of Hollywood's biggest films, including works by Marvel and the 'Harry Potter' and 'Hunger Games' franchises, all without having to jet off to LA. 


When Tom, a writer and producer, had the concept of creating a buddy comedy about a 20-something girl and her drone into a short film, he and Jeremy were able to make it happen on a $600 budget, producing VFX that are infinitely more realistic than Spielberg's 'E.T.', which was produced for 10.5 million dollars in 1982. 


When the original short made its way online, after making its premiere at the Adelaide Film Festival, it amassed over 1.7 million views, leading to a Screen Australia backed first season of the show, which stars Melbourne-based cabaret performer Lucy Gransbury as Lucy and YouTube viral larrikin, Ethan 'OzzyMan' Marrell as Dic, the drone.


Yes, we have come a long way in three decades but a central question posed in Lucy and Dic is, are we really making the best use of all these advancements, as Jeremy explains.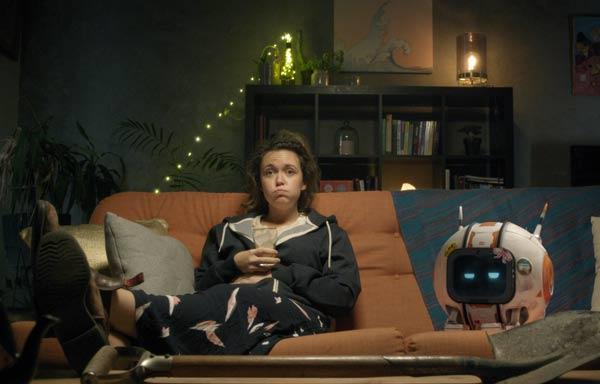 "We've got, through our phones, access to all the world's information; we could be learning everything there is about engineering or astrology or we could become horticulturists but instead we look at cat photos." 


The series also parodies our incessant quest for optimising our wellbeing, while simultaneously becoming hooked on devices that seemingly jeopardise that much sought-after zen, as Tom explains.


"I think people are fairly self-aware enough that too much [internet browsing] is not a good idea but you just keep getting sucked back into it because it's such a deep rabbit hole that doesn't seem to have an end at this point."


Even the undeniably successful Jeremy finds being inundated with the rose-coloured realities of social media influencers demoralising.


"I follow any number of amazing young filmmakers who are having incredible successes and if you were constantly flooded with their best-of hits and not seeing the horrible grind behind it, you could sit there for a while and think 'oh man, these guys are doing much cooler things than we are'."

While you will soon be able to easily binge watch the series on YouTube on your laptop in bed, this is a show worth seeing in real life, at the Wallis Cinemas. You might even get some face time with the creators.
'Lucy And Dic' premieres at Wallis Cinemas Mitcham on 14 August.