Revelation Perth International Film Festival never stops!
WA Screen Culture Awards

Since its inception in 1997, Revelation has always championed innovation and achievement in independent, international cinema. It has consistently encouraged and propelled the WA screen industry across all its forms by providing discussion and screening platforms, commissioning and producing around 16 short films over the past 5 years, developing and delivering moving image art exhibitions, delivering the games and VR event XR:WA and of course the Made In WA component of RevStream. The WA Screen Culture Awards (WASCAs) represents a natural extension of that commitment, and as such seeks to not just highlight achievement in the local screen but reward it. Nominees and winners are selected by a jury of national and international screen professionals working across craft and business areas and also represents a major networking opportunity for the screen sector across all its forms. As an emphatic demonstration of the diversity and vibrancy of the local sector, the WASCAs is a celebration of WA's innovative spirit. We invite you to join us at Luna Leederville on 5 December for the second annual WA Screen Culture Awards, and a great night out! Tickets available from the Luna website.
International call for entries

The 2022 international call for entries is building up a head of steam with a record number of pre-Christmas entries already received. Our streamlined submission process now makes it even easier to send us your film via FilmFreeway. With plenty of time on our hands until mid-January (relatively speaking!) we strongly suggest early entry whilst we are in a festive mood. Having been doing this for two-and-a-half decades, we can't tell you of the advantages of getting your film in early – so don't do your homework on the bus! More info at our website, entries close 1 April 2022 (and that's not an April Fool's joke!).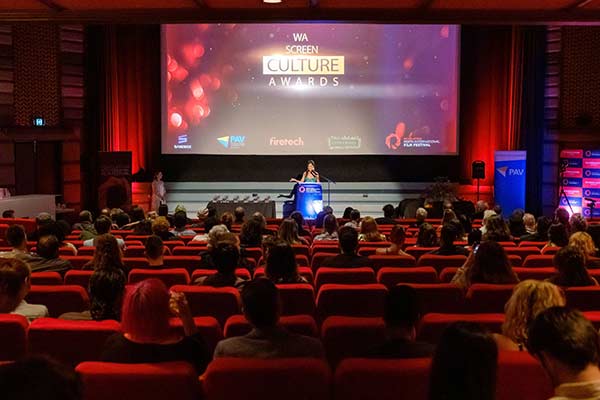 RevStream
RevStream is an internationally unique streaming service built around the film selections of the Revelation Perth International Film Festival since 1997. With more than 350 individual titles available for rent or purchase (many available internationally), many RevStream titles are available only on this platform and include some of the most acclaimed feature films, documentaries and short films from the international film festival circuit over the last 25 years. The platform is also developing the biggest access resource of Western Australian films via its Made In WA section with more than 100 titles available to view by film lovers the world over.
Cinema happenings in Perth

As summer starts to peek its head out from behind the clouds, we recommend these fabulous outdoor cinema experiences;
- Somerville has opened at UWA with a programme full of the finest international cinema. Kick back under the stars and enjoy Perth's most picturesque outdoor movie location featuring international cinema.
- Rooftop Movies are flying high – an open-air cinema experience like no other, six stories high in the centre of the city, with panoramic city views for sunset drinks and eats before you settle in for your movie.
-Camelot and Luna Outdoor kick off from 2 December with a selection of classic cinema, highly anticipated new films and some of the best of the past year.