So, we've just wrapped our 25th festival – sold out houses, very happy filmmakers and exhausted team in recovery. Thank you to everyone who supported our event, watched a film, participated in a workshop, shared a drink and showed the love. We look forward to doing it all again next year!
But in the meantime, we never stop at RevCentral. . .
RevStream
For 2022 we continue to show our Rev love with a series of choice festival picks that'll also be making their appearance online through our very own streaming service – RevStream. Just about the best source of international independent cinema you'll find anywhere on the planet, including more than 100 WA short and feature titles for hire or sale. Most titles have screened as part of Rev over the last 25 years and we love each and every one of them. All the details on our website.
XR:WA
In a world of converging media forms, XR:WA is Perth's major annual integrated gathering, conference and expo that highlights VR, AR and games sectors. With discussions and exhibits taking place at PICA, WA Library, Planetarium and WA Museum Boola Bardip, the event explores the world of computer games, narrative structures for VR and games, applied VR and AR in industry and everything in between. With dozens of playable games and 30 or more VR experiences and talks and presentations throughout, it's the place to be to explore these amazing and powerful forms of storytelling. . . And it's free! 15-18 September at the Perth Cultural Centre.
WA Screen Culture Awards
Mark Sunday 4 December into your diary for the third WA Screen Culture Awards. We are extremely proud to facilitate the only acknowledgement for the WA screen industry that embraces all forms and everyone from established to emerging. Submissions open soon so get your work lined up and ready to share!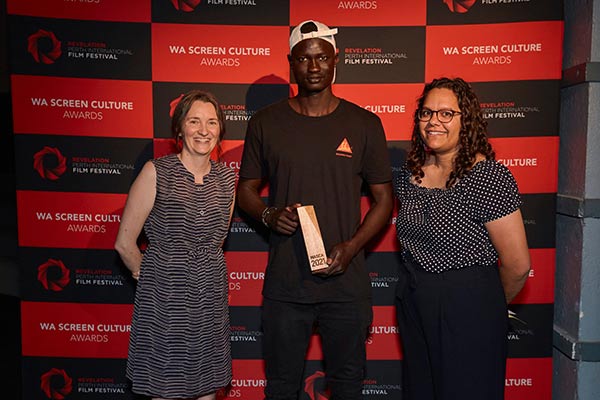 Redbubble
We've got merch! Whether it's a mask you need or a t-shirt or heck, even a Revelation bath mat, we've got it all for you. Head to Redbubble to stock up on merchandise which helps us spread the word, share the love and support indie film.
Cinema happenings in Perth
- Embrace the chilly season with the Nordic region's hottest films this winter at the 2022 Carlsberg Scandinavian Film Festival, currently screening at Palace Cinemas Raine Square, Luna Cinemas Leederville & Luna on SX and runs until 10 August. Now in its eighth year, the festival showcases the best contemporary cinema from the Nordic region and this year's curated selection is no exception with exciting new releases and classic titles, sweeping epics, historical dramas, charming comedies, and a focus on food, plus much more.
- The Backlot Perth is hosting a series of screenings of 'Edward And Isabella'. Already nominated for a Miles Franklin Award for his novel 'Bird', 'Edward And Isabella' is Adam Morris's first feature film and has already won numerous awards, including Best Film at the WA Screen Culture Awards, Best Feature Film at the Prague International Film Festival and Best Director at the Tokyo Film Awards. 4 and 6 August, tickets from eventbrite.
- Transition Town Vincent's movie nights are back and on Monday 8 August, meet passionate teenage innovators from around the globe who are creating cutting-edge solutions to confront the world's environmental threats – found right in their own backyards – while navigating the doubts and insecurities that mark adolescence. 'Inventing Tomorrow' shows that the future is brighter than we think! Tickets from Humanitix.
- Book to Film Program continues on Sunday 14 August at The Backlot with 'The Wicker Man' (1973). Film magazine Cinefantastique described it as "The Citizen Kane of horror movies", and in 2004, Total Film magazine named 'The Wicker Man' the sixth greatest British film of all time. Catch the 2014 'Final Cut' 2K restored version. Tickets from eventbrite.
- The inaugural Perth Horror Film Festival kicks off at The Backlot Perth from 19-21 August. Presented by Perth Horror Fans and curated for genre fans by genre fans, this is your chance to engage fear, suspense and terror and showcases local works with classic features. Tickets from eventbrite.