Summer is almost here. The scorching days draw out into temperate nights. What better way to soak it all in than a moonlit screening of one of your favourite films?
Moonlight Cinema is back with a jam-packed December/January set of blockbusters and classic films, promising something for everyone. Catch the must-see movies of the season.
See Joaquin Phoenix's harrowing portrayal of the iconic Batman villain in 'Joker'. Australian favourites Katherine Langford and Toni Collette star alongside Daniel Craig and Chris Evans in the acclaimed new 'whodunnit' film, 'Knives Out'.
This year, Moonlight Cinema will showcase films that have taken inspiration from fascinating true stories. 'Ford v Ferrari' tells the story of a legendary car designer on a mission to make the perfect race car for Ford. 'Bombshell', starring powerhouse trio Margot Robbie, Nicole Kidman, and Charlize Theron, portrays the dismantling of the toxic environment presiding over the FOX News network at the whim of former CEO, Roger Ailes.
Get into the Christmas spirit with festive films like Emilia Clarke's 'Last Christmas', and of course, the quintessential christmas flick, 'Home Alone'. Moonlight Cinema's fan favourite programme will also feature two of the biggest Christmas blockbusters ever: 'Elf', and 'Love Actually'.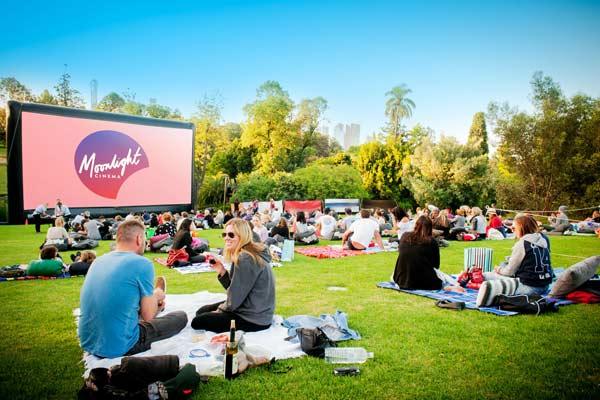 Moonlight dishes out some of the biggest cult classics spanning over the past few decades. See 'Dirty Dancing', 'The Greatest Showman', and special 20th anniversary screenings of 'Bring It On' and 'The Matrix'.


Don't forget about the little ones! Moonlight Cinema is proud to present their array of family films, including the highly anticipated 'Frozen 2'. See the beloved original cast embark on a quest to discover the origin of Elsa's powers. You can also catch 'Jumanji: The Next Level', and relive the magic of the timeless classic, 'The Lion King'.
If all that wasn't enough, this year Moonlight Cinema is focusing on fierce female leads, thrusting star-studded ensembles like 'Hustlers' and 'Charlie's Angels' into the spotlight!

Whether you're chasing the perfect family night out, or pulling out all stops for an atmospheric first date, Moonlight Cinema has you covered! Lay back on a plush bean bed or snuggle up on a picnic blanket under the stars.
Moonlight Cinema Dates

13 December-16 February – Botanic Park (Adelaide)14 December-29 March – Roma Street Parkland (Brisbane)28 November-29 March – Central Lawn At Royal Botanical Gardens (Melbourne)30 November-29 March – Kings Park & Botanic Garden (Perth)28 November-29 March – Centennial Park (Sydney)