Central, a new shopping centre in Sydney (located within Central Park in Chippendale) has concocted a new promotional Christmas stunt that takes commercialism to an entirely new level.
Sporting skinny jeans and a red beanie, a scooter not a sleigh, and a love for soy lattes over milk and cookies any day; there's a modern day Father Christmas is in town to spread Christmas cheer. One for the big kids, Hipster Santa has taken up tenancy in Sydney's new multi-level vertical 'Living Mall', Central at Central Park and will be running a number of free activities in the lead up to Christmas including hula hooping, crochet making and even hosting a movie night.
scenestr asked HS about the gig. "Hipster Santa's the kinda guy who's always gotta be on time. Some would say, ahead of time. And his style reflects that. If it's fresh, he got it. If it's stale, he don't. Talking in the third person has recently gone a little stale, so I'm off it. Boom – gone.
"This time of year, I'm rocking' the colour of love – red. A lot of people think I originate from the North Pole. No way man. I mean, I like winter fashion, but not all year round. More like North Bondi. It was great growing up there, but I always felt like a big fish in a small pond. A big, stylish, future-fish, just flailing around, blowing tiny fish-bubbles in a small pond.
"So I decided to move into the Central, The Living Mall at Central Park on Broadway. It's a rad vibe here in Chippendale - totes cultured and everyone is just a little bit ahead of the curve. I'd say at least 3 or 4 degrees ahead."
When asked if he thinks Sydney–siders are naughty or nice, Hipster Santa says, "They're definitely nice Especially the ones I've encountered around the mall. Funny story - there's a lyric in one of my smash hits, "He's making a list, he's checking it twice". This one year, I only checked the list once and all these naughty peeps got all this cool stuff. One jailbird got a jet-pack – he's still on the loose."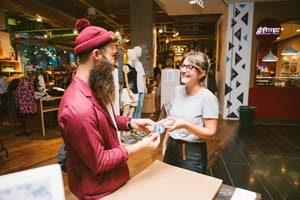 There are an array of Hipster Santa approved gifts which can be found at Central at Central Park just look out for my uber cool tags in retailers such as Glue, Capsule, Hype, Pigeonhole, Diaso and Adidas!" says Hipster Santa, when asked about what would be some of his suggestions for Christmas shopping.
Some of Hipster Santa's top picks are:
Deus Bennet Dobby Shirt: $99.99, from Glue Store
Black Needle Co. Silence Slim Chino: $99.99, Glue Store
Paper Blazer in wine: $240, from Roger Tait pop-up store
Yumaki Toothbrush: $15- $18 (currently on promotion for 2 for $25 limited time only), from Pigeonhole
Animal Hanger: $19.95, from Pigeonhole
Triumph Disaster Stash Box: $159.95, from Capsule
Pigeon Weaseal candles: $24.95, from Capsule
So You Think You're A Hipster? Book: $20.00, from Glue store
Although Hipster Santa is around to offer trendy gift suggestions, he stresses that it is important to remember the true meaning of Christmas. It's all about the people, brah. You get to be with your bros – all the people you care most about. You get to see the smile on their face when the gift you give them blows their mind and they're all like "Woahhh, dude, you hand crafted me another broach". I'm on a gluten-free thing at the moment but the food's real tasty too.