With so many pairs of new headphones being released every year, companies are doing more and more to grab our attention and the Audio Technica AR5BT have certainly grabbed mine.
They combine everything I could ever want in a mobile pair of headphones: sensational high-resolution audio, wireless bluetooth connectivity, microphone for phone calls and extremely long battery life.
At an absolute bare minimum a pair of headphones need to sound great, feel great and offer a reliable soundtrack to our daily lives. But in a crowded headphone market, bare minimum inspires no love, so companies like Audio-Technica ensure their headphones also look amazing and offer added versatility.
Audio-Technica is a brand lovingly admired by audiophiles, creating high quality headphones, microphones and turntables.
The AR5BT headphones do not utilise noise—cancelling and bass-boost, relying more on the large 45mm drivers (speakers) to produce warm and precise sound. These headphones are high-resolution, meaning they can reproduce sound more than twice the quality of CDs and help make just about any mobile audio sound better.
Audio Technica have been creating headphones since the early '70s, so have had more than 40 years to develop and fine tune their incredible and popular range.
I wore the AR5BT for several days to test out wearing fatigue and sound quality and I was extremely happy with both. The sound remains clear, the headphones don't heat up like others on the market and due to their lightweight chassis, did not leave me screaming or requiring a straight jacket. Job well done.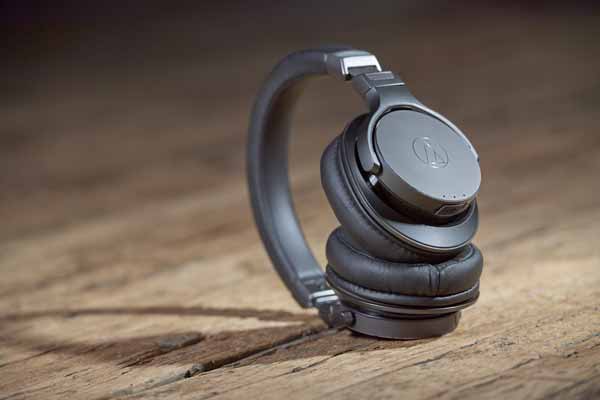 Now that storage and streaming of audio is much cheaper, it is great to know that I can utilise my iPhone to store high-quality audio and have this played back precisely, without a large set of professional headphones. It is worth noting that the high-resolution audio is only available when using the included cable, rather than the wireless Bluetooth connection.
I could not have been happier with how the AR5BT wirelessly connected and supplied the sound from my iPhone and iMac. I could walk around my home and have the signal strong through several walls.
The headphones also include a built-in microphone and controls so you can answer phone calls wirelessly and I found this extremely handy for hands-free conversations, without cables or microphones hanging from my head. The controls also give you access to track transport, so you can start/ stop music, change track and adjust volume.
Battery life in these headphones is better than I have experienced. I have actually left mine on for the past four days, connected to my iMac and I still have battery life.
On the box, it states that the battery will last for 1,000 hours in standby mode and more than 30 hours of continuous use. That is incredible!
Leaving out power-heavy features such as bass boost and noise cancelling ensure you have great battery life and as mentioned above, the 45mm drivers ensure your music always sounds good. The battery takes about 5 hours to recharge, so an overnight charge after 30 hours of use is a great bonus.
These headphones weigh in at just 242 grams without cable, so wearing them for long periods of time was no worry at all.
The ear-pads and cables are also replaceable, giving these an edge on similar competitors products as you can simply replace worn-out parts without losing all the perfectly operational headphone and bluetooth hardware.
Would I buy a pair? Hell yes. I would recommend these for anyone who wants a versatile and lightweight headphone option that is perfect for public transport and high quality audio, phone calls and also to anyone vaguely interested in keeping their hearing solid as they get older.
Now available at retail including JB HiFi.