When you get two combatants on skates battling it out on a roller derby track, there's bound to be some scratches and bruises.
Contrary to popular belief, however, the women of Adelaide Roller Derby (ADRD) are in it for the fitness, the community spirit and, most of all, the friends you make along the way. The ADRD league is the oldest and biggest roller derby league in the region, with four home teams currently in season and three travelling squads that compete around the country.
Image © Facebook
Roller derby has grown dramatically in popularity in the last decade, though the sport, in its purest form, has been around for nearly a century. While roller derby can be co-ed, ADRD choose to play the more common woman-only format. Competition happens on a flat track and sees players from opposing teams in match-up 'jams' where they compete to lap each other to gain points. They roll on quad-skates, and everyone has to wear protection because things can get a little intense.
If you're still unsure what it's all about, you will have to grab some tickets to a local bout or competition, as the girls say the atmosphere has to be experienced to be believed. "It's really hard to tell someone who's never been to roller derby what to expect… I couldn't tell you or stereotype the kind of crowd that we get. We have grandmas, children and families, couples; it's very unique," says Catherine, a.k.a Kit Cat Krunch, from ADRD.
If you want to experience this spectacular sport at its finest, this June, the ladies at ADRD are hosting the world's biggest roller derby competition, The Great Southern Slam (TGSS).
This year's event is set to be the biggest and best that Adelaide has seen yet, with 48 teams in 2 divisions competing across 1 weekend. "We created TGSS to get leagues from around Australia and New Zealand together and play each other… We wanted to create a tournament where we could all get together and play teams that we wouldn't normally play, due to distance, especially ones from New Zealand," Catherine says.
"We're hopefully going to be streaming all our tracks live this year, which hasn't been done before, so those who can't make it can get behind their teams!"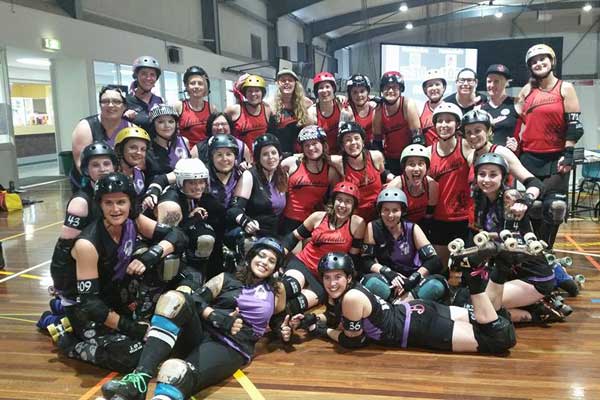 Image © Facebook
It's this team spirit that keeps the organisation going, as the whole league is skater-run and skater-owned. They're kept alive by the generous and unwavering support of the Adelaide community, which allows them to give back to the community too. "We show the community a bunch of chicks that have got together over one passion… showing that it doesn't matter how diverse the community or our society is, if you have one common goal, this is something beautiful that you can create."
And looking at it from a woman's perspective, the group certainly empower their female teammates. "There's a very common saying that floats around in the derby world that 'roller derby saved my soul' and everyone can relate to that whether it's a personal story or they weren't in the best position in life or going through quite a traumatic event, they found roller derby and it has helped them get through tough times."
Adelaide Roller Derby host The Great Southern Slam at Adelaide Showgrounds 11-13 June. The next Adelaide Roller Derby event takes place at Angle Park 22 May (12pm) followed by the Adelaide Showground 28 May (6pm). Click here for the 2016 ADRD season dates.