There must be something in the water in Coffs Harbour because the team at Allen's has gone bananas!


The last 24 hours has seen Coffs Harbour's iconic Big Banana covered in a rich, chocolate-like syrup to celebrate the launch of Allen's new range: Mini Chocolate Bananas. Nom nom nom.

The 13-metre-long, 5-metre-high landmark got a sweet and sticky makeover marking the unveiling of Allen's new chocolate/banana creation.
The mission was orchestrated by a stuntman who was bananas enough to scale to the top, and then drizzle 180 litres of the special syrup down the Aussie icon (never fear – the team at Allen's saved the real chocolate for the Mini Bananas!).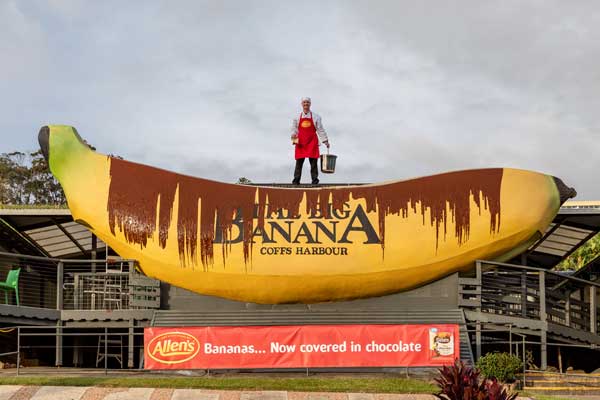 Image supplied
To pull it all off, it took a team of 18 people, 13 buckets, 2 safety harnesses, and 1 brave risk-taker to give the landmark a chocolatey overhaul. The pour itself took a total of 91 minutes to complete, and was a sweet and quirky spectacle for on-lookers who were lucky enough to witness this once-in-a-lifetime event.
"The Big Banana is an iconic landmark that has created many special memories for Aussies across the country, and has also been a big supporter of Allen's banana lollies, so we're thrilled to be the first confectionery brand in the world to give this great icon an 'apeeling' make-over to celebrate our new Allen's Mini Chocolate Bananas," Nestlé Head of Marketing Confectionery, Joyce Tan, says.

Allen's new Chocolate Covered Mini Bananas are a decadent twist on the beloved classic. The family favourite banana lolly is now covered in a delicious milk chocolate coating and is free of gluten, artificial colours and flavours.