While quintessentially Australian and the first home-grown, nationally distributed superhero in 20 years, 'Magpie' is in the spirit of a classic noir comic romp.
Taking on the concept Will Eisner did in 'The Spirit' – telling complete stories and off-beat vignettes, with a sense of humour as much as a nod to noir – over 80-page installments 'Magpie' plies "art" of superherodom in the city of Heropa (an alter ego Melbourne), where a bevy of other capes (good, bad and ugly) also reside.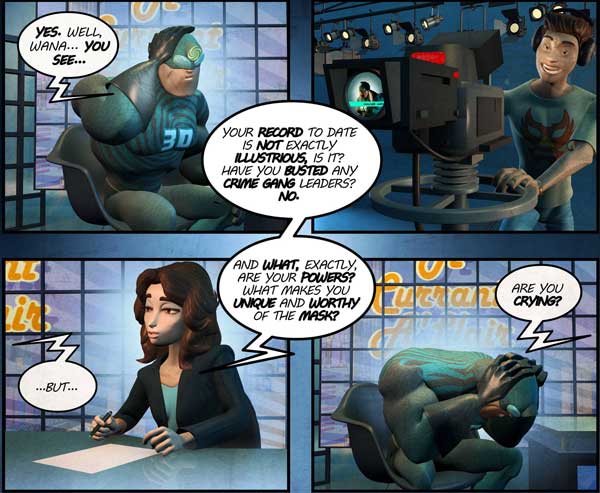 Writer of the comic, Andrez Bergen is an Australian expat living in Tokyo for the past 15 years. He worked as a journalist, author, musician and artist, plus IF? Commix (based out of Melbourne) since 2013.
On the side he's authored five novels, published short stories, two graphic novels ('Tobacco-Stained Mountain Goat' and 'Bullet Gal: It's Not You, It's Me') and three comic book series ('Bullet Gal', 'Trista & Holt', and 'Tales To Admonish'). With all of these, aside from Tales to Admonish, Bergen worked as artist as well as writer.
With 'Magpie', Andrez has returned to writing alone, while art, lettering and colours are by Frantz Kantor – a 3D concept artist, illustrator, lecturer and production designer based in Melbourne. Frantz is a veteran of the Australian comic book scene, having worked on zines in the industry's early days in the '80s, such as the groundbreaking 'Inkspots'.
These are Andrez Top 5 dos and don'ts for budding superheroes:
DON'T BOTHER WITH A CAPE
Aside from the fact they're so 1990s, Pixar has already pointed out the dangers these mantles are in their film 'The Incredibles' – and Steve Rogers tripped on one when he briefly gave up being Captain America in 1974 to become the caped hero Nomad.
DO GET A SENSE OF HUMOUR
All decent superheroes worth their salt have throwaway banter to bother villains, especially Spider-Man and Daredevil earlier on in his career. The ones that don't (think Thor and Superman) are ho-hum individuals you'd never invite to a cocktail party.
DO THINK HARD ABOUT YOUR POTENTIAL MOJO
If you're Superman or Wolverine, you're in luck – one is invulnerable (aside from pesky Kryptonite) and the other has self-healing powers to recover from the worst wounds. Nobody remembers C-listers with boomerang skills or imposing codpieces.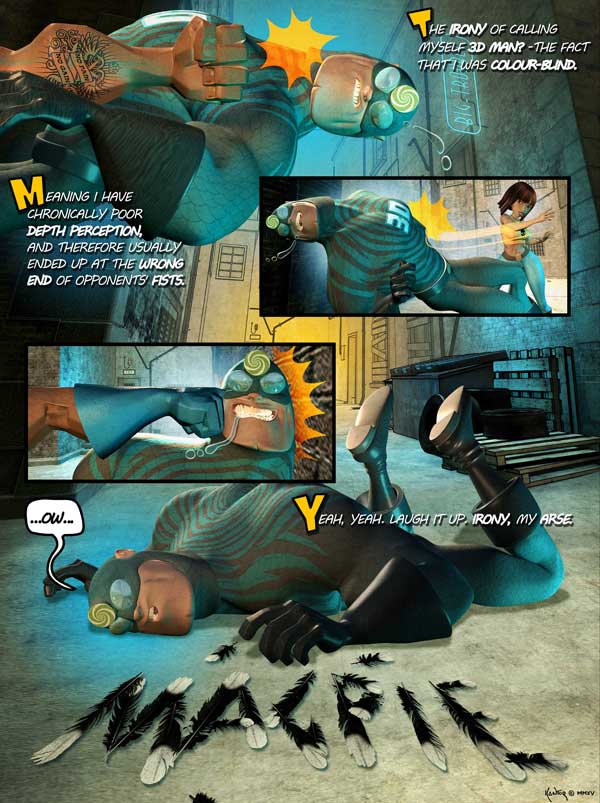 DON'T WEAR UNDERPANTS ON THE OUTSIDE OF YOUR PANTS
Woody Allen showed just how insane this is in his 1971 movie 'Bananas', when the rebel leader, upon assuming government, goes power-mad and makes this a key public policy.
DON'T PISS OFF YOUR CREATOR
All superheroes have gods behind them – in this case the writer, artist and publisher. If you annoy these sods, you'll either end up dead at the end of an issue, or erased like Daffy Duck once experienced in the Warner Bros. short 'Duck Amuck'.
'Magpie' will appear quarterly in comic book anthology 'Oi Oi Oi!'.