Mimosa Schmidt is the name, SUK is the game-changing label.


Edgy, functional and ethical, SUK lends itself to all kinds of different bodies. Mimosa spent her 20s slogging it out in male-dominated industries, all while sporting chaffing overalls and uncomfortable work shirts – not the most ideal of working situations.
This is why Mimosa decided to take matters into her own hands, crafting a collection which would empower femininity on and off worksites, presenting a stylish yet practical alternative to the less-than-pleasant garments expected to be worn otherwise.
Mimosa Schmidt answers some questions about the fiercely inclusive label.
What has driven you to creating SUK?
I was a labourer for the majority of my 20s and found that as a woman there was no comfortable or flattering workwear available to me. I created SUK out of dire need to be dressed comfortably and look professional onsite. As I developed the brand I realised that working hard, feeling attractive and being feminine in male-dominated professions is a tenuous relationship to harmonise. So, I wanted SUK 's voice to be an unapologetically feminine one that celebrated the power and necessity of all feminine expression.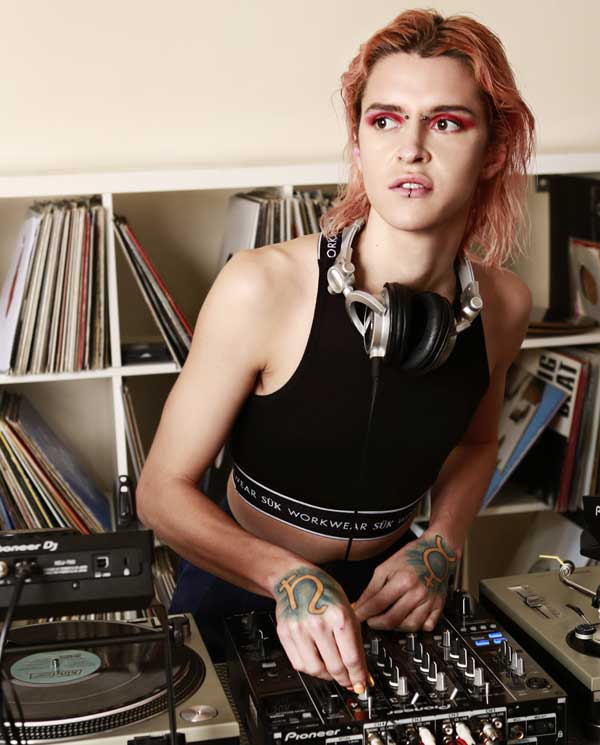 Where did you get started when it came to putting everything together and bringing the vision to life?
The boilersuit was the first garment I designed. I was labouring on long haul ships at the time, working extremely long days in intense heat, dust, oil, dirt and abrasive materials. It was imperative to wear a boilersuit on board for adequate protection. The standard issue garment given to me was incredibly impractical and unflattering. During the long days I would tune out and fantasise about what the perfect boilersuit for my body would look like. When Alison Pyrke, SUK's co-designer and garment developer, and I finalised our first prototype I was so stoked. I didn't take it off for weeks.
Do you have any words of advice for aspiring fashion designers who are thinking about making their mark in the industry?
The world has so much product already. If you're going to put something out there, make sure it's needed and be ethical in your manufacturing and sourcing every step of the way. Always be looking to improve in these areas and never settle for questionable practices. The garment industry is one of the most pollutive in the word; these considerations need to be at the forefront of decision-making processes in the fashion industry. It is possible to establish excellent practices from the get go – we must aim high.
This label 'challenges worksite masculinity'. Can you tell us some more?
I experienced some horrendous harassment working in certain environments as a young woman. On a daily basis I felt threatened and unsafe, put down and overlooked. It's credit to my resilience and stubbornness that I lasted as long as I did. Despite this, I might have had an easier experience than many because I knew how to downplay my femininity; I could drop my voice, say little, wear baggy clothes, laugh off misogynistic jokes and ignore physical advances and stares like a robot. It breaks my heart to think of the younger me who so earnestly wanted to work and learn, and of my willingness to intensely censor myself. SUK is about recognising the strengths in feminine expression: breasts and hips do not denote incapability. Standing up for yourself is an act of bravery and a caring attitude does not make one weak. Making workwear that accentuates a feminine form and expression is a powerful signifier: femininity is worthy of respect, and has a place in any workspace, no matter how physically demanding.
It's all brought to life by influential personalities from all backgrounds. How did you decide who would represent the brand?
SUK is about breaking down stigmas from the inside out. We're not about laying blame, but rather lifting up and celebrating bodies and identities that have been traditionally overlooked or dismissed. It made total sense to create a size chart that was as inclusive as possible, and this will be something I will always try to improve on. I chose powerful representatives who embody the SUK ethos as the heroes of our campaign imagery.
What is the biggest misconception about the fashion industry?
That you need to be a fashionista in order to create something of value.
And how do you think this label challenges the norms/the expected?
Unfortunately, I think it's still a hard idea to swallow, that, as a woman, or femme identifying person, you can be sexy and taken seriously. SUK is all about breaking this expectation down. The topless cis-male body covered in sweat and welding a shovel is a well-accepted archetype of the capable body. I'd like to see more mid-drifts, bulging thighs and supported cleavages confidently smashing it on the worksite, and SUK will be there to make sure everybody has the workwear they need to do it.
Is there any other sector of the fashion world that you'd like to tap into aside from workwear?
I think ethical workwear is the future. If I can make it inclusive, sexy and exciting my job here is done.
Describe SUK in three words.
I only need two: sexy and boss.