Dr Martens - the boot synonymous with British music and its subcultures - have announced a collaboration with Joy Division and the band which rose out of their ashes, New Order.
The collection includes two limited edition versions of the classic 1460 eight-eye boot boasting artwork from the iconic album covers, 'Unknown Pleasures' by Joy Division and 'Power, Corruption & Lies' by New Order, both designed by Peter Saville.
Eighty lines traverse the pitch-black cover of Joy Division's 1979 album 'Unknown Pleasures', inspired by a sound landscape. The image was quickly adopted as a pop-cultural icon by the post-punk generation and the design is embossed onto classic black leather on a 1460 boot, finished with a contrast white heel-loop and AirWare sole.
Click here to see photos from the opening of the Dr Martens store in Sydney.
New Order's 1983 'Power, Corruption & Lies cover art features an oil painting by Fantin-Latour printed onto Cristal Suede leather, giving the illusion of an antique canvas. The boot is completed with tonal pink heel-loop and bouncing sole.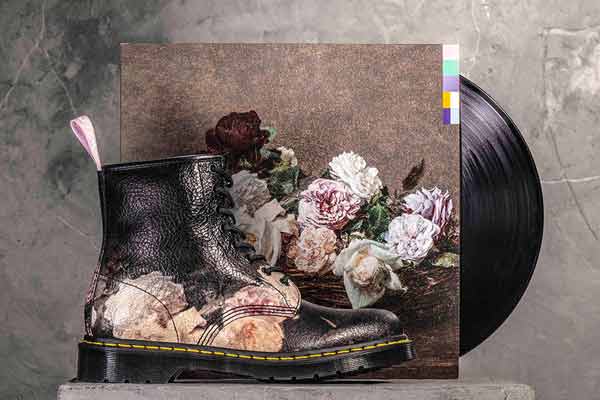 Dr Martens X New Order, featuring 'Power, Corruption & Lies' album cover art.
Perhaps no other fashion label is more deeply entrenched with the music world than Dr Martens. Created by German doctor Klaus Martens who found his miltary-issue boots too uncomfortable to wear on an injured foot, the style still known as 1460 was released in the UK on 1 April 1960.
Later in the decade skinheads had taken to wearing them, earning the brand an association with violence, and by the 1970s they had become the taste du jour for scooter riders, punks and of course, new wave musicians. The boots achieved a type of popular immortality when Alexei Sayle chanted "the only thing that unites us, is Doctor Martens boots!" in an episode of 'The Young Ones'.
From practical footwear, to music icon and now wearable art – maybe Alexei Sayle had a point.
Dr Martens X Joy Divison and Dr Martens X New Order collection available at www.drmartens.com.au and in selected stores from late July.