Comedian and proud Ngarrindjeri man Kevin Kropinyeri has experienced many challenges, failures and successes throughout his life.
He'll open up about his past and bring his truth to the stage when he presents 'Kevin Kropinyeri Goes Talkabout' as part of Adelaide Fringe.
It's a heartwarming, hilarious hour of comedy which sees Kevin sharing tales of growing up, marriage, and the challenges of life as an Aboriginal Australian family man.
Kevin has performed around the country, including doing shows for even the most remote communities. He fell into comedy in 2008, entering a stand-up competition and winning! He has done solo shows before. . . But none quite this raw and looking at his own life story.
Here, we chat with him about the show he'll be bringing to Adelaide.
Summarise what you'll be presenting for this show.
Funny but honest stories of my life. Giving my audience and fans a true look at me and my dysfunctional past, very poor decision-making and overcoming adversity. A very bright light at the end of a dark-tunnel, funny comedy.
How would you describe your brand of comedy?
My brand of comedy is high-energy physical comedy.
Why did you decide you wanted to tell your story through the medium of comedy?
For my show for this year, I was encouraged by my friend and producer to share more about my life. I have been through some hard times growing up. I had a dysfunctional past before I found my healing and feel I've an interesting life story of failures and successes. I think it would be great to pull back the curtain and really share who I am to my fans. To have people laughing with you about the good and bad – comedy is the best way to do that.
Why do you think it's important to present it in this way?
When you make people smile and laugh their defences come down. You're able to express yourself and address serious issues through the medium of comedy. When you can give people laughter it helps them to escape their own problems for that time they are at your show. I think through my show I feel I can also impart some really great seeds of hope, resilience and overcoming problems through laughter.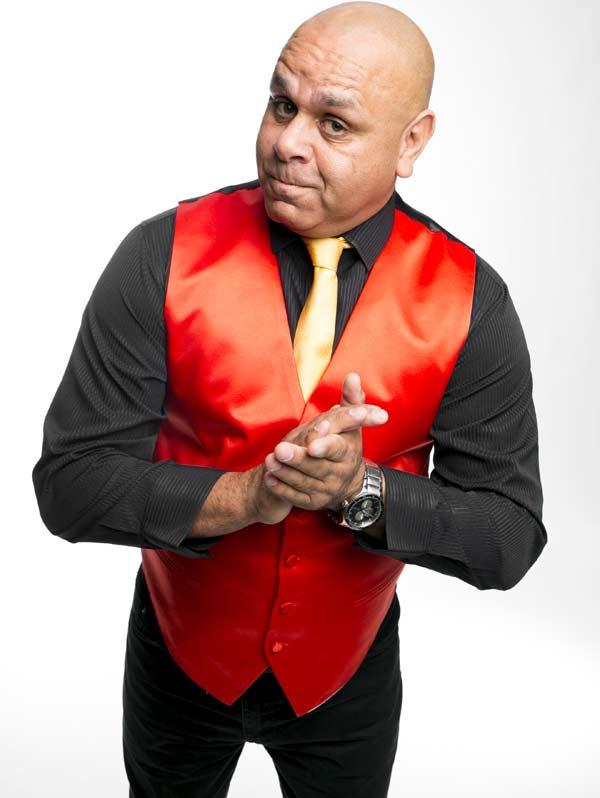 Image © James Penlidis
What's your favourite thing about being a comedian?
My favourite thing about being a comedian is I have met a lot of people and made many friends. I have had the opportunity to travel all over Australia and parts of the world doing something that I love doing and that is bringing people laughter and joy. I love my job!
If it wasn't through the medium of comedy, how else might you like to tell your story to audiences?
Before I fell into comedy I was making a living as a full-time professional visual artist. So I would tell my stories and life experiences through my art.
What are you looking forward to about presenting this to Adelaide Fringe audiences?
I'm looking forward to bringing a very funny, polished show of an international standard to a festival that I truly love performing at. I am a very proud South Australian, born and bred. Being at the Adelaide Fringe is the best time to be in Adelaide. I love it!
Kevin Kropinyeri plays Inparrinthi Space at Tandanya National Aboriginal Cultural Institute from 19 February-21 March, and The Hall at Murray Bridge Town Hall (Adelaide Fringe) 27 February.