'Queerstories' is back at Brisbane Comedy Festival.
'Queerstories' sees LGBTQIA+ comedians from around Australia coming together with local storytellers to share tales of pride, prejudice, resilience and resistance.
There's more to being queer than coming out and getting married.
The line-up for this Brisbane Comedy Festival edition of 'Queerstories' includes Steven Oliver, Christian Hull, Tamara Natt and Thomas Parer, plus special guests. There'll be stories of all kinds, delivered in the most entertaining and engaging ways possible.
Here, Creator Maeve Marsden chats a bit about this particular 'Queerstories', and writer/poet Tamara Natt shares her excitement for being part of the line-up.
Maeve Marsden. . .
Tell us a bit about 'Queerstories'.
Where to start? 'Queerstories' is a national LGBTQIA+ storytelling project I've produced and curated for more than five years. Hundreds of storytellers have shared personal tales at events around the country, and those stories are then shared on the award-winning podcast. 'Queerstories' is a chance for our community to come together and listen to each other, to revel in the breadth of our experiences, and celebrate our culture and creativity. The stories might be hilarious, utterly heartbreaking, or somewhere in the middle, I let the storytellers decide what story they want to tell, because so often queer people are asked to answer questions set by a cisgender/heterosexual agenda. In Queensland, the event has been co-produced with Brisbane Powerhouse since 2018, a wonderful partnership that has seen us host five sold-out shows to hundreds of happy punters.
What do you think it is that makes the event so popular?
From what I've been told, audiences keep coming back because they never know what to expect. I keep booking new people, so the stories are fresh and surprising, and often you'll hear a story from someone you relate to, or something not like you at all. The events are a chance for the community to come together in an alternative space to club and pub culture, and they're welcoming to a wide range of people, young and old.
What can Brisbane Comedy Festival-goers in particular expect?
For the Comedy Festival, I always programme storytellers who'll tend to humour or a lighter, more positive tale. The line-up is a mix of well-known comedians and local writers and will be a fun, fast and furious show.
And why do you think it's important for people to hear these stories?
I always shy away from saying that 'Queerstories' is 'important' because so often we celebrate queer art for being worthy, rather than for being damn entertaining. These stories are important because they're clever, well-crafted, great writing, and because these stories aren't as often heard in the mainstream.
What inspired you when you created the concept of 'Queerstories'?
The first 'Queerstories' events took place at Kings Cross Library in Sydney, right opposite the site of the first Sydney Mardi Gras protest. I was inspired by the location to share little pieces of queer history. In a library lined with books, so often LGBTQIA+ narratives are hidden or sanitised. I wanted to be in that public place sharing our community's stories, unedited and uncensored.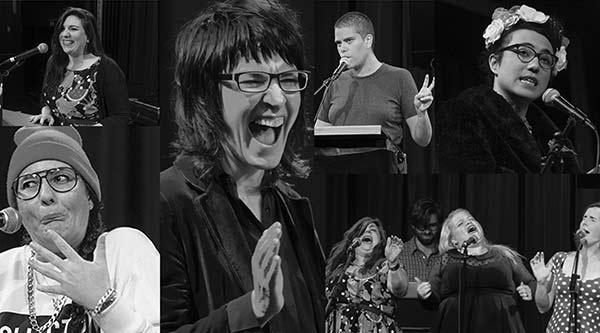 Since its inception, is there any one thing in particular that stands out to you as something you've learned?
I've definitely learned to be a better editor. I'm a writer myself and over five years I've now acted as curator and editor for hundreds of stories, and each time I work with one of the guest performers on their piece I learn more about the craft of storytelling. It's made my own writing better, and it's deepened my appreciation for language and craft.
What has been the biggest challenge you've faced when presenting 'Queerstories'?
It's mostly been a joy and a pleasure producing 'Queerstories', which is why I have continued to do it. It's always hard when you are working with a writer who's written something deeply personal and you need to request edits, or have them shorten the length, but that's part of the job and I enjoy the challenge of communicating well and supporting that person in what they've chosen to share. Probably the hardest part is having enough hours in the day to run 'Queerstories' while also doing my other work as a writer, director and performer. As the project grew it took over a bit, so in recent months I've been trying to hire other people to help, hosting some of the events, working on the podcast, so I still have time for my own work.
On the other side of that coin, what's the biggest reward?
The biggest reward is the opportunity to perform for community, to listen to and read such incredible stories, to meet so many amazing queer people, and to feel like my work is being appreciated by the audiences who matter the most to me. I really enjoy every event, I'm still often surprised by the generosity of the performers and the warmth and enthusiasm of the audience. It's truly an honour that people keep coming back, keep subscribing to the podcast, keep agreeing to perform. I feel lucky.
Tamara Natt. . .
What are you looking forward to about being part of the line-up of 'Queerstories'?
Someone at 'Queerstories' always knocks the wind out of me. I love that. You arrive and say hello to a group of polite strangers before the show. Then, they get on stage and out of their mouths comes this wild, incredibly sexy or gut-punchingly sad story that you never saw coming. These shows have a way of bonding you to people in an instant. I guess 'Queerstories' describes the moment of no longer being strangers. It's like an alcohol. And who doesn't look forward to that?
Tell us a bit about what you'll be bringing to the event. . . Without giving too much away!
I am bringing chewing gum, three copies of my story in case I lose one and absolutely no previous comedy experience.
What makes you stand out within the line-up of other storytellers in 'Queerstories'?
I could be taller than some of them. I'm also growing out a mullet. I might be the only one doing that.
'Queerstories' plays Brisbane Powerhouse 31 July.