It's the perfect recipe for a scintillating experience. 'Myrth + Music = Mayhem' sees three talented performers joining forces to delight audiences in an hour of laughs.
These contrary comedians – Ron Diggity-Dawg, Eric Tinker and Denzo – will use their powers for good as they delight audiences with comedy and music.
The wacky and funny Denzo is thrilled to be playing alongside Ron Diggity-Dawg and Eric. This is his first time at Adelaide Fringe.
"I love the Adelaide Fringe Festival for the opportunity to have your own show whether it be solo or in conjunction with other comedians," Denzo says. "It brings together a spectrum of comedians from all levels portraying their skills and passion to provide amazing entertainment."
Quipster and strummer Eric Tinker adds to this, talking about the idea behind the show and what the three performers hope to bring to audiences.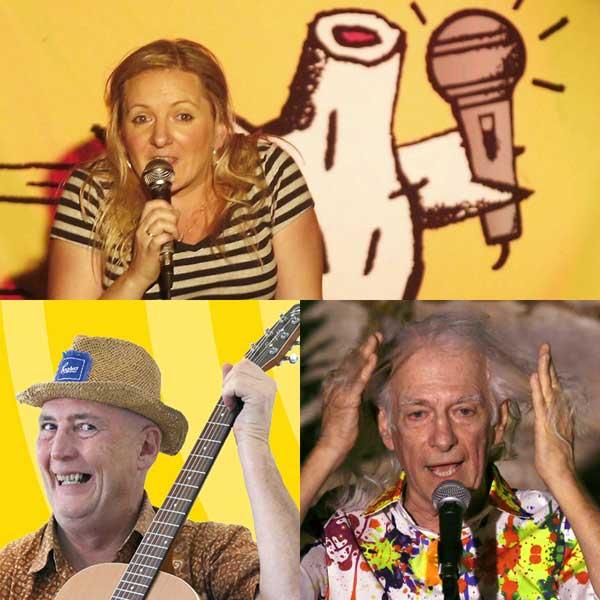 "Our show is three friends, with diverse styles and content, getting together to strut their stuff individually and as an ensemble. There will be an improvised song about an audience member, some lettuce shaking, a tirade about online dating for seniors and much more. Three acts for the price of one! Jokes, tall tales, funny songs, banter, mayhem!"
The life tales of Ron Diggity-Dawg are sure to tickle onlookers. She's performed her comedy in Brisbane, Adelaide and Melbourne.
"I hope the audience leaves with a sense of jocular enlightenment and a higher level of comedic consciousness than the Dalai Lama," Ron Diggity-Dawg adds.
'Myrth + Music = Mayhem' plays The Jade 24 and 26 February, and 3 March.