Comedy superstar Michael Che is coming to Australia.
Michael is most famous for his work on America's 'Saturday Night Live' ('SNL'), a comedy sketch variety show that has been running since 1975. In 2016, Michael released his first stand-up special 'Michael Che Matters' on Netflix. Having performed previously at the Melbourne International Comedy Festival this will be a tour that sees him perform shows in Perth, Sydney, Brisbane and Melbourne.
Michael has received critical acclaim for his comedy but believes at the end of the day audiences should expect one thing first and foremost: "Um, fun. Jokes. I don't really know, it's hard to explain because when you're on stage you have a completely different perspective of the show that people are watching but I think they're gonna have a good time. They can expect a good time. You're trying to elicit the same kind of response which is having fun. Try to show them funny where they haven't seen funny before, whether it's mundane or whether it's super common and loaded and, you know, complicated. That's kind of the trick or that's kind of the goal posts."
Following getting hired as a writer in 2013 for 'Saturday Night Live', he also worked as a correspondent on 'The Daily Show With Jon Stewart' in 2014 where by the end of the year he was announced as co-anchor for the long running 'Weekend Update' sketch on 'SNL'. If this was a break-out period for Michael in his career he puts it in context. "I think every year that I've done comedy kind of felt like things escalated quickly. There's never been a time where I didn't feel like my career wasn't moving fast in one way or another. It's just the pace of this business; it's just an odd business. There's things that you get to see that you never thought you'd ever see. I've been kind of fortunate."
Michael also offers his own personal perspective on the fact that he was the first African American co-anchor on 'Weekend Update' and the first African American co-head writer on the show. "It wasn't like there were no black writers allowed to be head writers it was just there were no black writers that became head writers. I don't think anybody thought of it as 'we need to hire a black guy finally'. To me it just feels like I got a promotion at my job. Like you can't control what inspires people or what detail people gravitate towards, what their take away from a headline is so that's for them. For me I know the environment of that show and I know the people of that show and I know Lorne (Michaels) so it just feels like they gave me a chance based on the work that I did there."
Michael acknowledges there was a period of settling in as one of the anchors on 'Weekend Update' especially given the longest serving anchor Seth Meyers had not long vacated the desk. "Seth Myers had done 'Update' so long that 'Update' just became Seth. They were almost kind of one and the same. So when you take over that job, you're pretty much just doing a version of Seth in a lot of ways because that's what you've seen it be and after a while you have to shake that off because nobody's going to be better than Seth at being Seth. So you know you kind of gotta think…What kind of jokes would I tell, how did this story hit my ears, what's funny about this to me. Once you start writing and performing from that perspective and breaking down the walls of the structure that you've inherited, then you kind of feel a little bit more freer and the comedy becomes a little bit more honest and the audience gets on board with it because they believe you."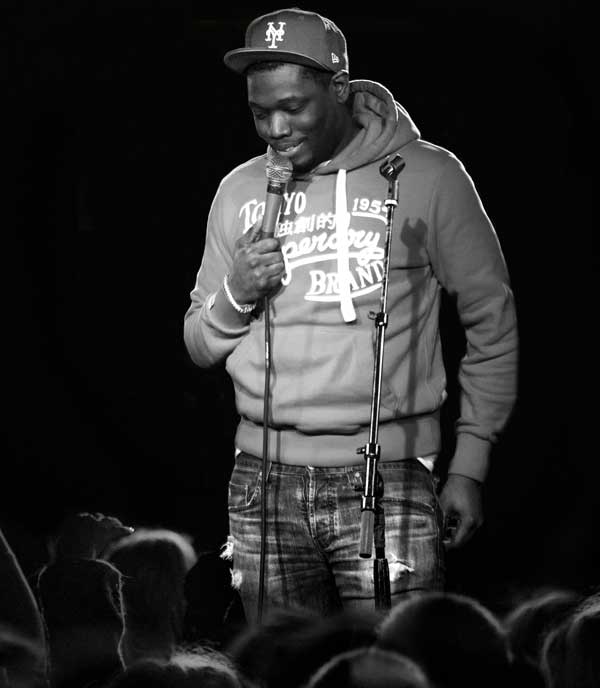 Elaborating further, the long-serving stand-up offers a lesson hard learned from years of being in front of crowds. "Honesty is always the best parachute for comedy, when anything goes wrong just be honest. You learn that on stage. A show could be going terribly and sometimes all you have to do is just say 'I know this is going bad'. Just because they want to know that you're present and you're aware of what they're aware of and that you're in control of it."
Auditioning for 'SNL' Producer Lorne Michaels to get on the show is the stuff of legend. How did the comic find it? "It was different for me because I was already a writer there, so I already knew him. It wasn't the same as everybody else who kind of come off the plane, into the studio and it's maybe the first time you've seen him or the first time you're seeing the set. I was a little bit at home when I got there but it's still nerve-racking because you do understand the magnitude of the show and the history of the show and you do get little butterflies and it's a blur. You're kind of just up there hoping to get through it. Then you just feel like it's over." He explains about his own audition.
No matter the pressure leading up to it, Michael always finds a way to focus on the performance. In addition to his work on 'The Daily Show' and his continuing work on 'Saturday Night Live', Michael also performed a stand-up set in 2012 on 'The Late Show With David Letterman' which came at an interesting time.
"That was a tough experience because there was a really bad hurricane in New York called Hurricane Sandy. I was living in Jersey City at that time, which is 15, 20 minutes away from Manhattan and we got hit with the hurricane really bad. My neighbourhood had no power, no phones, no anything. I remember 'Letterman' was coming back and I didn't have any TV, I didn't know anything about it, my manager couldn't get in touch with me. So he had to call my friend who lived like 40 minutes out of town to drive to my house and knock on my window to let me know that I had to do 'Letterman' the next day. So I drove back with him to some hotel on the outskirts of town just so I could take a decent shower, and have light and all of that, iron my clothes and then we drove into the city and did 'Letterman' like the next day while I had no power. So it was kind of nerve-racking and super anxious, but when I got on stage it was such a blur and the one part where I felt comfortable because everything else was so unnatural with the whole experience. But then just being on stage and performing and getting laughs and kind of finding my timing in the middle of a five minute set, that felt like everything was normal again. It was amazing, I'm so glad I got to do Letterman's show before it went off."
Michael does have an interest in doing other things outside of stand-up and 'Saturday Night Live' but he says, "I can't imagine being done with stand-up. I always feel like that's the one job that I have and everything else I'm just lucky I get to do. Stand-up is the only thing that feels like it's permanent." As one of the smartest and funniest comedians currently working in the world, audiences can't imagine him not doing stand-up anytime soon either.
Michael Che Tour Dates
21 April – The Astor Theatre (Perth)23 April – Enmore Theatre (Sydney Comedy Festival)24 April – The Tivoli Theatre (Brisbane)27 April – Comedy Theatre Melbourne