As the Brisbane Fringe Festival struts into full swing, the Comedy Variety Night at Lock N Load (Thu Aug 20) promised the 'best and brightest' acts from this year's line-up. Does it deliver a gig of giggles?
Upstairs in the intimate venue, bearded local hipsters clutching beers wander in to take their seats. It's the perfect warm location and laidback vibe for a ride to the comedy cusp hosted by 31 Digital's 'The Late Night Show' host Scott Black.
Kicking off are the The Sexy Detectives who embark on a skit with sound effects about entering a building with a swipe card. Passionate, polished, watchable, bearable, but diet laughter.
Next up is fast-paced Dizzy, the comedy hypnotist who proved to be the standout act of the night. Before the show he bounded around with his infectious energy asking for volunteers (one was a friend of mine, proving this was no staged set up). He weaved his magic, had his recruits swaying into his arms, laying on the floor and told them they were to "remember to forget" their own name. They did. It was spell-binding and amazing to watch. Entertainment at its best.
The other standout from the stand-ups was Joel Spargo, whose wild and dark existential observations somehow managed to weave together depression, meth, narcotics, old age and the loss of innocence into an impressive cloak of brilliance and had the room raising its energy and volume. Impressive.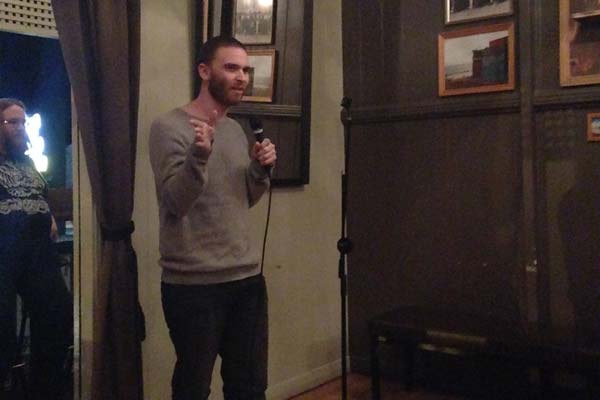 Joel Spargo © Corrine Barraclough
The first of two guys from Weird & Beard had no beard, so let's call him Weird (aka Micah Brown). His random ramblings about his inner child and working for Pizza Hut had everyone laughing (including the uber hipsters). Success.
Delirious Comedy Group's improv about a goldfish raised a chuckle, but it wasn't belly-felt while Daz Buckley who reckoned he was a comedian, magician and mind-reader didn't dazzle.
And so, it was left in the hands of Peter Thrupp, the bearded mate of Weird to steer the evening to a close. "Fat people in glass houses shouldn't throw stones" got a laugh, which rumbled on through his amusing list of ideas for movies, taking the laughter to a crescendo. Then he detoured from the divinely childishly and stupidly hilarious to disgusting — and killed it. At least he made the room hit their sweet spot.
You're never going to please everyone with a night of such scattered styles. But if everyone walks out with a smile on their face and a tickled spring in their step, you've succeeded in pressing the button they call entertainment.
Comedy Variety Night at Lock N Load returns next Thursday August 27. The BFF runs until August 31.