Freshly squeezed from their first Adelaide Fringe as a duo, Sophie and Thien are back home in the sunshine state of Queensland to cook up another storm with their musical comedy cabaret, 'All Day Breakfast'.
On stage, Sophie and Thien just want to be sure that their audiences are getting the nutritional chuckles they need at any time of the day. Their show will dish up topical tunes covering all things from social media mums, step goal fanatics, existential dread and more.
However, when they are not performing, the duo are always on the lookout for the perfect poached egg on their avocado smash toast; a make or break in any staple all day breakfast menu.
We had a chat with brunch connoisseurs, Sophie and Thien, about their favourite cafe spots to hit up around Brisbane. . . Before they play Brisbane Comedy Festival, in their show presented by Brisbaned-based theatre company Act React.
One: Naim, Paddington
Thien:
We wanted to start off our list with a cafe that is a little bit different to your usual brunch menu.
Sophie:
I mean we're just two quirky kids, and I honestly force everyone I know to brunch at this establishment known for their middle eastern fusion.
Thien:
Don't worry, the classic egg and avo toast is still here, but now with a generous serving of delicious pistachio dukkah and marinated feta. I mean, who knew you could take smashed avo to the next level?
Sophie:
And who doesn't love some good variety on a menu?! We live for variety in all aspects of life.
Thien:
Shout out to our monthly variety night Brisbaret.
Sophie:
This menu is so good my mum went multiple times and kept ordering the same thing to try and decipher the recipe so she could make it at home. And then did it with multiple other options too.
Thien:
Did she get the recipe?
Sophie:
Look, the woman gave it her all – but it's not the same as the rich variety of flavours waiting for you behind the line of people that are living their best early-weekend-morning-brunch-with-friends-where-you-all-miraculously-find-a-park.
Thien:
Ah yes, those Paddington hills! Still, it is almost too easy to go vintage shopping and suddenly fall into a seat at their table.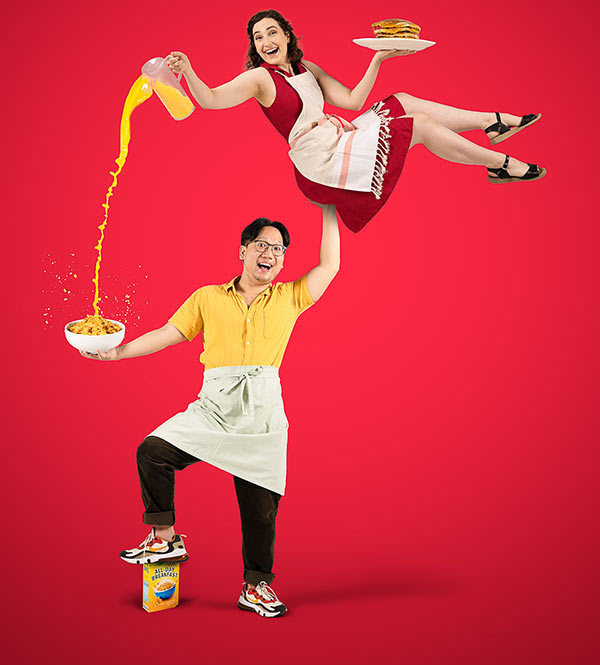 Two: Sisco Cafe, Spring Hill
Thien:
This cafe was recommended by our show producer, and it truly is a diamond in the rough.
Sophie:
It's the kind of place where you can truly 'be yourself'.
Thien:
Even if 'yourself' is dressed up as an egg while your friend is dressed up as toast (thank-you Sisco team for tolerating our antics).
Sophie:
Yes, the folk at Sisco offer the perfect vibe for everyone from the 'pre-work coffee run corporates' to the 'high-brow eggy and toasty artists' (us) that live the phrase 'you are what you eat'.
Thien:
This tucked away cafe may look deceivingly small at first but venture to the back and you are welcomed by a beautiful courtyard.
Sophie:
We were transported as if to the majestic backyard of a dear friend who can actually cook.
Thien:
Who also has a penchant for smoking thick cut bacon – in fact, you can see it being smoked right in the corner of the garden! A perfect pairing with their poached eggs.
Sophie:
Heck, those eggs. This is an establishment that knows how to foster the perfect runny yolk and I will be forever grateful.
Three: Cafe 63, EVERYWHERE
Sophie:
Now we could not have a list of great cafe spots without mentioning Cafe 63.
Thien:
And yes, we mean each and every one of them.
Sophie:
It is a true staple of this city. A silent guardian. A watchful protector.
Thien:
Although it may be a chain restaurant, there is no denying that the essence of brunch is strong in every single one of them.
Sophie:
While this city is full of all day breakfast menus so good I weep for those who have yet to experience its bounty, we need an 'ol faithful' for the moments we don't want to don the cute frock and take top down shots of our food.
Thien:
Yeah. Who will be there in the moments of hangover? Of oversleeping? Of 'I am understandably on a budget'? Cafe 63 is there every time to offer the perfect astro-turf, gingham, extremely long menu experience.
'All Day Breakfast' plays Brisbane Powerhouse 21-22 May.