Oddities don't come much more perplexing than comedian Aaron Chen.
In discussing his new show, 'Mr Cigarette', it's hard to know what to make of Aaron or to discern what he thinks about his own show, largely in part because of his seemingly nonchalant manner. "'Mr Cigarette' is. . . A show. It's a show, first and foremost," he says.
"I got this person to do a character for me, this designer. Yeah, it was sick. But yes, it's a comedy show, I guess?"
Aaron echoes awkward chuckles given to his reply with one of his own. This is apparently just what Aaron is like, in both his personality and his comedic figure. The figure he mentions, one designed to represent Aaron's ideals of 'Mr Cigarette', stems from Aaron's love of the computer-generated designs of the early noughties, a period of trends he's adamant is making a comeback. Aaron has cut jabs at the internet and general cyber world on more than one occasion, emulating his fascination with the potentials of being jacked into the internet, much like Neo Anderson, a character from 'The Matrix' Aaron is said to admire. Such is his admiration of Keanu Reeves' famed character Aaron even went so far as to don his costume for a recent debate. "I thought it would be funny for me to dress as Neo, to think the internet is the Matrix."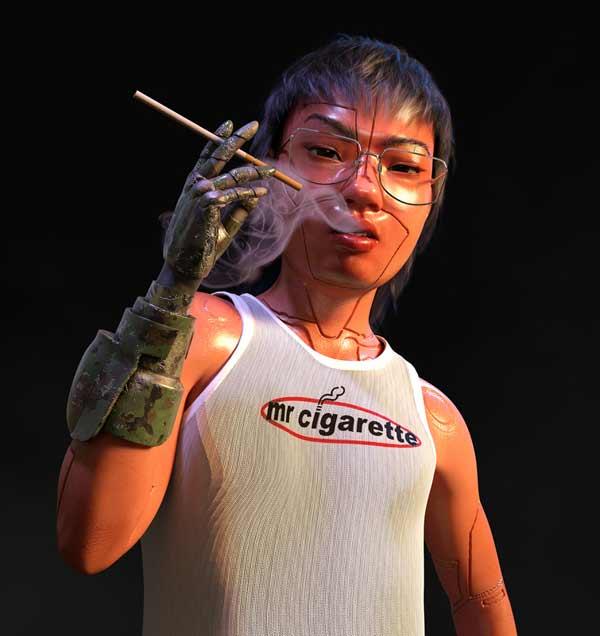 "We've got enough social media; I only go online on Fridays now."
So how does Aaron's perception of the internet and being jacked into the system tie in with the 'Mr Cigarette' character, if at all? No immediate response from Aaron – is his delay for effect, you might wonder – stuttering for thought, he says, "it reflects moving in the 21st century and the reflectiveness of it. We're always looking into the past and scrolling on our feeds and so on, looking back. That's kind of what you do when you have a cigarette, you're just looking back on time.
"You know when you're by yourself and smoking a dart, you reflect and regret, and I think this is all about that."
Aaron finishes with a disconcerting laugh.
'Mr Cigarette', it transpires after some prompting, will be talking about his own reflections and regrets. Aaron, somewhat unnervingly, says he can talk a little about the things he's experienced on which he can reflect and regret. "I guess I can talk about it," he prepares himself dramatically. "In part of the show I talk about how I was in a life or death situation. I had to take someone else's life to survive, in Morocco in 2015."
"That's the crux of the show. It's probably my most personal show yet."
See? A perplexing oddity. And when it's hard to know if Aaron is serious or not with some of the stories he shares, you have to wonder if his new show is out to shock or entertain. "Hopefully both!" Aaron says. "It is a pretty dark time in my life and I don't know if I've even processed it fully.
"You know like Hannah Gadsby did it with 'Nanette', it's opened up possibilities to talk about maybe darker subject matters."
Aaron Chen Tour Dates
14-23 February – Spare Room at The Garden Of Unearthly Delights (Adelaide Fringe)25 February-1 March – Brisbane Powerhouse (Brisbane Comedy Festival)26 March-19 April – The Victoria Hotel (Melbourne International Comedy Festival)9-10 May – Comedy Lounge (Perth Comedy Festival)15 May – Enmore Theatre (Sydney Comedy Festival)