A lot of comedians got their start in stand-up before they got their own sitcom or became movie stars, but now days some of the best comedy actors in the world have their roots in improvisation.
'Cool Story Bro' is Big Fork Theatre's take on American Improvisation's Armando and ASSSSSCAT shows performing the
Brisbane Fringe Festival
. These shows have been performed for almost two decades by some of the world's best comedy performers – Tina Fey, Amy Poheler, Seth Meyers and Horatio Sans to name a few.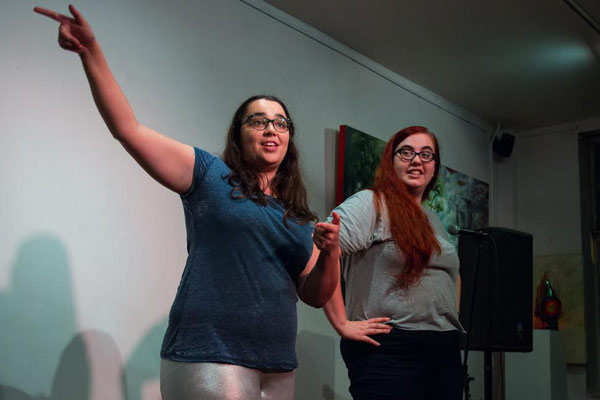 Each show a special guest (to be announced shortly) will share true stories from their real life based on single word suggestions from our audience. After each story a cast of improvisational actors will perform short scenes inspired by the stories, utilising a range of skills to deconstruct the stories and create live comedy. A number of these performers have studied improvisation in Chicago and New York City at the fames iO and Upright Citizens Brigade Theatres.
Big Fork Theatre is a newly formed collective of local actors and comedians dedicated to the art of improvisational comedy – here are their Top 5 comedies who started careers in Improv.
Aubrey Plaza - Upright Citizens Brigade
We love Aubrey Plaza as April Ludgate on 'Parks & Rec'; her deadpan delivery and dark sense of humour kills every time. Her willingness to stare down people completely deadpan who question her jokes during interviews is the best.
Keegan Michael Key - Second City Chicago
'Key & Peele' is one of the funniest sketch shows on television, Keegan Michael Key's face is the Mr Fantastic of comedy expressions. It's beautiful to watch, and he is straight up hilarious.
Ellie Kemper - Upright Citizens Brigade
Ellie Kemper stars in Tina Fey's newest sitcom 'Unbreakable Kimmy Schmidt' and completely steals the show. Her ability to play naive yet confident is brilliant to watch.
Amy Poehler - iO Theatre Chicago
Her fierce positivity and determination are admirable. She shows that you can be funny, warm and caring and do whatever you dream of if you commit.
Will Ferrel - Groundlings Theatre
Before he was a breakout star on 'SNL', before he was breakout movie star and before he was a breakout lifetime movie star, Will Ferrel started at the character-focused Groundlings Theatre in LA. His acceptance speech for the Mark Twain Comedy Award is one of the funniest speeches ever given.
'Cool Story Bro' performs Visions Gallery, 21 & 28 August.