The 'Producing Heroes' Podcast is the project of Yaron Lifschitz, Artistic Director of Brisbane-based Circa, a contemporary travelling circus.
Yaron has overseen groundbreaking productions that have blurred the lines of form and genre; works of physical art that traverse different aspects of literature and mythology and music.
"I think the role of Circa is to ask what is possible in the circus," Yaron explains. "That means as soon as we find the answer, we have to ask the next question. We do a bunch of different things but they are all based on our core values of quality, audacity and humanity."
"We have an ensemble of artists. We work together, we pay attention, we remain curious. And that becomes this DNA, this soup of questions and skills and people. We apply that in different forms to different topics and ideas.
"Our position is to be the explorers of performance, to be groundbreakers and never repeat ourselves. I am deeply mistrustful of anything that looks like a formula in the arts. You have to just go there and make it up, that's the job of the artist. That's very much how we base the company. It's a series of adventures."
Circa's body of work has been intensely collaborative, staging productions with symphony orchestras, opera singers, youth and community groups.
"I want to work with every artist that I like. If Nick Cave or Anish Kapoor give me a ring tomorrow, I would happily make a show around their work. The circus is not the most pliable of mediums. But it has this great advantage over almost every other art form, it does not bore its audience. Circus is an art form that genuinely need never be boring. It's a special sauce we can add to, and help catalyse a lot of our collaborators. That's a really powerful superpower."
It is this superpower which is explored through Yaron's new 'Producing Heroes' Podcast, 'dedicated to celebrating the creative producers that make impossible things happen'.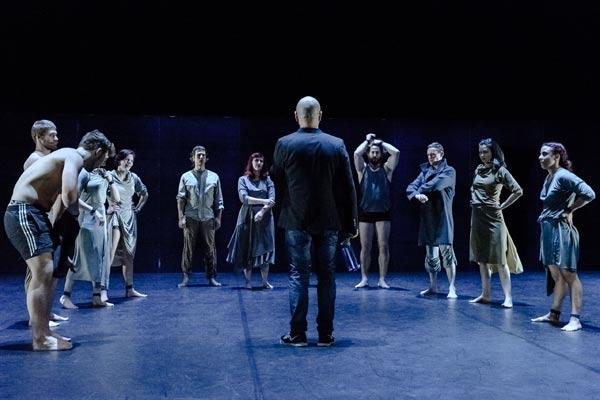 Image © Chris Herzfeld
"One of the things that we just don't have enough of is producers. We don't have enough people that go out and do this Promethean act where they steal fire, make something happen," he says. "Without that, really nothing much happens. We thought that producers have the most interesting stories. And they are the shyest people, often. And often the most humble."
"What is so fantastic is that almost without fail, they have this capacious, generous spirit. This sense of serving art and artists that is very easy to forget. In the circus we often get confused as to whether we are an art or an entertainment. And not very helpfully so. At the core, is this idea of this act of human engagement and generosity that is really powerful and palpable."
'Producing Heroes' is a dialogue with people working at the foreground of the intersection between arts, culture, politics, science, and society. It showcases powerful conversations around working on productions of epic proportions. Episode one features veteran theatre and film producer Stuart Oken, with each episode to follow putting the spotlight on a different guest.
"The podcast will be a resource," Yaron declares. "I think anyone who is interested in making theatre, or studying theatre, or producing, will be well advised to listen to the voices that are talking, because they are wise and insightful. I think they will last a lot longer than this crisis. That being said, we only started making this podcast after the crisis. The conversations are infused by an urgency and that's one of the really interesting things about crises, they infuse a sort of essentialism. Maybe we talk a bit less and do a bit more. Maybe we are less focused on getting it right the first time."
So how, in what is now essentially a post-everything world, can we run away to the circus?
"Like anything in the arts, you have to have a great deal of courage and tenacity. I can't think of anybody in my 20 plus years of theatre who asked for help and reached out and who has been said 'no' to. It just doesn't happen.
"We might say 'maybe next month', but I can't think of anyone who will say 'I won't help you on your journey'."
'Producing Heroes' launches 10 June, through Google Play, Spotify, and Apple Podcasts.