The third annual Wynnum Fringe will take place this November-December and it's bigger, better and bolder.
Hundreds of interstate and Queensland artists and entertainers will unite, in an event celebrating some of the best in contemporary, independent and alternative arts and entertainment. An attendance of more than 35,000 people is expected over the 19-day event.
Wynnum Fringe has appointed four high-profile Festival Ambassadors to lead the proceedings – pop queen Marcia Hines AM, international sports star/Wynnum local Vicki Wilson OAM, and ABC Breakfast presenters Loretta Ryan and Craig Zonca.
Music, dance, comedy, theatre, cabaret, burlesque, circus and more will fill the Wynnum Fringe calendar, as well as weekend family programming.
After seven years of sold-out shows, 'Velvet Rewired', the glittering, high-energy fusion of disco, dance, burlesque and circus kicks off its Australian tour in the Raine & Horne Wynnum Spiegeltent, in the Wynnum Fringe Garden – a new festival hub at George Clayton Park. Acrobats, aerialists, vocalists and performers will wow audiences, led by Australian music royalty Marcia Hines.
"My journey from a lead role in the original production of 'Velvet' to being a co-producer on the new version to finally bringing Marcia and our talented cast, including my good mate Craig the Incredible Hula Boy, to Wynnum Fringe as part of a national tour is extremely exciting," Wynnum Fringe Founder and Director Tom Oliver says.
"Wynnum has never had a Spiegeltent – let alone hosted a national production of this magnitude and size – and we've curated a three-week program of local music and comedy acts as well. I can't wait to announce the full line-up soon!"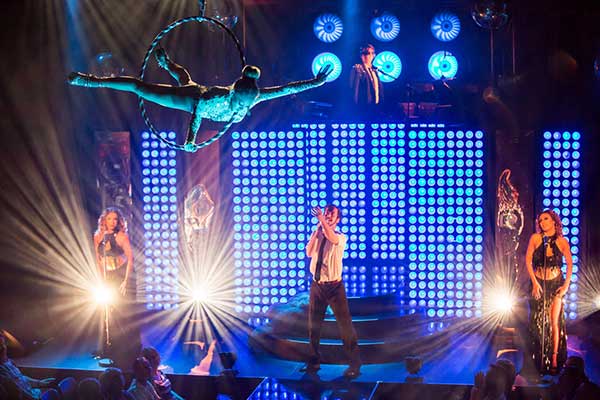 Until then, more acts announced include comedians Dave Hughes, Garry Starr, Cal Wilson, Georgie Carroll, and 'The Voice' Australia finalist Thando Sikwila. Plus, Head First Acrobats host circus event 'GODZ' and indelabilityarts brings the Matilda Award-winning immersive, interactive and accessible story 'Wilbur The Optical Whale' back to the stage.
Wynnum will also take on Manly in an amateur dance eisteddfod for all ages, led by Common People Dance Project.
Visitors can also enjoy bars, food trucks, waterfront stage shows, engaging First Nations programming including 'yana marumba (Walk Good)' – an opening ceremony tradition – and live music in Miles: The Caravan Stage.
"It's been such a massive leap in three years to go from three days to three weeks," Tom Oliver says. "You know the phrase 'go big or go home'? That's what we are doing because we believe in the arts and we believe in our community."
"The team and I have been working day and night to bring Wynnum Fringe back for a third year and as an independent organisation, this takes a huge amount of effort, risk and grit.
"Wynnum Fringe is a huge asset for our creative community, an economic boost for our tourism and business communities and puts Wynnum on the global cultural map."
Wynnum Fringe 2022 takes place from 16 November-4 December.