Grab a bottle of your favourite drop and settle in with Melbourne cabaret artist Tash York as she presents her new show 'Winefulness' at Adelaide Fringe. Cheers.
"Wine is synonymous with some of life's biggest celebrations," Tash says. 

"We have it at weddings, birthday toasts and even at church – do they still do that? I haven't been in a while! Usually you don't have Tash York without a glass or two of some sort of wine in hand."
'Winefulness' is less a show about getting hammered and more a comedic reflection on dealing with life, which, let's be honest, is usually easier when there's a bottle of wine in the picture.
"I never thought I'd make it to 30, let alone be engaged, have two cats and practise yoga on a daily basis – this show is a huge reflection as to how far I've come from the first one six years ago," Tash says.
"I always want audiences to have a fabulous night out and to feel good about themselves," she continues.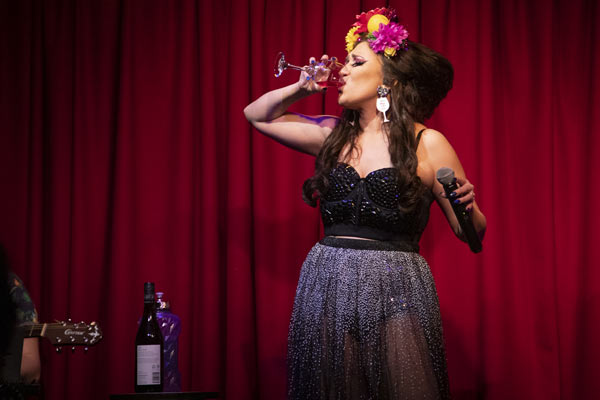 Image © Jeevs
"'Winefulness' is about living life with a happy mind whilst also enjoying a wine. This show is about living life in a way that celebrates looking after yourself. So many people are so judgemental about drinking wine and having a good time but life is about balance."
How Tash ever found balance in her life, we'll never know; her previous show 'Adulting' relayed all the stumbling blocks she encountered en route to her 30s – bad debt, even worse boyfriends and all the other mistakes she made along the way.
Just like in 'Adulting', Tash will showcase her dynamic energy, relatable stories, witty banter and powerhouse vocals. If her previous shows are anything to go by, audiences are in for a grape great night of song and story.
"There's no judgement at any of my shows," she reassures. 

"If you love wine, cats and yoga – great! But there is something in this show for everyone. I always aim to tell stories that unite us all together, not tear us apart – usually hilarious but also at my detriment. I talk about finding love, finding cats, finding yoga, oh, and that time I got arrested!"
'Winefulness' is on at The Parlour at Gluttony – Rymill Park 3-15 March.