Over 60 years since its first release, and over 400 years since the release of the Shakespearean play upon which it is based, 'West Side Story''s insight into mob mentality, of us versus them, is sadly more relevant than ever.
When Bernstein's music, Sondheim's lyrics and Robbins' choreography click, though, this is simply a jet of a show.
When you flick through Opera Australia and GWB Entertainment's glossy red 'West Side Story' program while waiting for the red curtain to lift on downtown New York, a few phrases recur in the cast bios, most notably, "began dance training at 3" and "is thrilled to be making their professional debut". Yes, the producers this time opted for a young but not inexperienced cast, and this makes sense for a show about ill-fated young love, intergenerational conflict and teen gangs.
When members of the Jets argue with Doc about him not understanding them, the millennial cast members mean it; when Tony and Maria meet, the heat of young lust radiates from them.
'West Side Story' contains a score of dastardly operatic passages, augmented fourths and such, balletic choreography, and thick New Yorker and Puerto Rican accents. In the age of tertiary musical theatre degrees and toddler ballet classes, finding triple threats who can master these demands is much easier than in Bernstein's time, and the ensemble garnered cheers for the spectacular chorus numbers 'America' and 'Gee, Officer Krupke'. While this might be a work about discord and conflict, the cast and orchestra are in splendid unison when they dance between two rusty balconies and in front of a skyscraper of a screen displaying black and white streetscapes of the West Side.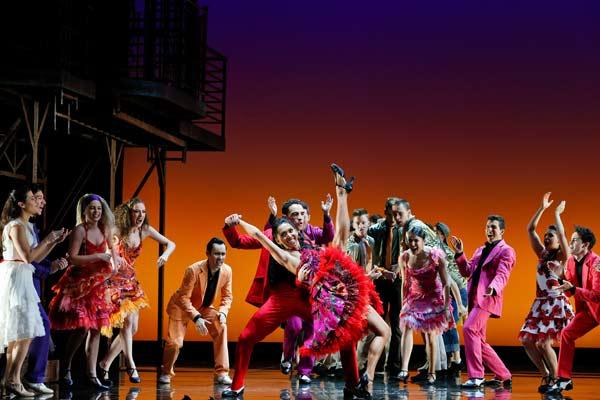 Image © Jeff Busby
This production's star-crossed lovers indeed come from different worlds. Sophie Salsevani (Maria) made her Pacific Opera debut earlier this year and sings with a ringing operatic soprano, while Todd Jacobsson's Tony possesses a light, angelic musical theatre voice. Keanu Gonzalez's Bernardo and Chloe Zuel's Anita, meanwhile, both emit a Latino heat, almost stealing the show with their equally ill-fated romance. As Riff, Noah Mullins isn't quite rough enough.
In 'America', the Puerto Rican immigrants sing about escaping the hurricanes of their homeland for a new life and the American dream in New York. As the Caribbean island rebuilds after 2017's Hurricane Maria, as the calls to "build a wall" still echo in an increasingly polarised "land of the free", 'West Side Story''s message about the cost of blind hate and division needs to be heard, and this production needs to be seen.
★★★★☆ 1/2.
'West Side Story The Musical' plays Adelaide Festival Centre's Festival Theatre until 8 December.