Card specialist magician Tony Roberts brings his spellbinding show to Perth and Adelaide.
The Aussie-born member of London's Magic Circle is known for creating original card magic illusions and being one of only a handful of magicians worldwide to master the insanely tricky riffle-shuffle.
Two lucky audience members at each show will have their seats 'upgraded' and will be invited to join Tony on stage to sit at his card table, witnessing every bit of his performance up close. But don't worry if you're not picked – all the action will be amplified to a big screen so all the important stuff can be seen from afar.
Here, Tony answers some questions about the show.
When did you become fascinated with card magic?
I have always been fascinated with cards having played cards since I was a kid, I played poker with my granddad for five cent pieces from when I was six. In my mid 30s I started playing poker on a regular basis with professional magician and street performer Nick Nickolas and before we played the first hand he showed me what he did for a living, I was hooked. He has been my mentor, friend and inspiration for this whole journey.
And when did you feel that you could turn it into your job?
As soon as I discovered street performing, I walked away from a six-figure income, reduced my entire existence down to a 23 kilogram suitcase and travelled Australia and then the world stopping people in the street with a quick wit and cheeky charm.
You've said you enjoy the ability to take your audience members back to childhood memories. Why is this?
As a magician I don't feel it is my job to convince people magic is real, but if I can take them back to when they were four or five and came down the stairs on Christmas morning and Santa Claus had left all the presents under the tree, that moment was pure magic. If I can give people that moment just once in my show I have done my job.
When you put a show together, what are your main intentions?
To entertain, pure and simple (oh and global dominance, fame and fortune).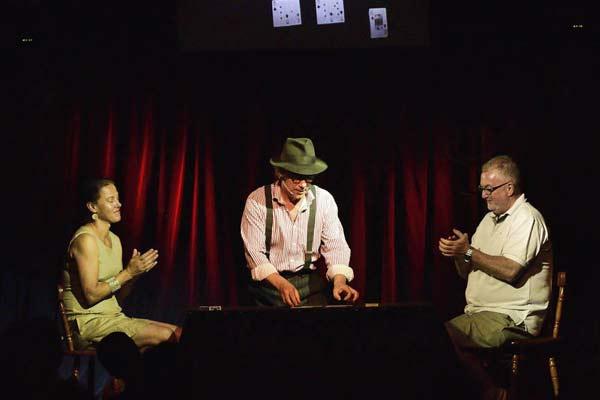 Image © Trentino
What are some of the challenges you face when you're figuring out the structure of a show?
'Tony Roberts: Card Magic''s structure was formulated on the road through countless nights of entertaining in pubs and clubs for drinks and tips. It's basically a ten-year pub crawl condensed down to a one-hour show. 'I'm A Magician Get Me Out Of Here' [Tony's other show] was born out of wanting to make the art of escapology accessible to kids. So often performers feel that they need to add danger, the risk of death, to make it entertaining, fire, water or saw blades freak kids out – so I wanted to make it funny and pitch it at the kids while still serious enough that the adults know what I am doing is real.
You're also tying a bit of comedy into this show. Can you tell us about that?
Laughter is the best medicine (that doesn't mean if you collapse in my show I am going to push people aside saying 'step back I'm a comedian') but it is also the best misdirection. Laughter is like a sneeze, in that moment the magic happens.
How are you hoping your audiences react to the show?
With the simple feeling that it was an hour well spent.
'Tony Roberts: Card Magic' plays Big Top at Sunset Veranda (Fringe World Perth) from 17-18 January and Spiegel Zelt at The Garden Of Unearthly Delights (Adelaide Fringe) 24 February and 2,9 March.