Classical quintet Topology present an impressive fusion of tap, percussion and instrumental musicianship, 'Three – Tap Into Topology'.


The new show showcases a synthesis of elements from classical composition, tap dancing and drums. Featuring highly-acclaimed tap dancer Bill Simpson, 'Three' is an innovative performance which focuses on bringing three very different genres and elements together to create something fun, unfamiliar and emotional.
"It's called 'Three' because we've got three different genres all mashing together," Composer and bassist Robert Davidson says. "We've got Topology which is chamber music, a bit orchestrally oriented, and then we've got Grant Collins who's playing drums and his drumming language comes from prog-rock really, metal and heavier sorts of genres, and then tap dancing, we've got Bill Simpson tap dancing and he's from a completely different world as well. So how do you put all of these together?"
Robert is responsible for the group's artistic direction and composition as well as playing bass and occasionally singing. His works have been commissioned and performed by many international artists including the Brodsky Quartet (London), Paul Dresher Ensemble (San Francisco), Australian String Quartet and Newspeak (New York).
"We've all got a very strong interest in rhythm so we had to find a language that we could all speak and a lot of that came from just hanging out a lot together and having long conversations about jazz."
The inspiration for the show centres around Robert's fascination with tap dancing and how the movements of someone can be translated into a piece of music.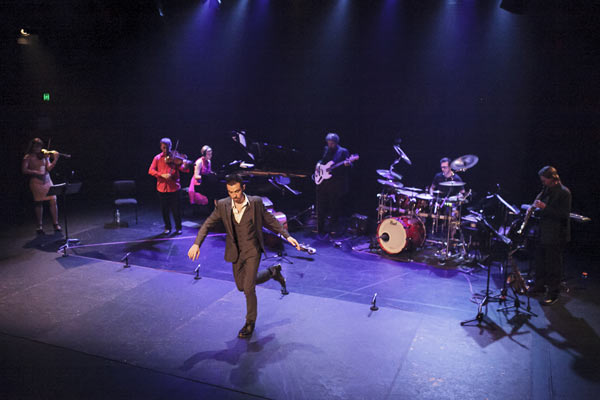 "One of the pieces I wrote was, for the want of a better title, called 'Tap Dance'. I actually just went and recorded Bill dancing, just him improvising, and then wrote it out into music notation and then started adding notes and adding chords and things to those rhythms and so we actually play exactly in unison with him because he had to go back and learn what he'd improvised."
With rhythm coming first and foremost in this performance it is hard to look past the incredibly talented Grant Collins who has transformed his passion and dedication to drumming into musical contributions through education, workshops, new techniques, and ideas.
"I've composed three of the pieces in there but the ones by the drummer Grant Collins are quite intense. Originally he wrote them to play just with himself with a sequencer on a computer, so he didn't have any need to restrict anything in terms of difficult rhythms because he could just get the computer to do whatever he wanted, so we had to learn to play these really crazy rhythms."
Grant's contribution to the group has kept the musicians on their toes, producing unrelenting grooves and pushing them to the edge of rhythmic possibility.
"When we first tried reading it we thought we'd never be able to play it and then we gradually slowly learnt it and now it's easy which is really fun. Now he can do five different rhythms all at once, so he does one rhythm with his right hand, one with his left hand, one with his right foot, one with his left foot, and then he also sings or speaks another rhythm, he's a crazy guy."
'Three – Tap Into Topology' plays Redland Performing Arts Centre 21 September.