It's the most wonderful time of the year, and some say the only thing that would make Christmas in Australia better is if we could experience it in the snow.
Perth Symphony Orchestra (PSO) will help to bring that fantasy to life when they play the music of 'The Snowman' this December.
The Academy Award-nominated film – based on the Raymond Briggs book – tells the story of a young boy building a snowman on the night before Christmas. The score is by Howard Blake, and the soundtrack includes 'Walking In The Air', made famous by Aled Jones. 'Walking In The Air' will be performed by the winner of Perth Symphony's 'Search For A Star' boy soprano competition.
The concert will be the main event of an afternoon filled with activities, and the venue will be transformed into a winter wonderland.
Here, PSO Founder/CEO Bourby Webster tells us more.
You're bringing the film 'The Snowman' to life in this concert. What do you love about playing the music from film?
Film music has universal appeal, and is designed to provoke an emotional response. For musicians, music paints a picture, but for many people, having a story brought to life as a visual film which is then greatly emotionally enhanced by music, makes it a much more involved and personal experience. Perth Symphony loves to move people and believes that music can have a profound impact on people, and nowhere is this more directly achieved than through performing live music to film.
And what do you love about the music from 'The Snowman' in particular?
This production could not be more magical – from the actual story itself (about a young boy who builds a snowman which then magically comes to life, and together they go off on a Christmas Eve adventure to the North Pole), to the illustrated film, to the score by Howard Blake. The music is sublime – its ability to bring the film to life is remarkable – whether it's the cellos playing glissandi (sliding up and down notes) as the snowman moves in and out of seeing his own face in a Christmas bauble, to the flute dancing when the little boy skips down the stairs. It's utterly wonderful to play, and wonderful to hear. This is pure joy in music.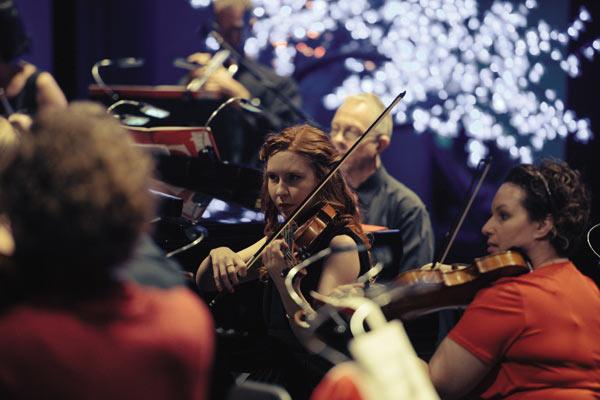 What is it about this story that makes it so well-loved?
It is the Christmas detail that truly makes it magical. Everything we think about Christmas (specifically those with a northern hemisphere upbringing) is here. . . Brought to life through the eyes of a little boy. It highlights the simple yet magical things that make this a true family celebration: The food, the snow, the decorations, the elves, Father Christmas, snow fights and so much more. It's also very poignant because the snowman melts and is no longer there on Christmas morning – but there is a sense of hope as the little boy finds the scarf the Snowman gave him suggesting it wasn't just a dream. This is a universal story of love and hope that everyone can relate to.
What do you love about the magic of Christmas?
Personally I love that it brings people together, lots of lovely things are said, people hold their loved ones dear, share experiences with friends and reflect on the things that I think are most important in life. It's also a celebration that wouldn't be half as good without music, and music is my life, so it's my favourite celebration for this reason too.
It's a family-friendly event! What else is on offer during it?
So much – animal petting zoo, coffee cart, an introduction to the orchestra for children, sing-a-longs and a visit by a rather special person. . .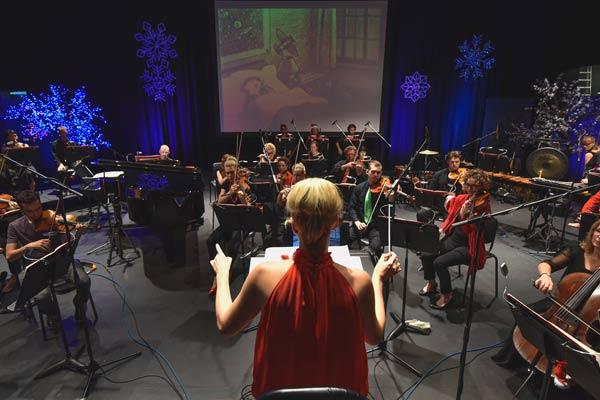 Why do you think it's important for kids to be introduced to live orchestral music?
Because music enhances life. It helps us understand who we are, and where we come from, and how we can express ourselves. Classical music and orchestral music delves incredibly deep into human expression, and without it, or not understanding it, leaves a space where there could be enrichment and engagement. If we don't understand it as children, or don't experience its magic, we spend the rest of our lives saying 'it's not my thing' which I hear all the time. Yet it is demonstrated in a tonne of research that music is fundamental to human existence, and in particular development of children, so it is beyond important.
From the perspective of the Founder/CEO, what are some of the things you're most looking forward to in the show?
Simply seeing hundreds of families come together for a collective, magical, musical experience where the parents are full of joy and emotion and the kids are glued to the stage – watching the musicians and the film in equal measure. You can hear a pin drop, and it's something that gives me goosebumps every time we perform this piece.
What do you hope the main take away from this show will be?
That Christmas is a very special time for families, and I hope that everyone takes away that music has a special role to play in bringing families together, both at Christmas and other times of the year. An orchestra is for everyone, and this beautiful film will stay in people's minds for a very long time. I can't wait.
PSO play music from 'The Snowman' at Dickinson Centre, Scotch College 22 December.