In a new musical based on the characters created by Charles Addams; Wednesday Addams, the ultimate princess of darkness, has grown up and fallen in love.
Wednesday confides in her father, and now Gomez Addams must do something he's never done before – keep a secret from his beloved wife, Morticia. Everything will change for the whole Addams Family – Gomez, Morticia, Uncle Fester, Grandma, Pugsley and Lurch – on the fateful night they host dinner for Wednesday's 'normal' boyfriend and his parents…
Aurélie Roque who plays Morticia Addams told us her (hilarious) version of events and about how 'The Addams Family' has adapted into the modern day.
There's a universal appreciation of 'The Addams Family', but for those unaware of the residents of 0001 Cemetery Lane, what can they expect?

The Addams' are a loving and devoted American family... that happen to find the macabre endearing, and beauty in the truly horrifying. They are completely unaware that people find them bizarre or scary, but that's what I love about them. Regardless of what is considered acceptable behaviour, this family accepts everyone with a shrug and a hearty handshake. Or a good natured sword fight. Honestly, you never know what to expect, but you can bet it's with love in their hearts.
How does this production expand on the world that 'The Addams Family' live in?

Well, time has rolled forward, and Wednesday and Pugsley are older now. In fact, Wednesday is in love! Which is what the plot line revolves around. The main question being how does each member of the family handle this big news? Personally, I have always wondered what kind of man would capture the heart of young Wednesday. I gotta tell ya, I wasn't expecting THIS guy.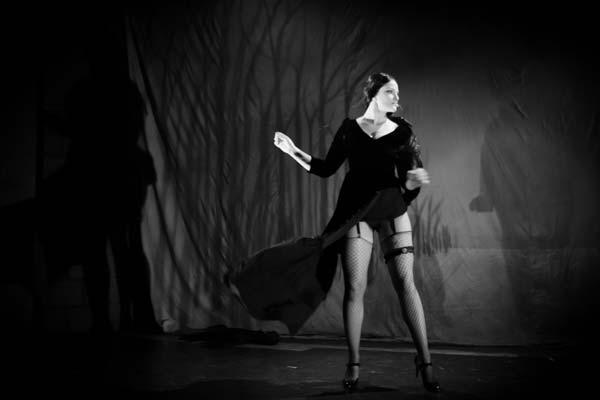 This production is a musical, but is it your 'typical' musical?

That's a tricky question. What do you consider a typical musical? Just because there's singing and dancing in it doesn't mean that 'Cinderella' is along the same vein as 'Sweeney Todd'. I like to think each show has it's own moments that truly make it shine theatrically. Though I will say that this show does tend to break the Fourth Wall a bit more than most.
What musical numbers have been included in the playlist? Did you want to run with more modern songs to keep it contemporary for the audience?

After it closed on Broadway, there was a major story rewrite for the national tour. This version of the 'Addams Family Musical' has swapped certain songs from the original Broadway recording, like 'Where Did We Go Wrong' and 'In the Arms', for newer songs like 'Secrets' and 'Trapped'. I think that anyone who is familiar with the Broadway show will be pleasantly surprised at the new twist on the same story (I won't lie, I am loving it). As for the modernism of the songs, there's no rap or techno, but there's no disco or swing either. 'The Addams Family', as always, remain era ambivalent.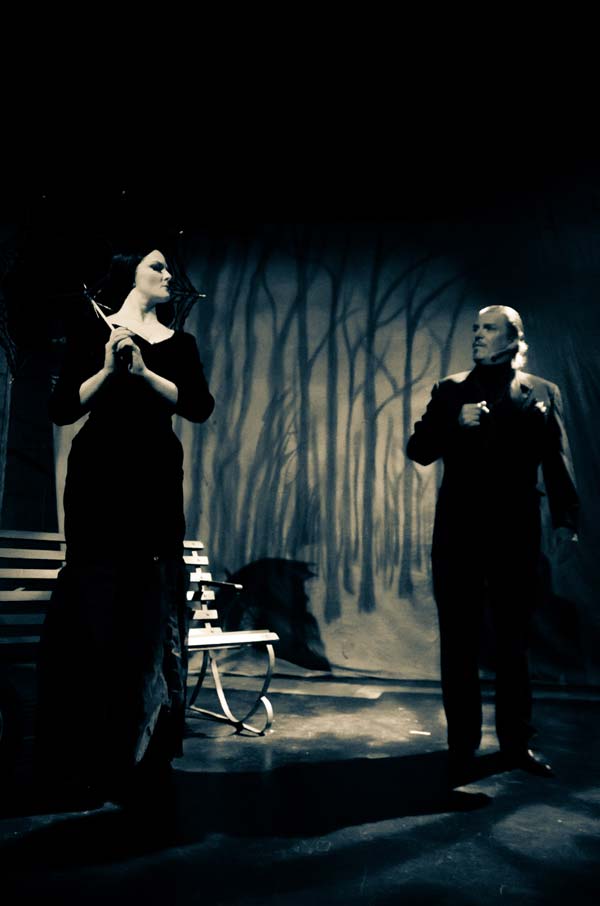 Where did the idea to set a musical inside the world of 'The Addams Family' originate?

I'm actually not quite sure, though honestly it's about time! It may stem from the fact that there have been quite a few new shows based on iconic movies recently: 'Shrek', 'Legally Blonde', 'Hannibal', 'Evil Dead', 'The Heathers', and pretty much anything Disney it seems. Or maybe it's been on the back shelf for decades, just waiting for a chance. Who knows? All I can confirm is that the project officially began in 2007, when the producers bought the rights from Charles Addams' Foundation.
What themes/ morals are you looking to present with 'The Addams Family'? Will they be tech savvy for the modern world?
Absolutely! True morals taught through theatre are universal and timeless. For instance in this show, we try to teach the classics like 'never judge a book by it's cover', 'think outside the box', and 'love is blind'. Which actually becomes literal at a certain point in the show. And more importantly 'forgive and forget'. As my character says: "Living or dead, family is still family."
This production looks like the perfect vehicle for anyone to pop their 'theatre' cherry, right?
EVERY show is perfect to pop your theatre cherry!! I have always been a firm believer in this! It doesn't matter if it's your daughter's school play, an art performance piece, or an international Broadway tour, seeing a show gets the creative juices flowing, and expands your horizons. One night you're flying with 'Peter Pan', and the next you're shooting craps in a sewer with 'Guys and Dolls'. So go on; get off your couch! There is amazing theatre happening ALL AROUND you in Brisbane, and you should be in the front row of each show! Preferably next week. At the Brisbane Arts Theatre. For 'Addams Family'. I'm just sayin'.
Let's talk costumes... how crazy can we expect Wednesday, Gomez, Morticia and the rest of the Addams to look?

I'm reminded of a quote from the movie. When asked about Wednesday's Halloween costume, she replied,"This is my costume. I'm a homicidal maniac - they look just like everyone else." Except in this case, it's all classic black, baby! This is a family who revels in the darkness, so they're outfits tend to match. They keep it pretty streamline though; no chains or spikes (that we can see). As for the craziness of it, there are a few shockers, but I don't want to ruin them for you!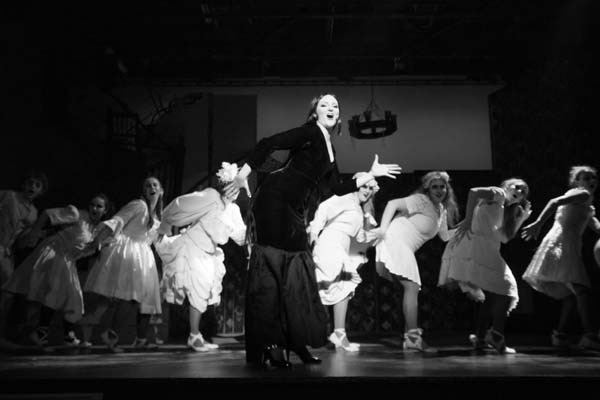 And the stage... what kinda props can the audience expect to see?

Decapitated dolls, crossbows, a kiddie wagon full of poisons, and one particular chair that will make you squirm in your seat.
The shows runs for a month; do you expect the performances to morph/ evolve during that time? Or do you prefer to stick to script?
I love it when a show evolves over time! As long as it's kept in check, it's a truly beautiful process, and I always love the results. My mother back home loves to see the opening and closing night of every show I'm in for that exact reason, and now she's passed that habit onto my husband. I love to leave him the in dark as much as possible about each musical I'm a part of, and then chat with him for hours about it after opening night, getting his take on how he as the audience member perceived each scene and the show as a whole. It's truly fascinating!
Rehearsals; any crazy stories to tell from practice?

Good lord, which one do I pick? The time when Connor Clarke, who plays Lurch, stepped in for Alice Beineke when she couldn't make it to rehearsal? Or maybe the time we didn't have our apple prop on hand for the William Tell-style moment, so Liam Wigney held an iPad decal over Chris Batkin's completely oblivious head? Or maybe about how there's one particular line I have that wields the power of making Natalie Ridoutt break character if I so much as glance in her direction? Then there's the time Liam made Jessica Potts drag him from place to place by his left foot, just for the hell of it. Take your pick!
Would you invite audience members to dress up as their favourite Addams?

Oh my God, YES!!! That is absolutely BRILLIANT!! And there's a whole Addams family tree out there. I say find your favourite Addams ancestral name, and create a costume just for them! Oh man, this is gonna get real awesome REAL fast.
'The Addams Family' is playing at the Brisbane Arts Theatre until 13th September.