The Sydney Gay And Lesbian Mardi Gras is back to once again provide a platform for LGBTQIA+ people, their talents and their passions, with a new vision to operate and inspire all year round, beyond the iconic annual celebrations.
Mardi Gras' new Always On initiative will see the organisation developing ways to provide platforms for queer people through all 12 months of the year, allowing members of the queer community to truly embrace their identity, celebrate and share experiences at all times.
"Mardi Gras' relevance can't just be over a two-and-a-half week festival and then we disappear and come alive again in October when we launch the next season," Mardi Gras CEO Albert Kruger says. "There's so much possibility and scope for the organisation to meaningfully and authentically stay connected to our community all year round."
It's Albert's second year as Mardi Gras CEO, and there are certainly plenty of things to look forward to in the 2021 main event, and its theme 'RISE'. It goes without saying that COVID-19 has affected Mardi Gras as it has done everything else, but there is a full programme of arts, entertainment, talks and comedy for everyone to enjoy.
"We have 'Laugh Out Proud', which is a fantastic comedy event. 'My Drag Story', 'My Trans Story', and then of course our 'Queer Thinking' programme where we talk about controversial issues that face our community. But in saying that, we have about 50 official events registered on our platform for this festival, plus if you add Queer Screen [Film Festival] it's about 130 events in total still taking place in this festival. So, taking all of that into consideration, it's still a big festival," Albert describes.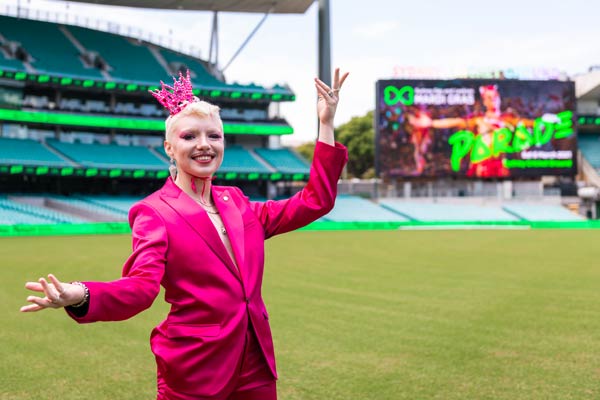 'Laugh Out Proud' is just one example of the joy festival-goers can expect this year – a comedy gala featuring and celebrating queer comedians hosted by Nath Valvo.
"I'm really blessed to be a part of 'Laugh Out Proud'," comedian Rosie Piper says. "It features some of the most fabulous, most magnetic performers in the country. I'm a genuine fan of the line-up. Queer comedy is the best comedy you can see at the moment as far as I'm concerned. You're hearing voices and opinions that were stifled for far too long, and I don't think it's too far-fetched to say queer people are frequently wonderful performers."
Meanwhile, 'My Trans Story' is just that – a storytelling event detailing the lived experiences of transgender people in its fourth year at the festival. This year, it brings alongside it for the first time an event titled 'My Drag Story', aiming to reveal all behind the painted facade of drag culture.
Lisa Freshwater is the Producer of these events.
"['My Trans Story'] is always an inspiring and profound event and this year will be no different, with stories about politics, musical theatre and superheroes," Lisa explains. "And this event has a new cousin – 'My Drag Story', curated by Anthony Carthew (Amelia Airhead) featuring six drag artists telling intimate and personal stories you won't have heard from these divas before."
"Plus, I'm co-producing 'BUTCH' with Alex Ryan from Lip Events which will strut into Sydney Town Hall on the opening night of the festival. It's a premiere event showcasing Butch fashion and culture and we can feel buzz from our community for this one."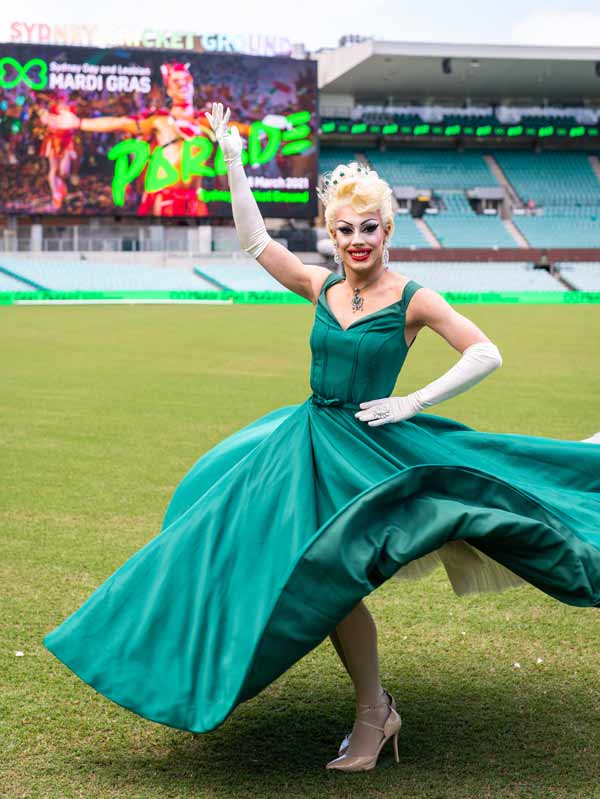 Every year, the Parade is perhaps the most iconic and anticipated part of Sydney Gay And Lesbian Mardi Gras. It's an uninhibited explosion of colour, expression, and celebration of identity.
CEO Albert Kruger says this year's Sydney Cricket Ground (SCG) event will allow for a greater experience from a broadcasting point of view, will integrate the Party, and will feature a higher-than-usual number of marchers and attendees from the very first Mardi Gras.
"It's 43 years later and we're so blessed to be able to have such a big number of '78ers able to come," he says. "They've been very positive about this change in terms of it being more of an inclusive event for them."
"The whole world is able to see how Mardi Gras is leading the way to hosting an event in a COVID pandemic. And for arts and culture, as a community we're also the first mass gathering event to such an extent that is bringing everybody into one space with 5,000 participants in this Parade."
"There's artists integrated into floats who will be performing on the stages in the Parade. There is 45 kilometres worth of cabling going into the SCG to add to the lighting and sound in that stadium. For special effects, audio visual effects and all sorts of things."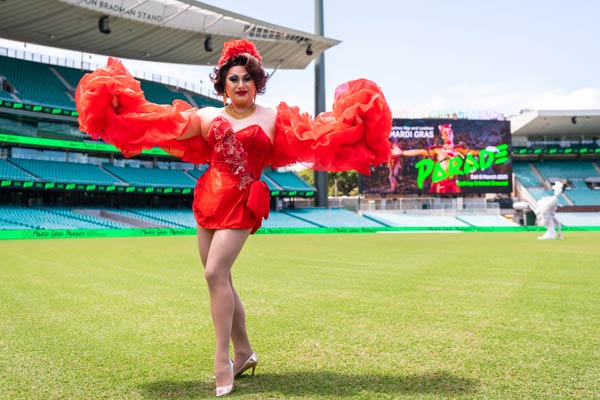 A number of the 2021 Mardi Gras events will also be streamed live or available to watch online, adding to the festival's accessibility. Albert believes this is one thing implemented during COVID which will stick around for future iterations of the festival.
"There are many of our community members that just aren't able to travel, even if it wasn't COVID, to come and attend," he explains. "We're also starting to talk to how can we create digital content that can live not only around the festival but all year round. When I say digital content that means documentaries, or short stories, or reality, whatever the case may be."
Sydney Gay And Lesbian Mardi Gras is determined to continue its 40-plus year commitment to providing a safe space for the queer community. With all lasers focused on delivering this space beyond the iconic two-week event as well as preparing for Sydney's hosting gig for WorldPride in 2023, it seems, even after 42 stellar years, the celebrations are only just beginning.
"The electricity that it brings into the city, everybody joins in and celebrates pride. It's so important for our community to get behind this pride movement. We know we have a major responsibility toward our community to bring us together, keep us connected and ensure that we still support each other in these tough times.
"We're carrying on, and we're dedicated to delivering an amazing event."
Sydney Gay And Lesbian Mardi Gras is on from 19 February-7 March.
This story originally appeared on our sister site, FROOTY. It's the cover story for FROOTY's Mardi Gras edition.