'SPECTATE' is a transmedia performance work that frames the audience as witnesses to Harry Houdini's final tragic show.
3D printed performers, live video compositing and immersive audio are used to construct a world of contemporary illusion.
Why should you go to the theatre? What will you really get out of it?
Maybe it will amaze you. You could be thrilled. You could have your life transformed by unspeakable beauty unfolding on stage in front of you! Or, you could die of disappointment…
'SPECTATE' is a show about being an audience and using transmedia forms Counterpilot is asking
you
to play the role of the audience. Wearing a headset throughout the show, you'll hear a voice inside your head prompting you. You'll be suspended between layers of reality while Counterpilot challenges you to navigate versions of truth and fiction.
At first you're here, now, watching a weird play and grappling with whether you like it. But then you're in 1926, watching Harry Houdini: the most famous magician in the world. You're excited, ready to be thrilled and amazed by his death-defying feats. But instead you watch a tragedy unfold – the legend slowly dying, his body failing, his act disintegrating. Disappointed.
Sadly magic doesn't work on audiences the same way it did in the 1920s. It's hard to be thrilled by a trick when you can so easily Google how it works. But we believe in a different kind of magic – theatrical magic.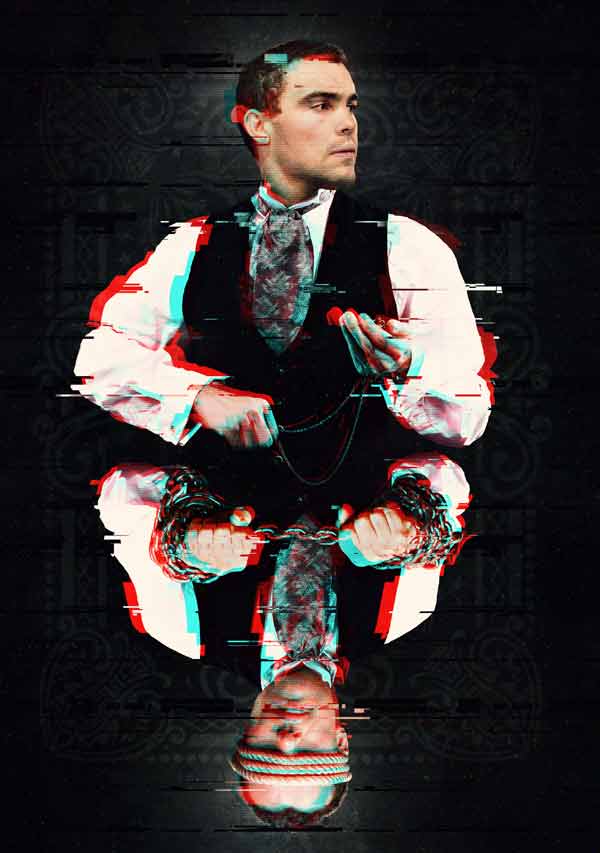 Counterpilot is staging Houdini's illusions, but not as they were originally done. Instead they're using live video trickery, 3D printing and theatrical craftiness. You the audience are never in the dark – they show you how everything is done throughout, eliciting their own brand of magic.
As a collective of interdisciplinary artists, Counterpilot creates rich fictive worlds to transform the familiar or the everyday. Here, they're playing with layers of story, style, and form to skew their experience of being an audience, of sharing this time in a room. They believe this is the most exciting part about theatre – that we are all here, in the present, sharing something together.
They are working with a team of diverse artists to bring this magic to the stage. This includes a software developer, an electrical contraptionist and an army of designers. The work features performances by Hugh Parker, Anna McGahan, Toby Martin, Cam Clark, Elise Greig, Brad Haseman, Lucas Stibbard, Veronica Neave, Lauren Jackson, and potentially the spirit of Houdini himself.
On Halloween, the 91st anniversary of the magician's death, they'll be live-streaming an attempted hi-tech séance as they reach out to connect with the legend himself. Houdini famously offered a cash reward for any psychic medium who could prove their spiritualistic powers. They'll give it a shot. Better late than never…
'SPECTATE' runs 7-18 November at the Sue Benner Theatre, Metro Arts.