The 11-day, city-wide SPARK Ipswich festival will celebrate the people, places, arts and culture of Ipswich (Queensland) this July.
Music, comedy, arts, exhibitions, circus, projection, culture, cabaret, technology, collaboration and industry discussion will be taken across the city for audiences to witness through July.
"SPARK tells our story with a tapestry of world-class events," Ipswich Mayor Teresa Harding says.
"Light and water displays at St Mary's Church and the Bremer River will be centre stage as we celebrate the diverse people, places, arts and culture that make our city so vibrant, liveable and fun."
SPARK After Dark will include three major light installations within walking distance of each other, in the Ipswich CBD.
Also, as part of deLight, the works of 11 local artists will be profiled as they're projected on to St Mary's Church.
The new Council administration building in Nicholas Street will light up, with artworks created by equations. Meanwhile, the Bremer River will be centre stage for an art, light and water installation called Refraction – defined by the refraction of light through liquid.
Viewers are encouraged to dress warm and bring headphones to experience the installation's soundtrack.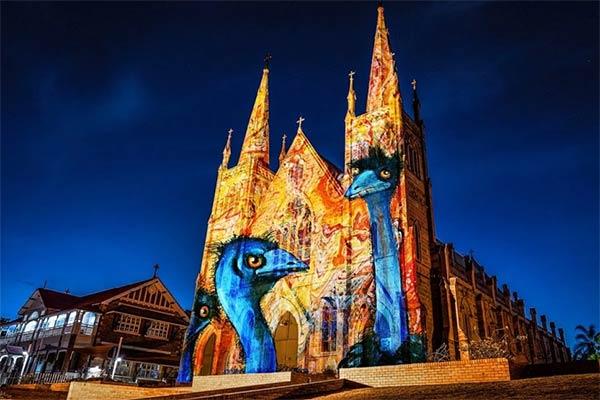 The young and young at heart are encouraged to head to Little Day Out. The event, at Ripley Town Centre, will be bursting with music, arts experiences, entertainment, food and fun.
The main stage at Little Day Out will see Regurgitator's POGOGO Show with The Feral Cats Of Tokyo.
SPARK On Tour takes the action city-wide with the family-friendly production 'Chores' and Circus Ipswich workshops hitting the road to Peak Crossing, Rosewood, Brassall and Goodna.
Music lovers will be spoiled for choice – 16 acts will play across 8 sessions at 4 music venues.
Two of Ipswich's oldest musical institutions – Ipswich Orpheus Chorale and Amberley Brass – along with Jam Pact will join forces with Queensland Chamber Orchestra Camerata for the Best of British concert at St Mary's Church.
Then, SPARK comes to a close with Briefs Factory bringing their 'Dirty Laundry' cabaret show to Ipswich, promising a night of physicality, comedy, truths and showmanship, led by Raceview local Fez Fa'anana aka Shivanana.
Tickets for SPARK Ipswich are on sale now.
SPARK Ipswich runs from 8-18 July.