We are always searching for magic. It's in the beauty of fairy tales. It's in the beauty of friendship and in the beauty within ourselves. So it is, that all the magic of 'Shrek' comes to the stage with 'Shrek The Musical' from the Sydney Lyric Theatre.
The Dreamworks movie's comedic tone, while parodying all the standards set by fairy tales, appeals easily to both youngsters and adults. The stage production sets its sights on achieving this also, with plenty of fun and practical jokes to entertain audiences – regardless of age – for an action-packed adventure that seems to extend well beyond a mere two-hour show.
William Steig's story, David Lindsay-Abaire's lyrics and Jeanine Tesori's pop-influenced songs unite wonderfully to reproduce all the charm from the 2001 Dreamworks computer-animated comedy motion picture. Michael Waters' sound and Hugh Vanstone's lighting design efforts contribute magnificently towards recreating the 'Shrek' enchantment – in fact, elevating the entire show from a representation of the movie to a spectacle in its own right.
But it is under Tim Hatley's expertise, the sets, costumes and puppet design are outstanding, masterfully reimagining all the fun and vitality of the movie for the theatre. Sets are simultaneously lovely whimsical scenes and engineering feats, with stunning puppetry skills cleverly adding an extra dimension to the performance. Costuming is particularly outstanding, breathing life into the roles we know so well, with makeup, wigs and garb brilliantly augmenting characters.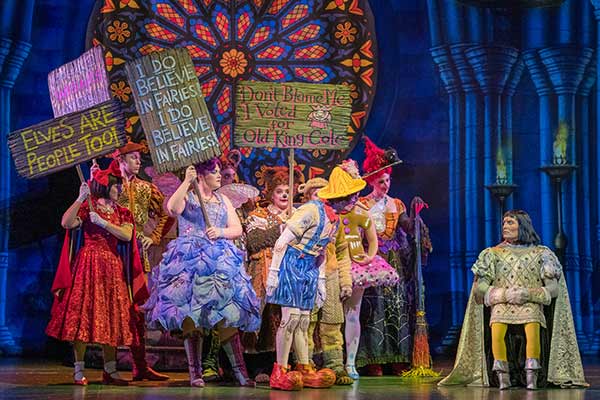 Image © Brian Geach
Attention to detail is prodigious where lighting, sets and costume consolidate beautifully; from Shrek's appearance, to Princess Fiona and Shrek's stages of growth, Donkey's rounded buttocks and hooves, the Dragon – fluttering eyelashes included, Pinocchio's growing nose and the manipulations of Gingy the Gingerbread Man. It is, however, the architecture of Lord Farquaad's miniature stature resplendent with cape and height-challenged legs where Hatley is particularly outstanding – though Todd McKenney in this eminent role skilfully and purposefully can't help but steal each and every scene.
As Shrek, Ben Mingay has quite the task, breathing life into the beloved and familiar personality. But Mingay rises to the challenge marvellously, all despite the demands required for projecting a Scottish accent while singing, dancing and characterising – entirely swathed within a silicone mask. The accoutre is so extraordinary, it's quite the 'wow' moment when we discover his 'normal' human visage (how very Khal Drogo).
Lucy Durack as Princess Fiona is terminally delightful; costuming and lighting effectively seizing the transitions between sweet princess and her secret self. Durack balances all the humour of properly improper princess wonderfully with dancing routines alongside the chorus line notably sterling.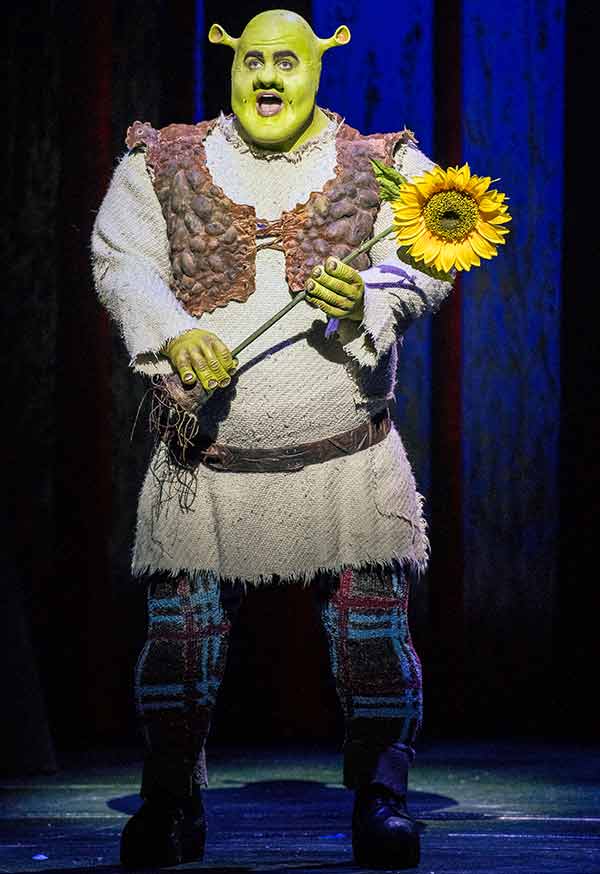 Image © Brian Geach
Nat Jobe as Donkey tackles all the humour of the sidekick with great aplomb, characterising the titular ass very well, though the effected American accent feels somewhat out of place. The power of Marcia Hines' voice for a mammoth stage Dragon then to feature in all her glamorous glory for the finale, also adds a flourish to the performance. But it is Todd McKenney in the infamous role of Lord Farquaad who really carries the show; ingeniously performing his character to perfection with magnificent cape, dance steps and posturing included. Indeed, I'd have been quite happy to watch only McKenney for the entire musical.
'Shrek' is certainly a story we're familiar with, as he finds his swamp overrun by fairy tale creatures driven away by Lord Farquaad in his pursuit to be king. Shrek makes a deal with Farquaad to get his swamp back, by rescuing Princess Fiona to bring her to Farquaad to marry. With Donkey's help, Shrek departs on his quest, finds the princess and falls in love her. However, Princess Fiona's secret will change lives – including Shrek's – forever more.
Set against beautiful fairy tale scenery with a rousing chorus of knights and familiar fairy tale characters, 'Shrek' is already renowned for its toilet humour to elicit easy laughs – a particular delight to kids – yet doesn't hesitate to tackle underlying social issues to subtly cast focus on a variety of themes; from a cross-dressing wolf to demanding acceptance of our 'freak' uniqueness in addition to the customary motifs of not judging a book by its cover, the importance of friendship and confronting the reality of happy endings.
Certainly, 'Shrek The Musical' is a great stage production – and an ideal one for all the family, dates or a gathering of friends. But in parts, the show often lacks vitality. Perhaps in trying so hard to appeal to everyone as a story, it becomes slightly disconnected and lacking in a full commitment in its element of theatre. The larger-than-life characters, fart jokes and sets uphold the production more than enough to entertain younger audiences, while adults will still enjoy revisiting the story in all its brightness to deliver great entertainment in a highly amusing fashion.
'Shrek The Musical' plays Sydney Lyric Theatre until 9 February, Her Majesty's Theatre (Melbourne) from 16 February and Queensland Performing Arts Centre from 9 May.